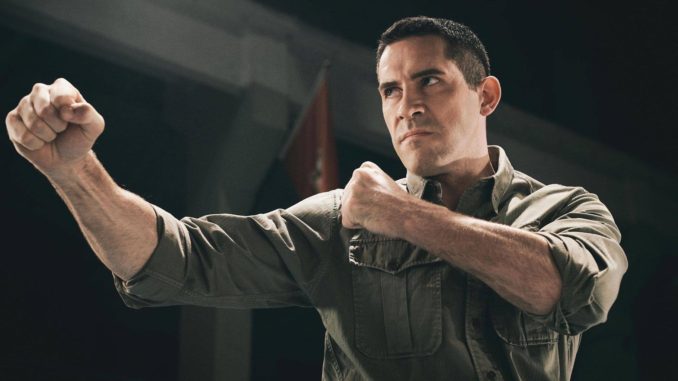 Scott Adkins may be the best action star you've never heard of. You may well recognize his face, probably from scrolling through the "Action" category on Netflix, which seems to contain a large seam of Adkins' vehicles. But outside of a supporting role in The Expendables 2, few of his films will have popped up at your local multiplex. And that's a shame, because Scott Adkins is the fineest British action lead to come along in a very long time – arguably, ever. When a legend like Donnie Yen tells his producers, "Let's get Scott Adkins," as Yen did for the main villain in Ip Man 4, you know you're looking at a rare talent.
An overnight success? Not so much. For Adkins has two decades of roles under his belt, going back to his bit-part 2001 feature debut, twirling nunchucks in Hong Kong film, Extreme Challenge. He continued to hone his craft in the Far East, getting small roles in films where he worked alongside the likes of Jackie Chan (The Accidental Spy) and Yuen Wo-Ping (Unleashed). His first notable performance came in 2006, playing villainous Russian MMA fighter Yuri Boyka, in Undisputed 2: Last Man Standing. His character became the focus of the franchise in subsequent entries.
There are probably no well-established action stars who haven't shared the screen with Adkins at some point: he may be the Kevin Bacon of martial arts movies, having worked all over the world. Jason Statham? The Pink Panther. Jean-Claude Van Damme? The Shepherd: Border Patrol. Dolph Lundgren? Universal Soldier: Day of Reckoning. Well, actually, all three of the aforementioned, plus Jet Li, Bruce Willis, Chuck Norris and Sylvester Stallone, could be crossed off by The Expendables 2, where Adkins played Van Damme's henchman. Matt Damon, Ryan Reynolds and Mel Gibson are also on the list, keeping Adkins a busy actor – his IMDb listing has four movies for 2018 and five for 2019.
As leading roles go though, Adkins' work has been considerably lower in profile. Which is a shame, as he has repeatedly shown a Statham-like ability to deliver a genuinely good performance. He has even shown comedic timing that's perhaps surprising, given how rare it is in the action field. It may help that early on, he was cast in television roles that did not require arse-kicking. For some reason, those included multiple medical dramas – Dangerfield, Doctors and Holby Central – as well as the British Equity required appearance in Eastenders. I'm just surprised he hasn't been in a Doctor Who episode yet. I'm sure he's working round to it.
He is probably the biggest movie star ever to be born in Sutton Colefield, near Birmingham [with apologies to Trever Eve]. Adkins started learning judo at the age of ten, and gradually expanded his martial-arts range through his teenage years, including Taekwondo, kickboxing and even ninjitsu. His dad bought Scott his first ninja suit when he was 12, after American Ninja came out, and had a huge impact on the young boy. He said, "I never took the ninja suit off. We used to do these little missions where my dad would go up to the top room in the house… And I would 'disappear' into the streets, and pop up on the other side."
He took drama at Sutton Coldfield College, and was subsequently offered a place in the Webber Douglas Academy of Dramatic Art in London, whose alumni include Hugh Bonneville, Minnie Driver and Terence Stamp. But Adkins wasn't able to afford the cost of tuition, so was unable to take up the spot. He was sending tapes to producer Bey Logan, who provided advice on what Scott needed to do to succeed: "I was like, 'That's pretty good, but you need to be really bulked up,' because he was skinny. 'You've got to have a Van Damme physique.' Six months later I got another video and he's got all these muscles. I was like, 'That's great, but you've really got to learn how to act.' Then three months later, I got a video of him doing Shakespeare!"
That, I would pay to see. I'm reminded of the scene from The Last Action Hero of Arnie doing Hamlet, where he proclaims "To be or not to be? NOT to be…", before a giant fireball explodes behind him. But it's clear that Adkins has more in common with Jackie Chan and Sammo Hung: those who when young, trained as much in acting as fighting. [Contrast, say, Van Damme and Lundgren – the latter was 28 before his debut, a bit part in A View to a Kill. But he does have a master's degree in chemical engineering, so wasn't just sitting about to that point] Part of me wants to see an adaptation of something like Waiting for Godot, using only martial-arts actors. Given the right ones – Adkins and Michelle Yeoh would be top of my list – I bet they could pull it off.
I won't claim Adkins is infallible, and he has certainly been in his share of forgettable dross. Yet there are gems in his filmography to be found as well, and that's why we are here. So below, you'll find links to a selection of his movies, which will be updated with new reviews on a relatively regular basis going forward. There's certainly no shortage of potential content, though I'm not going to claim this will ever be exhaustive, not least because he seems to make films faster than I can review them, Though having seen the trailer for The Intergalactic Adventures of Max Cloud… Yeah, it'll be a while before I'm bored enough to watch that.