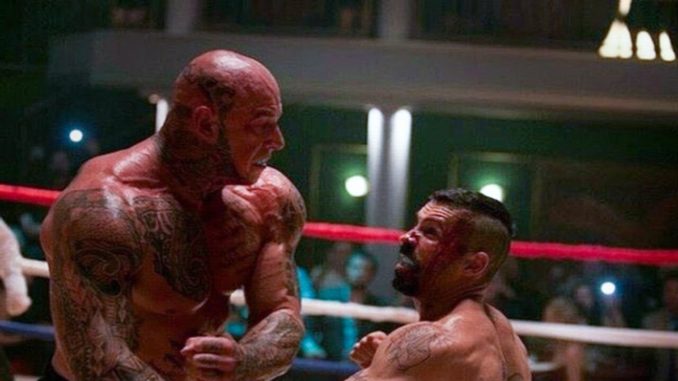 Rating: B
Dir: Todor Chapkanov
Star: Scott Adkins, Teodora Duhovnikova, Alon Aboutboul, Brahim Achabbakhe
I'm not typically a fan of the MMA subgenre of action films. It's tough to balance between the "realism" required for that, with the more artistic approach of traditional martial arts movies. But this one absolutely gets it right, with some excellent fights, entertaining characters and a story with a surprising amount of heart. Boyka (Adkins) has found God, but accidentally kills his opponent in a Ukrainian bout. To make amends, he travels back to Russia to meet the man's widow, Alma (Duhovnikova). There, he discovers she is in debt to local mob boss Zourab (Aboutboul), who needs fighters for his nightclub/MMA venue – a business concept surely ripe for franchising. Naturally, Boyka offers to take part in a series of bouts, to win Alma's freedom.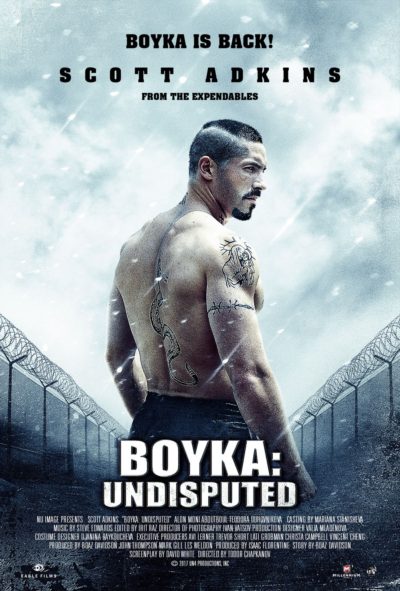 It's not as simple as that: is it ever? Complications include Zourab's jealousy of our hero's increasingly close relationship with Alma; Boyka still being a wanted man in Russia; and a ticking clock in the shape of a tournament in Budapest, that would be Boyka's shot at a legitimate career. Naturally, Zourab changes the deal, tacking on an extra fight for Boyka, against a man-mountain called Koshmar. But even defeating all of those opponents may not be enough to win Alma her agreed-upon release. "Never trust a Russian mob boss", appears to be the moral here; truly words of wisdom by which to live.
Despite rumblings of a Boyka TV series, this remains the final installment of Adkins's best-known character for now. But it certainly goes out on a high. It's hard to tell where the credit for the excellent fight sequences should go. Director Chapkanov? Fight choreographer Tim Man? Editor Irit Raz? The actors? Probably a combination of them all, and Isaac Florentine was also an uncredited director, adding another potential candidate. Whoever it was deserves applause, for they are a beautiful showcase of the talent, using long takes, enhanced by slow-motion when appropriate. Adkins's grace and gymnastic ability is positively balletic, yet doesn't sacrifice an ounce of impact. These fights look like they hurt, none more so than Boyka vs. Koshmar. Adkins isn't small, but Martyn Ford's tattooed, genuinely scary monster makes him look like a pygmy makes him look like a pygmy in comparison (top).
It's amazing to reflect on Boyka's arc, from villain through anti-hero, to flat-out good guy here, driven by his faith and a strong sense of personal responsibility. There may not be anything particularly new here, yet what this does, it does extremely well. While Adkins, sporting a relentless Russian accent and slew of prison tattoos, isn't playing your typical hero, it's a fully committed performance that sells the character to the audience. Praise to Aboutboul too, for giving us a villain against whom it's very easy to root, and Duhovnikova emotes appropriately, as Alma realizes that the man who killed her husband is her only hope. All the pieces mesh beautifully, and this is definitely one of Adkins's best to date.
This review is part of Project Adkins, covering the movies of Scott Adkins.