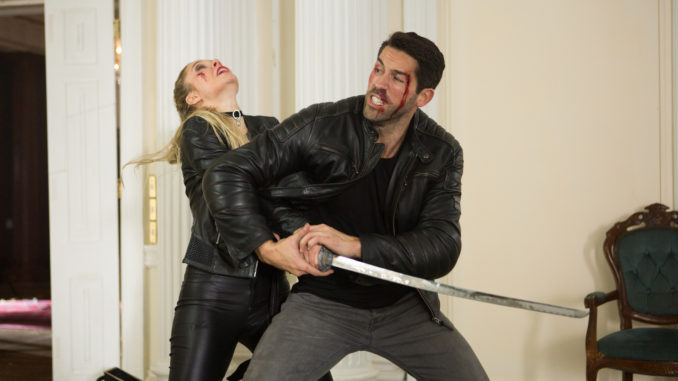 Rating: B-
Dir: Jesse V. Johnson
Star: Scott Adkins, Ray Stevenson, David Paymer, Ashley Greene
A good concept here, and an interesting selection of supporting characters. It's therefore a shame the plot doesn't make as much of these strong elements as it should. Adkins is Mike Fallon, a hit-man with a special selling-point: he makes his victim's deaths seem like accidents rather than murders. He's part of a syndicate of killers, each with their own style, who hang out at a private club called The Oasis, run by Big Ray (Stevenson), while waiting for commissions handed out by Wilton (Paymer), who handles client communication and payment. When Mike's ex-girlfriend is killed, in what looks like a burglary gone wrong, he suspects more to it – especially after there's an ill-advised attempt on his own life. Naturally, there is, and Mike finds himself going up against his colleagues.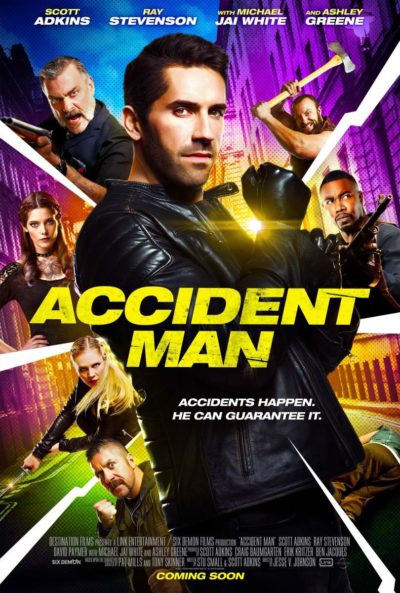 There's a sense of this being a British John Wick, both in its revenge-driven plot pitting killers vs. killers, and The Oasis being a haven where assassins can hang out on neutral ground – though being British, it's more local pub than swanky hotel. But since this was based on a comic-strip by Pat Mills and Tony Skinner, optioned to be a film as early as 1997, the jury is out on who copied who [I've not been able to discover if The Oasis was an integral part of the strip] It scores in an excellent supporting cast who bring their characters to life, from the innovative methods of Finicky Fred to the slice-and-dice approach of Jane the Ripper (Amy Johnston, who proves remarkably capable of standing against Adkins).
We also get a flashback in the middle, showing us how, as a teenager, Mike met Ray and became a killer, in order to deal with the local bullies. This extended diversion could easily have derailed things, yet definitely adds more than it subtracts. I just feel that the "accident man" idea is never explored to its potential. There's a fake suicide and a staged car-crash, then everything else is just straight mayhem, Adkins cracking heads in an enjoyable, yet hardly novel, way. I'd rather have seen more use of Fallon's skills to create subtler deaths that are ambivalent; yet then, you could argue doing so would waste Adkins's copious physical talents.
Make no mistake, this is still entertaining stuff – especially considering a low budget, which is never reflected in the overall quality. Impressively, Adkins co-wrote the film with school pal Stu Small, having got the rights himself from Mills and Skinner, and been a fan of the strip when it came out. On that basis, playing Fallon has to be close to a dream project, and you sense his passion coming through in the end project. There's a lot of grubby heart to this, and much like Avengement, it feels like early Guy Ritchie made an action film on the weekend. A sequel is in the works; production supposed started in January 2020, though I've heard little since. I just hope it doesn't take another twenty years to reach the screen.
This review is part of Project Adkins, covering the movies of Scott Adkins.