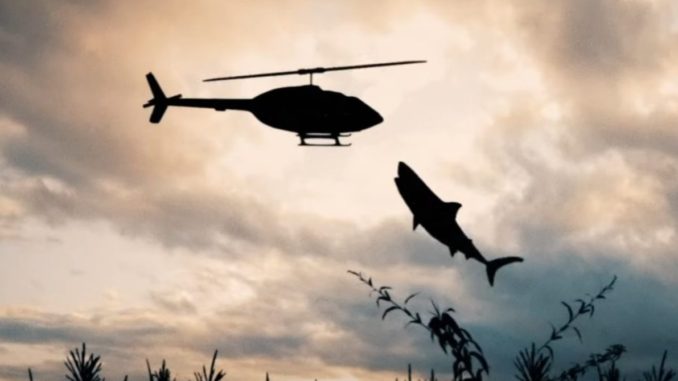 It has been a few years since SyFy stopped doing their parallel runs of shark-related movies, which played opposite the Discovery Channel's Shark Week documentary series. We always looked forward to them, and wrote up the 2016, 2017 and 2018 editions here previously. Asylum may have eventually drawn a line under the Sharknado franchise which was the tent-pole of SyFy's schedule, yet there have been no shortage of other entries, from the smart to the stupid. While we have covered a number of these since our last dedicated feature – not least in our When Chinese Animals Attack series – there are quite a few which have slipped through our net, as it were.
This year, we decided to assemble our own damn Shark Week, pulling together movies from various sources, limiting these to those which have come out over the past two or three years. This restriction was not imposed without a sense of loss. Sadly, it means that the 2012 Swedish entry, Jaws of the Shark did not qualify. But you'll understand why we will get round to reviewing it in future, given this synopsis: "Two scientists genetically engineer a shark with legs, which escapes their captivity, and goes on a murdering spree wielding a chainsaw." I think you had us at "with legs" and certainly by "wielding a chainsaw." Having seen the trailer, it potentially looks to be at The VelociPastor levels of no-budget insanity.
We also chose to discount the work of the prolific Mark Polonia, not least because if feels like we could have filled up the entire week with his movies: Noah's Shark, Virus Shark, and Jurassic Shark 2: Aquapocalypse – and that's just since the start of 2021. Maybe he'll get his own, dedicated Shark Week down the line. Though having previously watched Sharkenstein, any such project may have to wait until there's a 2-for-1 offer on bottles of tequila at the local off-license. However, there was no shortage of other contenders, at budgets low and high. Over the coming week and a bit, we'll be reviewing an entry a day, and the reviews for each will accumulate below, so check back often!