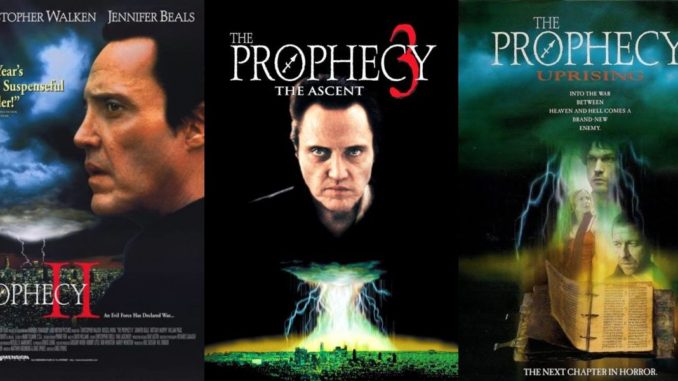 Despite being very firmly non-religious, I love me a good – or an enjoyably bad – film about religion. So, it seems, do movie goers, and they have since the very earliest days of cinema. Cecil B. De Mille's The Ten Commandments was the second-highest grossing film of 1923, and set a Paramount box-office record not broken for 25 years. But as far back as 1900, the Australian Salvation Army produced Soldiers of the Cross, a multimedia show combining film, slides and a live sermon, which toured the US and Australia for almost two decades.
They have remained popular ever since: it may help that the Bible is public domain, offering a mine of stories, free for the taking to film-makers. But there's a reason The Passion of the Christ remains the highest-grossing R-rated movie in North America, seventeen years after its release, taking more than Deadpool and Joker. Inflation adjusted, The Exorcist (#11 on the list in gross take) is right up there as well. Admittedly, not all do as well. Anyone remember 2016's Ben-Hur remake? It didn't even cover its $100 million production budget worldwide. So there's no such things as a sure hit, even with God in your corner.
Still, there's one area where such films do parallel, say, the behemoth which is comic-book movies. If you get a hit, there's every chance it will be followed up by a sequel. While we still await Mel Gibson's follow-up to Christ [I'm not kidding], The Exorcist spawned two sequels, two prequels, a television series and The Ninth Configuration, which author William Peter Blatty regards as the "true" sequel. It's not alone. The Omen got three sequels and a remake. Even outside the horror genre, the Left Behind movie was popular enough to generate two sequels, a spin-off and a reboot. Success breeds… well, if not necessarily success, further attempts to go down the same road.
Which brings me to The Prophecy which, at five movies over the span of a decade, is one of the longest-running movies with a religious theme, even if only the first received theatrical distribution. Admittedly, it's not what you would usually imagine "faith-based cinema" to be: rather too much heart-ripping and casual re-writing of theology for that. But it is fundamentally Christian, and with the emphasis fairly firmly on "fundamental," since it takes a solidly Old Testament approach. Satan is real, Hell is real, and angels are not fluffy, Emmanuelle Beart-shaped creatures of love. I find this approach much more appealing. So, let's delve into each the movies in turn, and see what we find – with and without Christopher Walken.