Rating: B+
Dir: Tom McLoughlin
Star: Emmanuelle Beart, Michael E. Knight, Phoebe Cates, David Dukes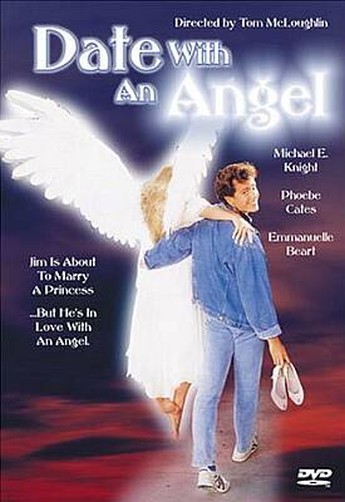 While undeniably a fluffy cinematic confection of the lightest kind, and obviously derivative of Splash, the 105 minutes fairly fly past. Aspiring composer Jim Sanders (Knight) wakes up with a hangover, the morning after his bachelor party, and finds an angel (Beart) has made a splash-down in his pool, thanks to a busted wing. His fiancee Patty (Cates), is rather less than impressed when she pops round and finds her husband-to-be apparently shacking up with a gorgeous blonde – ethereal or not. Meanwhile, Patty's father wants the angel to promote his line of cosmetics, and his friends are entranced by the more general commercial possibilities she presents: bumper-stickers, T-shirts and, of course An-Gel hair products… Jim has to protect her from all these threats, while she recuperates: but why did she end up in his yard to begin with? And what is her mission on Earth?
Not quite what you'd expect as a follow-up from the director of Friday the 13th Part VI, this is a completely sweet, pure film, entirely free of cynicism, and is all the more endearing for it. Suspension of disbelief is certainly helped by Beart, since I cannot imagine anyone better suited to the role: French fries have never been guzzled quite so adorably [Chris would like it known that the squeaking which passes for her voice, right until the end, may be found by some – that'd be Chris – to be immensely irritating] Knight is somewhat bland, as befits a soap actor, but his trio of friends are an enjoyably idiotic bunch of goofballs, motivated by cheerful capitalistic greed, but without actual ill-intent. Cates may steal the whole film, however, Patty gradually imploding into a gun-toting bitch, most unlike her usual roles. If you hate this film, you probably also dislike orphans and kittens.
What we wrote then [6] Blatant Splash clone in spirit, with an angel hitting a satellite and plummeting into a swimming pool to be discovered by the hero who has to save her from being exploited while she heals. His fiancee (Cates) sees her and misunderstands totally, etc, etc. Rescued by nice touches as fiancee gets increasingly psycho; totally salvaged by the angel – she's played by Beart who does little apart from squeak, open her eyes wide and flutter her wings yet still leaves fellow world ranked beauty Cates a moist smear on the carpet. Absolutely gorgeous; if angels are really like her, I'm converted. The angel gets 10/10. The film, 6/10.