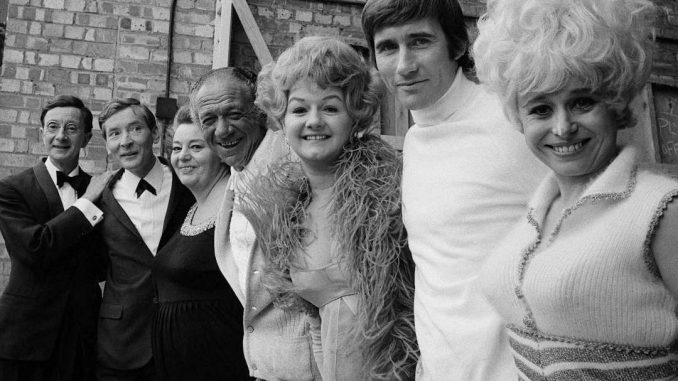 The Carry On films may be the most quintessentially British series of movies ever made, ahead even of such contenders as Monty Python or the Hammer horrors. For these were funded with purely British money; shot almost entirely in Pinewood Studios (with the very occasional excursion for location shooting, though never further than Wales); and with a cast who were almost entirely British, save the odd guest star like Phil Silvers or Elke Sommer. Little wonder, perhaps, that they achieved huge success in the UK (and remain enormously popular) but were generally less successful outside their country of origin. It's probably because their humour is a unique blend of innuendo, puns and sarcasm that's almost impossible to translate, or even explain. Toss in the fondness for occasional cross-dressing and you've got something that's as close to a cinematic version of pantomime as we'll ever see, albeit without the songs.
The films were all the results of a partnership spanning more than thirty years, between producer Peter Rogers and director Gerald Thomas, who worked on all the films: the vast majority of the scripts were by Norman Hudis or Talbot Rothwell. This may help explain the unmistakeable stamp of the series, that's visible in almost all the entries. Rogers and Thomas had made films before, their partnership starting in 1956 with Circus Friends, for the Children's Film Foundation. In these pre-Carry On days, they also gave Sean Connery his first speaking role, as "Welder #1" in the suspense film Time Lock, based on a play by Arthur (Airport) Hailey. But it was in the genre of seaside-postcard comedy that they struck gold.
What follows are reviews of the Anglo-Amalgamated entries; the series switched distributors to Rank in 1966, and continued there, initially to great success: Camping was the highest-grossing film in the UK for the year. The series did eventually drop off significantly, both in quality and commercial value, after Rothwell left in 1974, but limped through four more features and a compilation to its current conclusion, with the universally loathed Carry On Columbus [though I found it still had its moments]. However, Carry on London, starring Vinnie Jones and Shane Richie, and directed by Peter Richardson is apparently in pre-production; Peter Rogers, now aged 93, is also involved. Whether it will ever come to anything – and, if so, what – remains to be seen…
Carry On Sergeant (1958)
Rating: C+
Dir: Gerald Thomas
Star: Bob Monkhouse, William Hartnell, Bill Owen, Kenneth Connor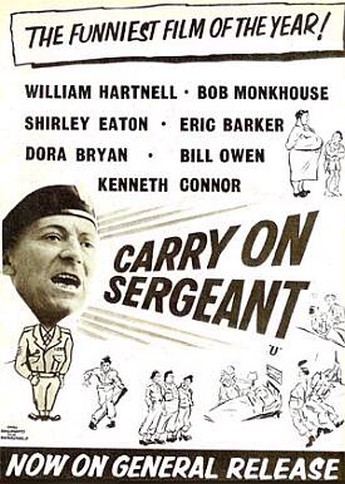 This was the first entry – Val Guest's Carry On Admiral, made the previous year, only inspired the title here. Indeed, the film was no original work, but based on The Bull Boys, a story about a ballet-dancer whose boyfriend is called up to serve on the day of their marriage, rewritten as a comedy by Norman Hudis. Still, the series hits the ground running, the familiar core already in place: quirky characters in off-the-wall situations, though the farcical elements are reined back somewhat here, and the innuendo that became a staple of the series is almost entirely missing. Future smug gameshow host Monkhouse plays the conscript, and his new wife (Shirley Eaton, later on to achieve gold-painted fame as a Bond girl) gets a job in the canteen to stay near him – while ten years later, this would likely have led to all manner of sexual hi-jinks, here, that angle is all but ignored.
Instead, the main plot is these recruits' incompetence, under Sgt. Grimshawe (Hartnell pre-Doctor Who – he and Charles Hawtrey played similar roles here and in 1950's hit TV series, The Army Game); he seems doomed to lose a £50 bet, that he'll have the best platoon in his final weeks before quitting the Army. There's also an ongoing thread about the unending hypochondria of Private Strong (Connor), which brings him into conflict with camp doctor Captain Clark, played by Hattie Jacques, the matronly kind of role she'd occupy often in the series. She gets the best line, in response to Strong's concern about his 'floating knee', spitting out "Let me know when you feel it sinking." Similarly, Hawtrey is the uber-wimp we know and love, but Kenneth Williams is a surprise. His character, while still a know-it-all, is oddly subversive, with Williams restrained, not mining every ounce of camp from the role, as he'd later do, with great success. Though the concept is extremely dated (Britain abandoned conscription in 1960), enough humour flows, mostly from the great characters, to keep the film ticking over.
Carry On Nurse (1959)
Rating: D
Dir: Gerald Thomas
Star: Terence Longden, Wilfrid Hyde-White, Kenneth Connor, Shirley Eaton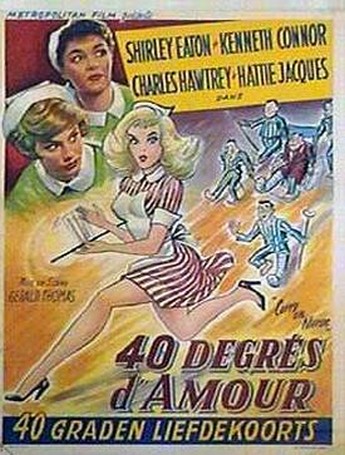 Hospital humour was the most productive vein for the Carry On team, mined no less than four times. Can't blame them for going back to the well, considering that this was the top-grossing film of the year in the UK, and even a hit in the United States, a rare success abroad for the series. It's especially odd, because this isn't very funny. It's a procession of vaguely interesting characters, given almost nothing to do, and the result is a series of scenes barely joined together, with little or no plot worthy of the name. A bunch of male patients in a ward banter, the nurses flitter around decoratively, but the only truly memorable sequence is when patients drunkenly agree to remove a bunion from one of their number – and that's because it teeters on the edge of genuinely disturbing.
The most entertaining performance is Hyde-White's Colonel, foreshadowing his other great "Colonel" role, in My Fair Lady. However, he's stuck in a private room, so never gets to interact with the others, and the results are generally lumpy and uneven comedy. This was also Joan Sims' Carry On debut, another crucial puzzle piece – she was in more of them than anyone else bar Kenneth Williams. Similarly to its predecessor, this was based on a previous work; in this case, Ring For Catty, a play co-written by Patrick (Father, Dear Father) Cargill. [Thomas filmed it again three years later, as Twice Around the Daffodils, starring Williams + Sims there too] In minor roles here, watch for a young June Whitfield as Leslie Phillips' wife, and the future Mrs. Charles Bronson, Jill Ireland, playing (of all things!) Williams' girlfriend. You'll find looking for them a welcome distraction from the script.
Carry On Teacher (1959)
Rating: B-
Dir: Gerald Thomas
Star: Ted Ray, Kenneth Connor, Leslie Phillips, Richard O'Sullivan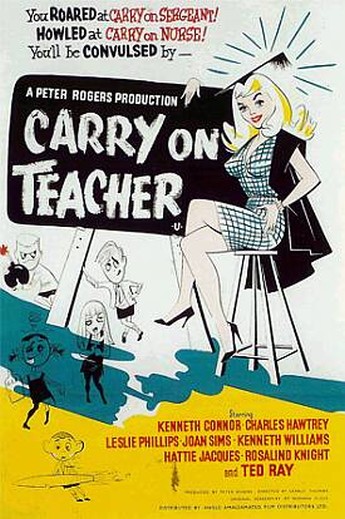 The third film in the series was the first one which was cut from wholly original cloth, and the results work nicely. In a big step forward, there's a genuine story here, with characters that seem to have been written specifically for the actors. The plot concerns Mr. Wakefield (Ray), headmaster of Maudlin Street school – he plans to leave for a new post, but has to get past a week-long visit from a school inspector and a psychology researcher (Phillips). However, the pupils get wind of this and prepare to wreak havoc for the visitors, climaxing at the school production of Romeo and Juliet [O'Sullivan, later to achieve fame in Man About The House, plays the young ringleader who instigates the chaos]
It's remarkably warm-hearted, despite frequent references to corporal punishment which, even if never inflicted, may seem barbaric in these enlightened days. [Though it never hurt me ;-)] Also, the sequence where the pupils convince the teachers they're going to blow up the school is creepy, not funny, thanks to Columbine – albeit that's hardly the film's fault. However, in general, it's solidly amusing, with perhaps the highlight being "Question Time" where Kenneth Williams' English teacher is harassed to his wits' end by the class regarding Romeo and Juliet, and why a "school's edition" is necessary. However, all the cast get their moments of glory, and provide a strong ensemble performance. Because of contract issues, this was the only film in which Ray would appear; while he's very good here, the loss immediately became perhaps the series' biggest strength.
Carry On Constable (1960)
Rating: D+
Dir: Gerald Thomas
Star: Sid James, Kenneth Williams, Kenneth Connor, Leslie Phillips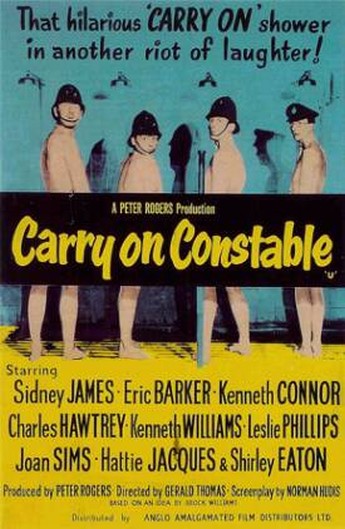 It seems strange now to appreciate that Sid James – the face and voice of Carry On – didn't appear until the fourth entry in the series. He replaced Ted Ray here, and it's impossible now to think of the movies without seeing his wrinkled features or hearing his deliciously dirty laugh. For his debut, however, James is in an almost unthinkably straight role, as the suffering police sergeant trying to keep a bunch of useless recruits from causing chaos, when they're thrown in to relieve a station beset by a flu epidemic. And even by the standards of Carry On, the latter are shallow, barely caricatures: Williams plays a constable obsessed with physiognomy; Connor, a slave to superstition; Phillips, an upper-class twit.
These are not enough to hang a film on, and the plot is equally thin, little more than a sequence of incidents, many of which it is difficult to believe ever seemed funny. They even have someone slipping on a banana-skin – wasn't that consigned to the Book of Cinematic Cliches back in the silent era? In the last ten minutes, a wages robbery is rapidly committed, investigated and – really, I'm giving nothing away – solved by our talentless coppers, more by accident than design. If that had been spread through the entire film, it might have helped glue everything together somewhat better, though future Miss Marple Joan Hickson gives an engagingly loopy cameo as a drunken old lady. The most memorable moment (beyond Phillips' buttocks, which I'd rather forget!) is seeing a version of the 411 scam, done face-to-face. Guess it pre-dates Nigeria's access to the Internet…
Carry On Regardless (1961)
Rating: B
Dir: Gerald Thomas
Star: Sid James, Kenneth Williams, Joan Sims, Kenneth Connor
While retaining the almost sketch-based nature of the early film, the setting of a "no job refused" employment agency, lends itself well to this: the usual selection of quirky characters get sent out on a variety of very odd assignments. Around them is a supporting cast that's almost an all-star team of 60's Britain: Fenella Fielding, Nicholas Parsons, Patrick Cargill, Molly Weir and former Light-Heavyweight World Champion Freddie Mills (a friend of the Krays, who ended up shot in the head). Perhaps the best such cameo is seeing Stanley Unwin speaking his trademark gobbledegook, to the utter befuddlement of James and his secretary.
As in Sergeant, James is the glue holding the film together, which again gives him limited opportunities for comedy. However, he does shine in one sequence when mistaken for a famous doctor, and we get to hear his lecherous laugh for the first time, which lights up the film like a firework. Joan Sims also has a great scene, totally sloshed after misinterpreting the point of a wine-tasting, and most of the skits are at least amusing – though some, such as the Home Improvement Exhibition, lack any structure and never amount to much. The comedic highlight probably comes when Gabriel Dimple (Charles Hawtrey) is supposed to be moving someone's pet birds, but is mistakenly sent to a strip-club. The results are absolutely classic Carry On:
Manager: What do you want?
Dimple: Your birds, and I can't wait. Tell me, what sort are they?
Manager: What sort do you like?
Dimple: Blue tits. Have you got any?
Manager: No. No, this place is centrally heated.
Dimple: Ooh! Tropical birds!
Manager: We have got one from Ceylon, yes.
Carry On Cruising (1962)
Rating: D+
Dir: Gerald Thomas
Star: Sid James, Kenneth Williams, Kenneth Connor, Liz Fraser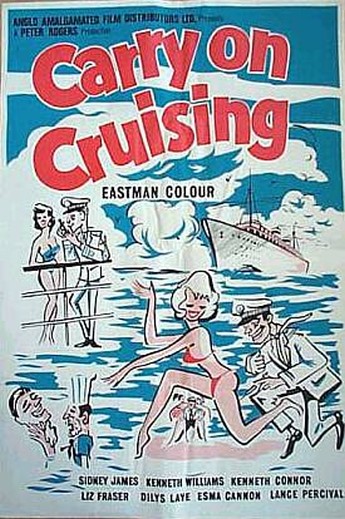 Look! It's in colour! Just a shame the same can't be said about the script or characters, which have little to offer as far as humour goes. James plays the captain of Mediterranean cruise ship, the S.S. Happy Wanderer. He has his eye on an Atlantic liner post, but gets stuck with a bunch of new swabs, including his first mate (Williams) and doctor (Connor), who persist in screwing things up every chance they get. If this sounds familiar, that's because it is almost exactly the same, in both scenario and characters, as Constable and Regardless. Even when now in glorious colour, it's not exactly fresh, and feels more like reheated leftovers, with a sprig of garnish in an attempt to give the impression of something new. It fails, much as the badly-integrated use of stock footage fails to convince you they ever left the Pinewood lot.
In other issues, there's way too much reliance on people falling over and other slapstick, with only the odd moment of genuine wit. For example, Williams interrupts his captain's statement that, "I'm going to use a psychological approach – I don't claim to be a Jung man…" with the great riposte, "So long as you're Jung at heart, sir." James still hasn't quite found his niche, as shown by the restrained reaction when a female passenger makes a pass at his character. Little wonder, then, that this was the final entry to be written by Norman Hudis; his scriptwriting talents, for the Carry On series, at least, were clearly running on fumes by this point.
Carry On Cabby (1963)
Rating: B-
Dir: Gerald Thomas
Star: Sid James, Hattie Jacques, Kenneth Connor, Liz Fraser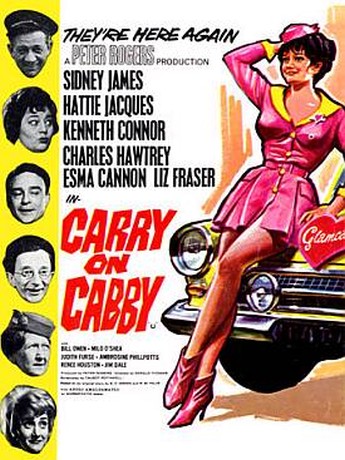 Back in black (and white), with new scriptwriter, Talbot Rothwell, bringing a whole new depth to proceedings. While James is still the "man in charge", here he's definitely a working-class hero, Charlie Hawkins, who runs the Speedee Taxis cab company. However, after missing his anniversary night out, his wife Peg (Jacques) decides to teach him a lesson by secretly setting up GlamCabs, which employs only dolly birds and uses the brand-new Ford Cortina(!), so steals away much of Charlie's business. He's not one to take that lying down, of course, and a full-scale feud erupts between the two companies. However, Speedee's tea-lady (Fraser) relays all Charlie's plots to Peg…
This wasn't intended as a Carry On film – it was originally titled Call Me a Cab and only acquired its name at the last minute, due to a request from the distributors. That may explain why it's less "obvious" than its predecessors, and indeed, for 1963, is pretty forward-thinking as far as roles for women go, and its view of the battle between the sexes. There's no doubt who the smarter ones are here, though there is nothing malicious or harsh about the warm-hearted humour, and everything comes right in the end, naturally. This is probably more gentle sexual satire than anything else, and as such is inevitably a product of its time. Still, it works remarkably well, with Jacques in particular, seizing the chance to do some genuinely good acting.
Carry On Jack (1963)
Rating: B-
Dir: Gerald Thomas
Star: Bernard Cribbins, Juliet Mills, Kenneth Williams, Charles Hawtrey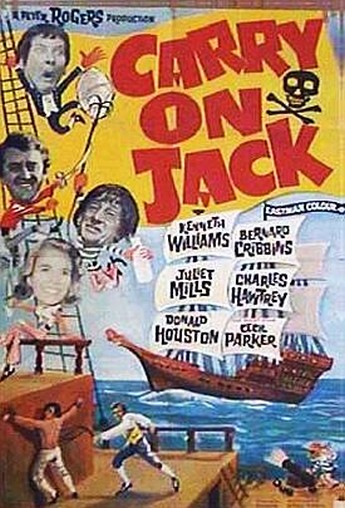 Like Cabby, this wasn't planned as a Carry On; the original title was Up the Armada, until the censor objected! It isn't very highly-regarded among fans, maybe because, outside Williams and Hawtrey, no regulars showed up for the series's first jaunt into period drama (Liz Fraser was slated for the role played by Mills). The star is Albert Poop-Decker (Cribbins), a new midshipman who finds his identity stolen by Sally (Mills), on a quest to find her lover. However, both end up on HMS Venus, under the command of Capt. Fearless (Williams), whose name could not be less appropriate. Through a series of misadventures, they are all cast adrift and stuck in Spain, but as usual, everything ends up for the best, albeit with the count of limbs reduced by one…
Despite low opinions elsewhere, I liked it: for perhaps the first time, Williams gets the kind of upper-class twit role he was born to play, and takes full advantage. The finest moment is the fabulous face he pulls in the lifeboat, after realising the implications of the following: "Now, now: calm down! No hysteria! Try not to think that we're all alone…on a shark-infested ocean…with nothing to eat…two or three hundred miles from land…and right off the shipping lanes." Brilliant. Cribbins is equally good, a very sympathetic hero, and while Mills really isn't fooling anyone dressed as a man, that isn't the point. Donald Houston also deserves praise as the sadistic first officer, to whom both Fearless and Poop-Decker are devils incarnate. Overall, there are less "jokes" to be found here, but more amusing situations, and I found the overall effect to be solidly entertaining.
Carry On Spying (1964)
Rating: C
Dir: Gerald Thomas
Star: Kenneth Williams, Bernard Cribbins, Barbara Windsor, Charles Hawtrey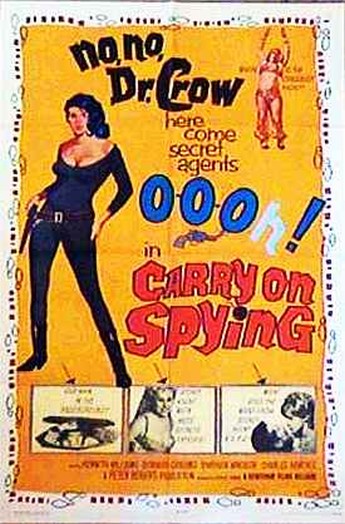 The spoofing here is more specific than usual, obviously targetting the Bond movies. Williams leads a team of inept agents, more (Hawtrey, as Charlie Bind, Agent Number o-o…oh – which almost provoked a lawsuit from the Broccolis, and forced the producers to change his first name from James) or less (Windsor, in her Carry On debut), as they try to recover a secret formula, and keep it from falling into the hands of S.T.E.N.C.H. They're led by the evil Dr. Crow, played by Juliet Furze, but dubbed by John Bluthal, to weird but effectively villainous result. It's back to b&w, for the last time, as a nod to film noir. The Third Man's another victim; to be honest, this side of things probably works better than the Bond elements – that series wouldn't properly find its own feet, until the release of Goldfinger, six months later.
There's no doubt Windsor hit the ground running, with exactly the right attitude to fit into the series, feistily naive, and totally oblivious of the effect she has on the opposite sex. Mind you, the sight of Bernard Cribbins dressed as a belly-dancer is one that will require a large helping of mental bleach. The film allegedly bips around Vienna, North Africa and the Orient Express, though it's not exactly convincing, and the finale in STENCH's headquarters is painfully overlong, not least for the lengthy reverse footage sequence. It does have what may be the first on-screen deaths in Carry On, when two guards shoot each other. I remember this one fondly from my youth, but in the harsh light of the 21st century, it hasn't aged well.
Carry On Cleo (1964)
Rating: B
Dir: Gerald Thomas
Star: Kenneth Williams, Sid James, Kenneth Connor, Amanda Barrie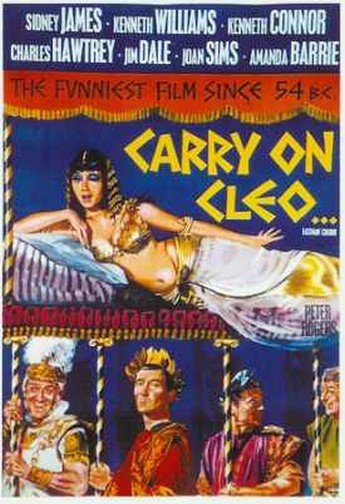 "Infamy! Infamy! They've all got it infamy…" Perhaps the single best-known line from the entire series, as uttered by Julius Caesar (Williams) after an assassination attempt – even though it was actually written by Frank Muir and Dennis Norden for their radio show, Take It From Here. No matter, for did the series ever have better casting than in this entry? Beside Williams, there's James as Mark Anthony, Connor as witless British craftsman Henghist Pod (who only makes square wheels) and Barrie as Cleopatra: all perfect in their roles. The production values are also higher than usual, helped by leftover sets and costumes from big-budget bust Cleopatra; the humour remains as lowbrow as ever, however, such as Hengist's wife being named Senna.
The plot actually makes more sense than some, with Pod mistaken for a great fighter, after an unfortunate incident involving the Vestal Virgins, and subsequently employed as Caesar's bodyguard. Meanwhile, Anthony falls for Cleo, and agrees to kill Caesar in exchange for her favours. It's all very entertaining, and without a dull moment, though certainly, could never be mistaken as anything other than a 40-year old comedy, possessing its full share of groaners with whiskers on them. However, even the lines apparently rescued from Christmas crackers, are delivered with such enthusiasm and timing, that they still work surprisingly well. Definitely one of the top entries, with everything coming together beautifully.
Carry On Cowboy (1965)
Rating: C+
Dir: Gerald Thomas
Star: Sid James, Jim Dale, Kenneth Williams, Angela Douglas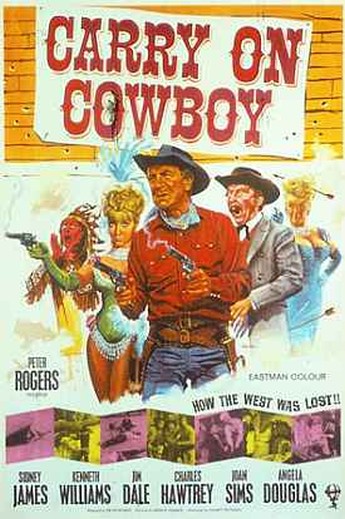 The Rumpo Kid (James) takes over Stodge City, and its mayor (Williams) sends for help. Unfortunately, this comes in the form of sanitation engineer Marshall P. Knutt (Dale), rather than any real assistance. Still, take what you get, and Knutt is forced into duty anyway. Though Bob Hope's The Paleface would be an obvious inspiration, this bears some striking resemblance to F-Troop, an American sitcom that began six months before Cowboy was released in the UK. Among the common elements: an inept bungler sent to take charge in a remote town; a local Indian tribe (all played by non-natives!) who need to be bribed to attack; and a girl who's more competent with a gun than the men. While fairly standard comic contrivances, it's an interesting overlap.
Credit to the producers for coming up with a credible stand-in for the Wild West, turning Surrey countryside into prairie, complete with cacti. Less successful are some of the accents: James does okay, but most of the others drift between Ealing and Tombstone. Jim Dale's apparent efforts to channel the spirit of Norman Wisdom irritate more than they amuse, and Williams isn't up to much either. The rest of the cast, however, are decent to strong, with Charles Hawtrey stealing the show, as the most non-PC depiction of a chief you'll ever see. Look out during the Indian attack on the stagecoach: the arrow is stuck to the front of the driver's shirt, and he's simply holding it down until he gets "shot"! Ah, the joys of DVD…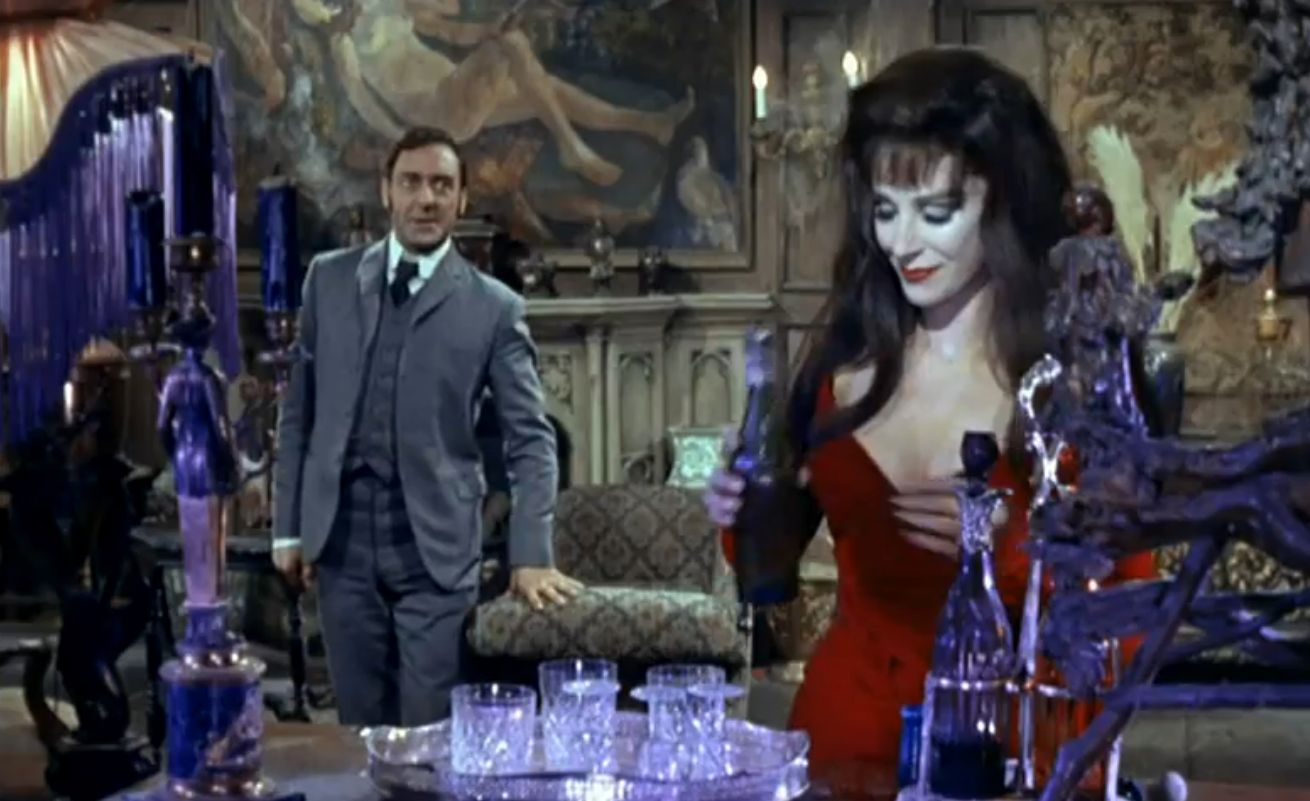 Carry On Screaming! (1966)
Rating: C+
Dir: Gerald Thomas
Star: Harry H. Corbett, Jim Dale, Kenneth Williams, Fenella Fielding
Cue the first selection by the chosen criteria which genuinely surprised me, mostly due to the high rating. At 6.8 on IMDb, this topped the horror rankings for the year – ironically, ahead of four of the Hammer movies it loosely parodies. It also has the highest score of any entry in the Carry On franchise. My original review (below – it also details the plot, so I won't bother here) suggested I didn't agree with that elevated opinion. This time, I think I enjoyed it slightly more, though it did still suffer from major problems of pacing in the middle. Perhaps having absorbed the entire Hammer horror catalog made me more receptive to its humour?
It also borrows heavily from The Addams Family, which started in 1964. Valeria is inspired by the vampish Morticia, and hulking butler Socket (Bernard Bresslaw) is a Lurch knock-off. But adding to the Hammer resonance, Bresslaw almost got the part of Frankenstein's monster in The Curse of Frankenstein, only he wanted two pounds a day more than Christopher Lee. It's also worth noting that regular Carry On director of photography Alan Hume had experience in the horror genre, having worked in that role for Hammer on Kiss of the Vampire, as well as Amicus's Dr Terror's House of Horrors.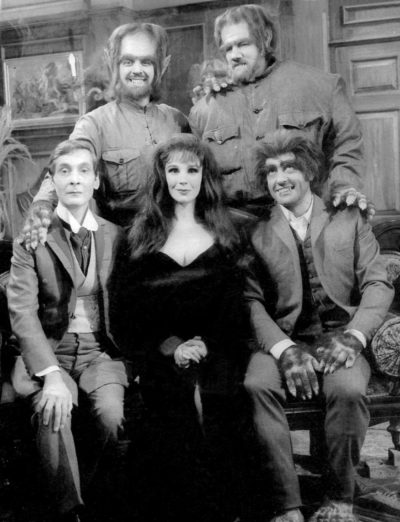 Screaming is missing Carry On stalwart Sid James, who would have played Detective Sergeant Bung. His absence is for the most British reason imaginable: when the film was shot in January and February of 1966, James was appearing in panto. Specifically, Babes in the Wood at the London Palladium. A remarkable hit, it played until June, well past the usual festive season run for pantomimes. Mind you, with lyrics and score written by The Shadows, it was star-studded, the cast also including Arthur Askey, Kenneth Connor, Roy Kinnear and, among the child singers, both Elaine Paige and the future Mrs. Ozzy Osborne.
Williams and Fielding are the most memorable characters here, and largely save this: their sibling relationship was initially intended to be father-daughter, despite Williams being just a year older. Both of them go at the material with the necessary gusto – not that it may always deserve it. Still, Valeria's delivery of "Do you mind if I smoke?" and the subsequent payoff is unforgettable, though to be honest, it makes absolutely no sense in the context of… Well, I can't think of a context where it would make sense, to be honest. Even by the standards of the franchise, this is a joke that stands out for its almost zen-like stupidity. Though hell, I laughed.
This film does remain rather uneven, and that was often the Carry On peril. I actually like Corbett, in his only appearance for the franchise. He was responsible for my biggest laugh, after his wife (Joan Sims) complains he never takes her anywhere:
– "Oh, don't exaggerate. We went out a couple of months ago. We had a lovely time."
– "You call that lovely? To my poor, dear mother's funeral?"
– "Well, I enjoyed it!"
It's a classic sixties exchange, Corbett and Sims hitting their verbal marks with impeccable timing. But the rest of the characters on that side are largely forgettable. I find a little Peter Butterworth in drag goes a very long way.
Horror-comedy is always a tricky thing to pull off, because of the need to balance two genres which pull in almost opposite directions. You would expect this to skew almost entirely towards the comedy; yet I have to say, the horrific elements are certainly not negligible – even if, as you'd expect, largely played for amusement. Oddbodd is a genuinely creepy creature, like a hairy version of Frankenstein's monster, and capable of regenerating from a single finger. Though they appear to have missed a trick, by not having Oddbodd Jr. be a "Mini-me" sized version: he's a normal human (as can be seen on the right), only slightly smaller than his 'parent'.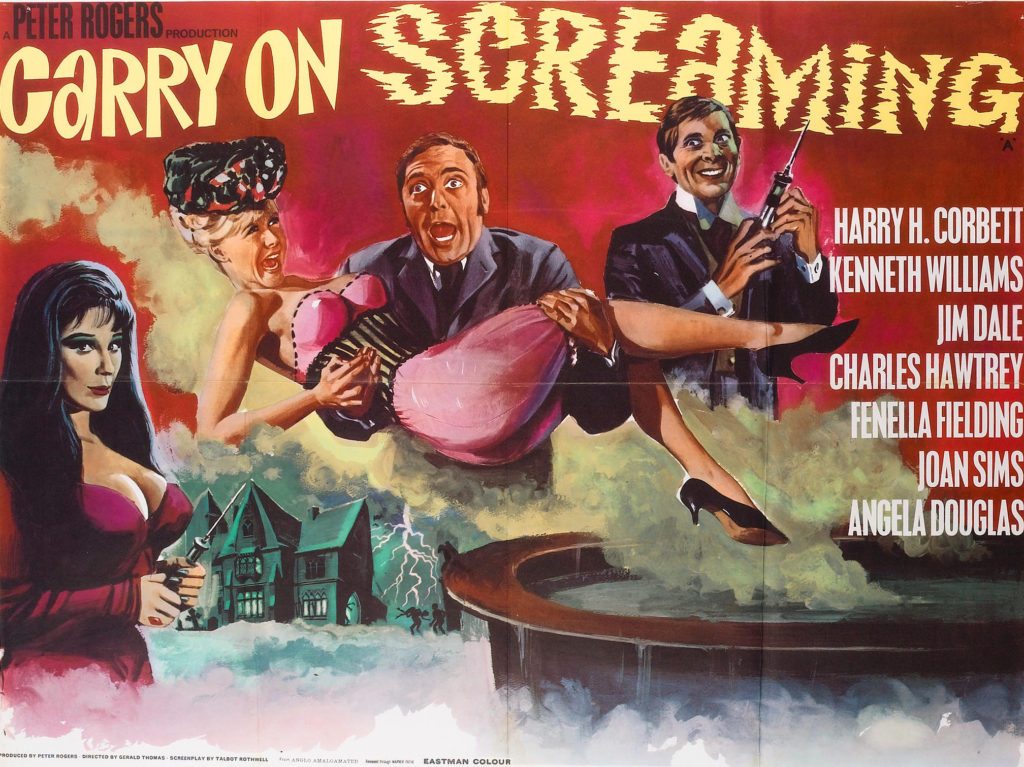 Add in the transformation of women into mannequins, House of Wax style, and you've got something which might conceivably merit a remake as straight horror. The ending especially, in which the villain falls into his own liquid, is right in line with House on Haunted Hill. There's no denying that Talbot Rothwell's screenplay has no interest in making fun of the genre, instead opting mostly to use the parade of oddball (or Oddbodd) characters to generate its humour. As parodies go, this is gentle stuff, even if it's rarely less than the least subtle of comedies.
This article is part of our October 2022 feature, 31 Days of Classic Horror.
---
[March 2007 review] This was another one remembered fondly from my youth: the monstrous Oddbodd and the sultry Fenella Fielding both disturbed me…in different ways. Now, neither have much power, and the whole film comes over as nowhere near as good as I remember it. Corbett, as Sergeant Bung, is clearly filling in for Sid James, and though he has his moments, the gulf remains clear. He is investigating a string of missing women, eventually tracing them to Dr. Watt (Williams) and his sister (Fielding), whose bizarre scientific experiments are funded by their sale of tailor's dummies made from the vanished women. Most of the regulars are present too: Joan Sims as Bung's shrewish wife, Bernard Bresslaw playing the Watt's butler and Charles Hawtrey as Dan Dan the Lavatory Man, as well as future Dr. Who, Jon Pertwee.
The target is clearly the Hammer horror style, and it does a decent job of capturing that. But the script is actually not that well-written, relying heavily on some groan-inducing puns, and a shameless theft from Abbott and Costello's Who's on First? routine. Truth be told, it took me three attempts to get through this: I simply fell asleep in the middle, and that's where the main weakness of the movie lies. Once it establishes the premise and characters, there's nowhere much to go, and the film marks time, grinding almost painfully and generally unamusingly, for the next hour, until a decent finale. Once again, not as good as I remembered it, at all. C