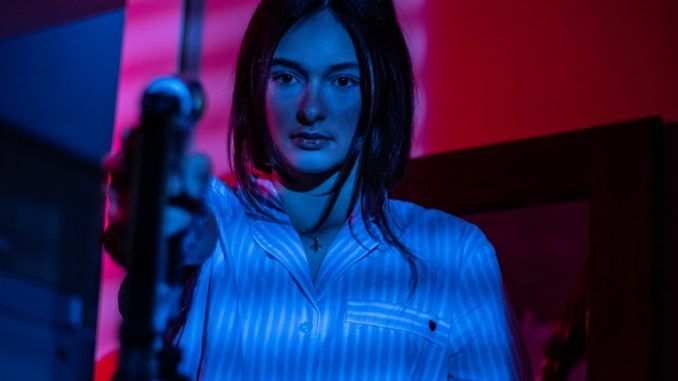 Rating: D
Dir: Ignacio López
Star: Ana Garberí, Vivian Milkova, Almudena Salort, Diana Peñalver
It's clear where this is aiming, from the presence of Peñalver, playing a character called Paquita. Because Peñalver also played a character called Paquita, in Peter Jackson's sublime splatstick magnum opus, Braindead. This isn't fit to carry the custard of that masterpiece; indeed, the Paquita reference probably also counts as the best joke this alleged "horror comedy" – quotes used entirely deliberately – has to offer. I'll give you an example of the other humour this includes: a human sacrifice has to be delayed, because the camera recording it runs out of battery power. Are your sides splitting at that? If not, then you should probably give this Spanish effort a wide berth.
The set-up has Bianka (Garberi) preparing for a night's babysitting at the house of Sam and Paquita. They're heading out for the night, and leaving daughter Nicole (Milkova) in Bianka's care, though Nicole strenuously object to needing oversight. Initially, Bianka seems like the coolest nanny ever. However, it turns out she has an ulterior motive: the sacrifice mentioned above, with her girlfriend, Charlier (Salort). Recording and posting the ritual killing on the dark web will get the pair entrance into the occult sect of Luciferina. Fortunately for the ongoing survival of Nicole, the wannabe Satanists' general incompetence is compounded by a series of unwanted interruptions, from a horny, aspiring boyfriend to the pizza delivery guy (played by Javier Bódalo, star of Night of the Virgin).
From the start, it's a swing and a miss, because despite apparently trying to be set in America, nobody here speaks English with less than a very obvious Spanish accent. I can think of at least three better options: locate your movie in Spain, and have your cast speak their native tongue; hire people who can speak English fluently; pay to have your movie dubbed into English professionally. It's a ringing indictment that the makers of this instead went for: d) none of the above, and the film never gets out of second gear as a result. If the comedy is weak, the horror is little if any better: only in the final quarter, where Nicole inexplicably gets hold of an apparently nitro-powered nail-gun (top), does this offer anything approaching actual shocks.
It seems to be trying to riff off the new wave of "babysitter peril" movies, which became popular in the wake of McG's The Babysitter. We have the same premise here – an admittedly decent one – of the supposed guardian actually being a threat to her charge, for occult reasons. For all its flaws, The Babysitter at least had some commitment to the material, an aspect sadly deficient here. While Garberi and her pal are quite tasty, one brief moment of lesbian canoodling is all the exploitative elements we get, despite a gold-platter opportunity, when Bianka opts to take a shower, for no readily apparent reason. The general worthlessness here is adequately summed up by a mid-credit scene which adds absolutely nothing to proceedings.