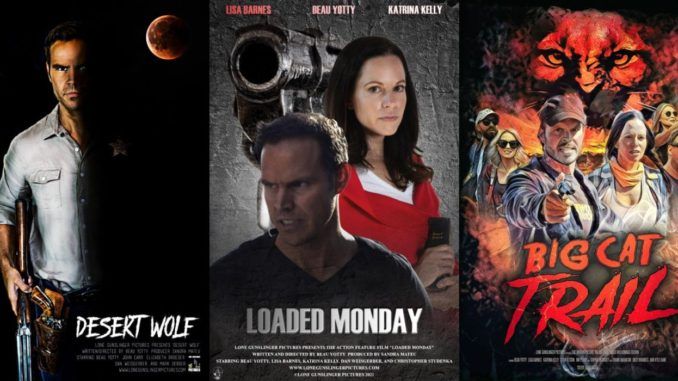 Tubi continues to be an almost infinite mine of… Well, let's just say "stuff" and leave it at that, shall we? But after doing a search there for "Arizona", I stumbled across the output of Lone Gunslinger Pictures, operating out of Gilbert. I am not affiliated in the slightest with them – in fact, this piece is probably going to come as a bit of a surprise to Lone Gunslinger, as I haven't even contacted them. So all I know about LGP is what I've been able to glean from their various web presences, such as Facebook and Linked In.
Based on the IMDb, it appears they started in 2014, with a horror short, Consider Us Even. Further short films followed, as well as a Western series, Desolate Land, which started in 2017 and ran to nine episodes. In 2018, they came out with their first feature-length production, Unearthed: The Curse of Nephthys, and four more have since followed, as well as a documentary about the Superstition Mountains. Their latest film announced its casting last month, and being titled Snake Resort, seems right in our wheel-house with this synopsis: "An aggressive rattlesnake sets its sights on an Arizona RV Park". Three further movies have been announced, covering Western, thriller and horror genres.
It seems to be a one-man operation, in that Beau Yotty is the director of all their films, and based on what I've seen, typically stars (or has a very significant supporting role) in them as well. According to his IMDb page, Yotty is a descendant of Buffalo Bill, and grew up near Seattle. He had an uncredited part as "FBI Front Desk agent" in an episode of Burn Notice, and was apparently a double for Michael C. Hall in Dexter. He has also written several books, including Thrills of the Unknown: Terror, Suspense, Mystery, and Monsters and Modern Cowboy: Quotes and Poems: Life and Love in Today's World.
As for the films, these seem to have received little or no coverage, despite being available on a range of platforms, including Amazon, Roku and Vimeo. Big Cat Trail is the only production to have reached even a hundred votes on the IMDb, and that tops out with 120 at the time of writing. Feature For The Reward has a mere twenty. All five of the movies are currently accessible on Tubi, and as an Arizona resident, it felt like it was my duty to watch and review them. To be perfectly blunt, they're a very mixed bag. But there's progress too. Not stratospheric, to be sure; more of the "two paces forward, one back" kind. However, if you watch them in order, you can see an overall improvement, and that's all one can ask for, as experience is built.
Join us, as over the next couple of weeks, we take a stroll through the company's filmography so far.