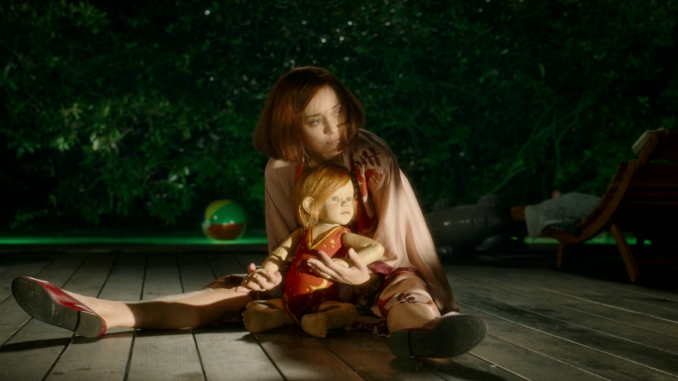 Rating: B-
Dir: Leos Carax
Star: Adam Driver, Marion Cotillard, Simon Helberg, Devyn McDowell
We watched this as a warm-up for seeing Sparks in concert, after having heard about their work on the movie in The Sparks Brothers. It has been a tortuous road to the big screen for the band, most infamously a long detour on Tim Burton's never-made manga adaptation of Mai the Psychic Girl. It's likely appropriate that they would eventually get there, courtesy of a maverick director like Carax, whose output is glacial in volume (he has averaged about a feature per decade over the past 30 years), and as idiosyncratic in content as that of Ron and Russell Mael. Put them together, and unsurprisingly, the results are kinda unique. It doesn't always work, but I didn't check my watch once during its 141-minute running time.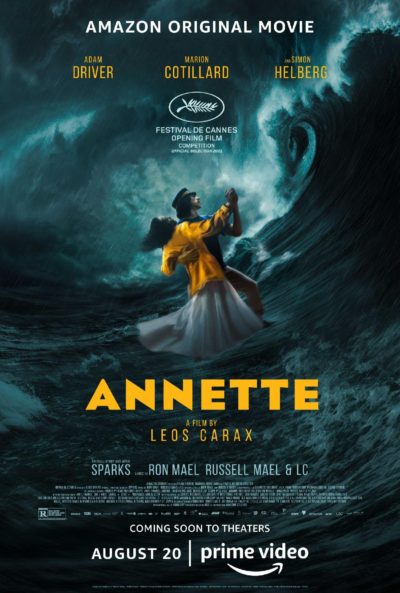 I really didn't know much about this going in, and that may be the best approach. Feel free to skip rest of the paragraph if you want. It is a rock musical, told almost entirely in song, about the relationship between stand-up comic Henry McHenry (Driver) and opera singer Ann Defrasnoux (Cotillard). They have a child, Annette, but Ann dies in murky circumstances, and vows to haunt Henry. This she does, by possessing baby Annette, though Henry parlays his daughter's new-found singing talent into a worldwide phenomena. However, that only sets up a tragic denouement. Oh, and except for one scene at the end, Annette is entirely played by a puppet. No, really.
I'm not certain it works. Much as in Lamb, I kept having to suppress an urge to reach into the screen, slap the parents across the face, and yell "IT'S NOT A REAL CHILD!!!" at them. This faux-by is as much a distraction as enhancement, especially since, in the one scene where Annette is real, McDowell knocks it out of the park in both acting and singing. On the other hand, you can't argue with the sheer invention Carax pours into things, right from the single-shot opening, where musicians (including the Maels) pour out of the studio and through the streets of Los Angeles, singing as they go. You will see things here you have not seen on a screen before, and that's always worth something.
The songs are similarly mixed. The opener, So May We Start, is up to snuff. But between that and the finale, in which Annette comes fully to life for a duet with her father, Sympathy for the Abyss, there's not much that sticks in my mind. I definitely didn't like perhaps the most-touted e.g. Oscar shortlisted song, We Love Each Other So Much, which was repetitively trite. Sparks have done amazing things with repetition previously, most obviously, My Baby's Taking Me Home. This, however, is some way short of amazing. Overall, definitely the kind of film which is worth having seen, yet isn't one I feel much interest in seeing again. But if Ron and Russell would write a Mamma Mia! style musical around their output, that'd be awesome…