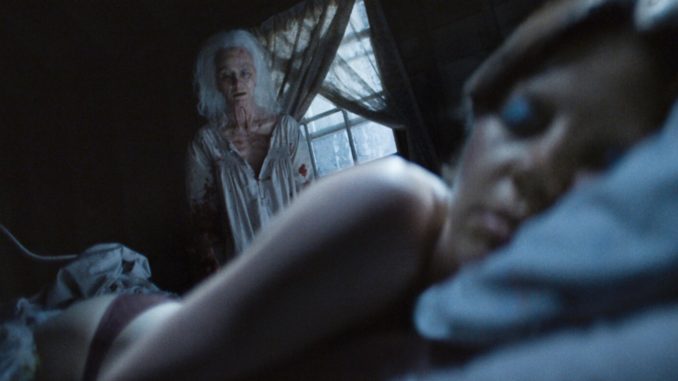 Rating: C
Dir: Ti West
Star: Mia Goth, Jenna Ortega, Brittany Snow, Martin Henderson
I'd carefully avoided knowing too much about this going on, my preparation consisting of one review from the SXSW premiere a couple of days before, which spoke in thoroughly glowing terms about the way this combined its elements. Perhaps in this case less is less, with the resulting expectations set at a remarkably high level. Or maybe it's me, since the majority of IMDb ratings as I write score this a "10". I will admit to not being familiar with the work of West, but he seems one of the tentpole auteurs of "post-horror" or "elevated horror", a sub-genre in which the distributor of X, A24 has carved a niche. On the basis of this, I think I want to see more… but perhaps purely so I can criticize it.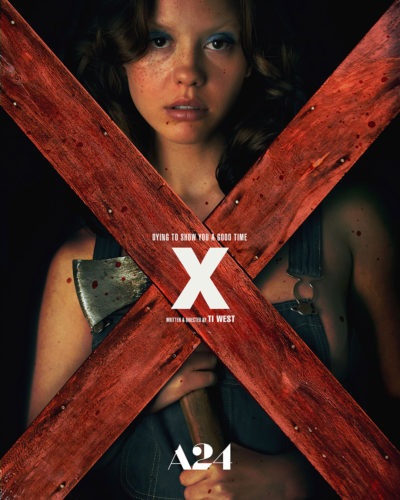 This is set in 1979 (not that you'd know it from a soundtrack which includes such post-punk classics as, um, In the Summertime by Mungo Jerry, released almost a decade earlier). A small group of adult film-makers head out from Houston to a guesthouse on a farm, to shoot what Wayne (Henderson) hopes will be a classic porno. There are actresses Maxine (Goth) and Bobby-Lynne (Snow), actor Jackson (Kid Cudi, in what feels perilously like stunt casting), artistic cinematographer RJ (Owen Campbell) and his girlfriend/boom operator, Lorraine (Ortega). Virtually as soon as they arrive, the red flags are flying alongside the freak ones, Wayne being greeted by the farm owner (Stephen Ure) with a shotgun, and a warning not to disturb his wife.
If you've seen any horror film using a similar scenario since Texas Chainsaw, you'll know where this is going. And, lo, it does get there, eventually turning into "elevated hagsploitation", I guess. For farmer's wife Pearl, apparently driven mad by the loss of her youth and beauty, opts to take it out on the young guests who still enjoy fleshly delights – as we see, in a variety of extended sequences shot for The Farmer's Daughter, the film within a film. And it's in the casting of Pearl, one of the issues lies for me. I understand the aim, but once I realized what was happening, the execution proved distracting, as I frequently found myself thinking about the technical process required, rather than experiencing the emotional impact.
Not that there was much to distract from, since there's a languid pace – from what I've read since, something of a West trademark. It's well over an hour before things properly kick off, and until then it's more like a behind-the-scenes documentary about a porno flick. Save for the ignoring of those red flags, there's a lot of sitting around chatting. Lorraine decides she wants to move from crew to cast, much to RJ's horror; that's what you get as plot development. However, I will say West is decent at generating tension, with a growing sense of unease and some near-misses, for example Maxine's unwitting close encounter with an alligator.
Pearl finally loses it entirely, showing remarkable physical strength for her age, and there's not much elevated about the gory carnage that ensues. It did, however, a much better job of holding my attention, and is almost reactionary, in the way the sexually liberated get their comeuppance. But I wonder if focusing on Pearl rather than the film-makers might have been more effective? It feels like there's an interesting story to be told there, and West revealed he did indeed shoot such a prequel, after the filming of X had finished. Despite my ongoing qualms about "elevated horror", I'll admit to being curious about that.