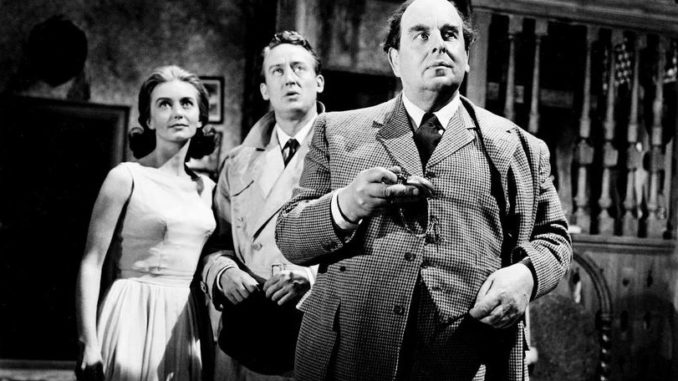 Rating: C-
Dir: William Castle
Star: Tom Poston, Robert Morley, Janette Scott, Mervyn Johns
Few names are more deeply linked to horror in the sixties than William Castle and Hammer. So it's disappointing their only collaboration proved a damp squib. This is a spoof; horror-comedy which works not the slightest as the former, and hardly at all as the latter. That's a shame, especially given a sterling cast of British character actors, including not just Morley, but also Joyce Grenfell and Fenella Fielding. They certainly deserve better than this tired cross between Ten Little Indians and Castle's own House on Haunted Hill, and a lead performance from Poston which drains all the energy out of almost every scene in which he takes part. He feels like a low-rent version of Don Knotts, all exaggerated reactions and pratfalls.
After a rather pointless opening at a Mayfair casino, Tom Penderel (Poston) delivers a car to his housemate, Casper Femm, at the Femm family estate on Dartmoor. Except, when he arrives in the middle of a torrential storm, he finds Casper dead, apparently murdered. Who one is responsible for that, and the steadily increasing corpse count? And will Tom be able to identify the murderer, before becoming one of their victims? There's no shortage of suspects, as the rest of the family are a bizarre collection of oddballs – descended from a pirate, and obliged to stay on the estate by the terms of their ancestor's will. The include gun nut Roderick, played by Morley; the role was originally offered to Boris Karloff, who declined, unhappy with the script. Potiphar (Johns), who is building an ark – complete with animals – in preparation for an end of the world which he believes is imminent. Matriarch and incessant knitter, Agatha (Grenfell). Morgana the vamp (Fielding, naturally). And Cecily (Scott), who seems relatively normal.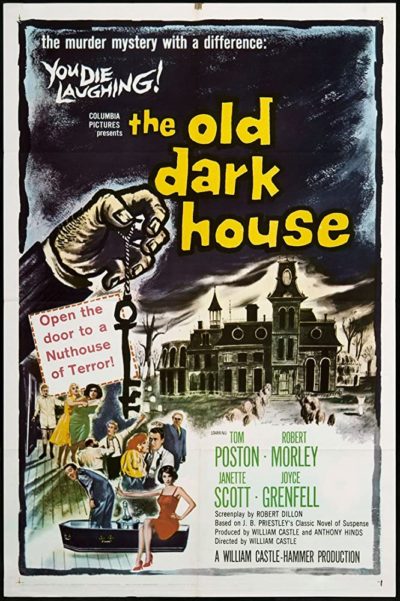 This is based on the same original source material (Benighted, a 1927 novel by J. B. Priestley) as James Whale's 1932 movie. At the time Castle's version was made, the previous adaptation was considered lost. It was rediscovered later in the sixties. and definitely has a far superior critical reputation. I've not been able to find out how Castle got together with Hammer; there had been some slight collaboration previously, Castle's Homicidal being released on a double-bill with The Terror of the Tongs. But it feels as if they each managed to dilute the strengths of the other. There are certainly none of Castle's gimmicks, and while many of his horror films have dark wit to them, in this case there's hardly enough horror to qualify at all. Though it wasn't his only foray into comedy, the previous year's Zotz!, also starring Poston, being similarly light in tone. Based on this, I'm not rushing to see it. Being kind, Castle's talents don't appear to stretch to comedy.
Meanwhile, there's almost none of the atmosphere for which Hammer were justly famous. The setting described in the title, is reasonable enough, though it requires the power to go out with clockwork regularity, as necessary to the plot. Yet it's nothing more than a backdrop, and once Tom arrives at the estate, there's little more than the characters (sometimes literally) marching from one room to the next. While the British cast are generally good, there are few of the regular Hammer stable to be seen. Scott, fresh off Paranoiac, is the only familiar face for the studio. It's a fun party game for Hammer fans to watch this, and recast it with the likes of Michael Ripper or Oliver Reed. Otherwise, it's certainly the least Hammer-like film I've reviewed so far, despite them providing a good chunk of the crew, such as director of photography and regular studio cinematographer, Arthur Grant.
I'll confess, we did laugh at a few of the jokes. There's a nice running gag in which the family crest is lowered to half-mast every time someone dies, and another one about a trapdoor through which Tom repeatedly falls. The opening credits, drawn by noted cartoonist Charles Addams, are perhaps better quality than anything the actual film has to offer. But what rescues it from total mediocrity are deadpan performances from the Femm family, who embrace their barking madness as normality. It definitely echoes The Addams Family, though there's less of the macabre here, and more of the British eccentric. It may be infectious, going by the rather strange scene in which Tom hallucinates Morgana's face on the body of a seal (one of the intended inhabitants of Potiphar's ark).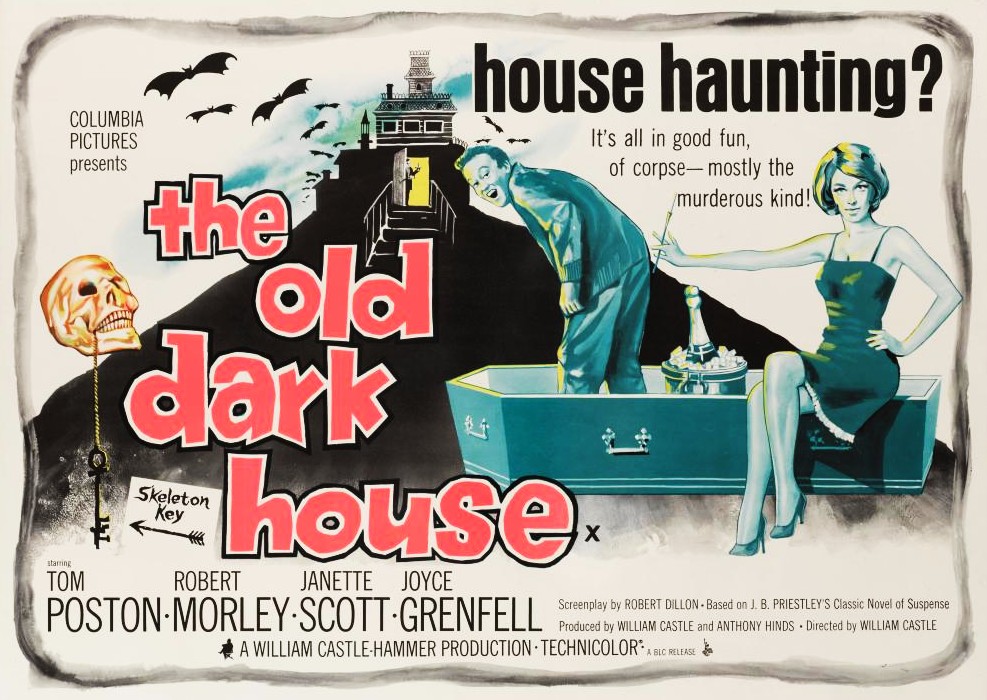 It doesn't even work as a whodunnit, with no logic to the supposed murders, an obvious culprit, and a finale which appears more of an afterthought. While shot in colour – and that's how we watched it – the original US release was in black-and-white. Maybe they were trying to invoke, once more, the spirit of Psycho? Regardless, it doesn't seem either Hammer or Castle had much love for the end result. It doesn't even rate mention in the director's autobiography, the wonderfully titled, Step Right Up!: I'm Gonna Scare the Pants off America. And the studio sat on the movie in the UK for several years, not releasing it until September 1966, as the bottom half of a double-bill with comedy-Western, Big Deal at Dodge City.
This was in part because they wanted a U certificate, allowing it to be seen by unaccompanied minors, but the British Board of Film Censors steadfastly refused, insisting on the adults' only X certificate. Hammer eventually caved and made cuts to get an A (accompanied minors) certificate, so they could try and make some money from it. Unfortunately, the long delay meant House came out the week after similar spoof Carry On Screaming, also starring Fielding, and was dead on arrival.
I leave the final word to an unnamed employee of the BBFC. As was common practice, a synopsis was sent to them before filming, for their approval. While they had no censorial issues at that point, the reviewer spared little artistic criticism:
"I have read some silly scripts in my time, but I never expected to find anything so silly sent in by so experienced a film company. I suppose they know what they are at; but let us hope they have a very well- known and popular cast, whom people will come to see whatever they are doing."
This review is part of Hammer Time, our series covering Hammer Films from 1955-1979.