Rating: D
Dir: David Lake + Andre Madness
Star: Teagan Presley, Nina Mercedez, Alexis Ford, Andy San Dimas
It has been a very long time since we reviewed any true hardcore pornography here – maybe Cicciolina's Racconti Sensuali back in TC…2? Not for moral reasons, just because we find it difficult to write anything meaningful about them. And that's the case here – because make no mistake, this is not a grindhouse flick with hardcore elements, it's a hardcore film set against a grindhouse backdrop. Again, no moral judgment there, but you should certainly know what to expect. Like the Rodriguez/Tarantino collaboration, there are two separate, independent features here, Student Assassin and Massacre at Pine Lake, though the only real nods beyond that are the "drive-in" style intros used and an amusing (faux?) trailer for Easter, a film in which the Easter Bunny goes on a murderous rampage.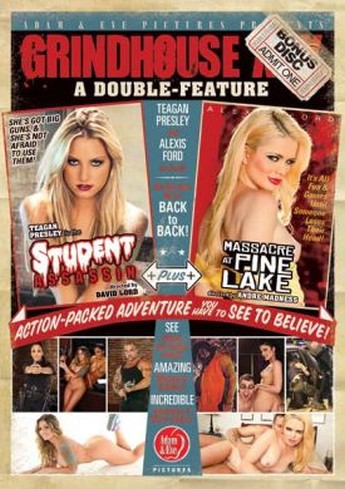 Assassin is the weaker, due to the almost complete absence of any plot. Nina Mercedes is a cop kidnapped by a drug-dealer she's attempting to arrest. Live-in lover Presley, fortunately moonlights as a contract assassin (in order to pay for her tuition at a community college. No: really), and runs to the rescue. Obvious questions, like how she knows where Nina is, are completely ignored, since it's very, very obvious where the focus is for this one. Seriously, if you removed the sex, you might have 6-7 minutes left. I'm tempted to edit it out, to make a girls-with-guns short, but as a result, the storyline and characters are basically non-existent. Was amused to find ourselves fast-forwarding through the porn in search of a storyline; does that mean I'm getting old? Massacre fares considerably better, though the ratio of porn:plot is likely at least 3:1, and the results are as you'd expect. Director Madness does know the tropes of the genre, and there are a couple of imaginative moments showing genuine artistry, most obviously a lengthy steadicam shot, with the camera attached to and facing Ford. We also enjoyed the spoof of the 'Hide yo kids, hide your wife" video in the end-credits. However, the deaths – which should be as much of the point as anything else – are bloodless and uninteresting.
The main problem here is, the balance in the films is way, way off. As Pirates showed, there's scope for porn that operates in more traditional genres, but that clearly put in effort, beyond the sex scenes – that only happens very sporadically here, and not at all in Assassin. The grindhouse genre is supposed to be transgressive, but even if the sex here is undeniably hardcore and the ladies present are generally pretty (despite the obvious silicone in certain cases), it's so vanilla as to be forgettable. The potential for a grindhouse/porn crossover is certainly there. For instance, it might have been amusing if, in Massacre, one of the male performers had been stabbed by the killer as he prepared to ejaculate, resulting in him shooting a load of blood onto the actress's face. [I'd like to thank my wife for coming up with this concept; I guess Antichrist made more impact on her than I thought!] Instead, this is just a porn film dressed up in grindhouse trappings, and is as largely uninteresting as that sounds.