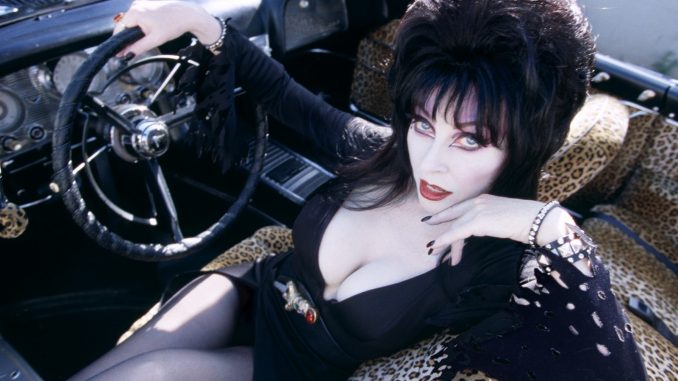 Rating: B
Dir: James Signorelli
Star: Cassandra Peterson, W. Morgan Sheppard, Edie McClurg, Daniel Greene
This might be the closest Hollywood has ever come to producing something like the Carry On movies. It has much the same combination of larger-than-life characters, silly plotting and groan-inducing puns, frequently involving double entendres of varying subtlety. If so, then combining the roles of both Sid James and Barbara Windsor is Cassandra Peterson, playing her alter ego Elvira in much the same way that Paul Reubens plays Pee-wee Herman, blurring the lines between character and performance. [Perhaps of note, both Peterson and Reubens were alumni of the Groundlings sketch/improv troupe in Los Angeles]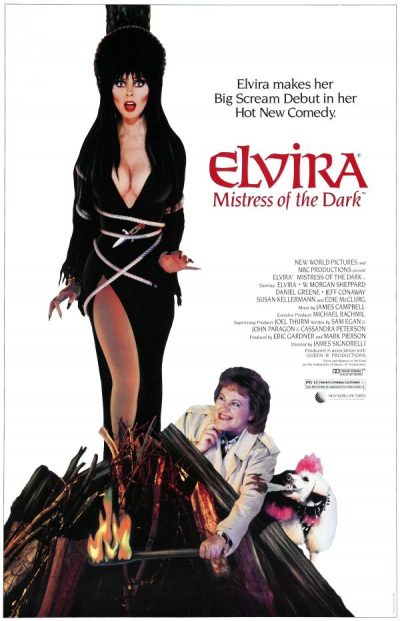 It's a film which is simultaneously way ahead of its time and thoroughly dated. Elvira quits her job as a TV station horror hostess after the owner makes a crude pass at her, three decades before the #MeToo movement empowered such acts of resistance. Yet the rest of the film levels an undeniably male gaze at Elvira, in a way which could easily be seen as potentially creepy from a modern perspective. I say "could," because Elvira's enthusiastic embrace of her own sexually-charged persona makes the whole thing entirely consensual. We are expected to stare at what amounts to four pints of milk in a black, quart-sized bottle. As she puts it, "My appearance is kind of a shock to everybody." I suspect she would be insulted if we didn't: Exhibit A there, being the tassel-twirling which provides the final scene.
Interestingly, the main enemy here are the puritans who inhabit Falwell, the town where Elvira goes to pick up an inheritance from her late great-aunt Morgana. That name alone gives you a clue: in the eighties, it was repressive conservatism which was the censorious authority, embodied here in 'Chastity Pariah' (the perfectly-cast McClurg, another former Groundling). Now, it seems to be the control-left who are much more invested in dictating what is or is not permissible in culture, through the veneer of political correctness which makes their offense our problem. Related: There's a sequence where three local teenage boys are trying to sneak a peek at Elvira's attributes. All I could think of was, "Well, that ends their chances of a seat on the Supreme Court". Which just goes to show the idiocy of judging eighties actions by 2018 standards.
Indeed, the film turns into a literal witch-hunt, with Ms. Pariah teaming up with Elvira's evil uncle Vincent (Sheppard, equally impeccably chosen). He wants a book of spells which belonged to Morgana, and needs to be rid of Elvira, in order to get his hands on it. Discovering the crime of sorcery is still on the local statutes, they sentence Elvira to be burned at the stake – and her little dog too, in one of the film's many nods to other films. It all ends in a magic battle of opposing optical effects, cheesy in the way only a late-eighties movie made by the late, lamented New World Pictures could hope to achieve.
It would all potentially be terrible, except for the glue which is Peterson at its core. She holds everything together through sheer force of personality, delivering lines like "Here's to my big opening!" or "I've seen the People's Court. I'm entitled to one phone call and a strip search," with the commitment needed to make them work, far better than they do on the page. I wonder what a more cinematic director might have done. Signorelli's work has largely been for Saturday Night Live, with his only other feature the Rodney Dangerfield vehicle, Easy Money (if you discount three weeks work on Police Academy 2 before being fired). Here he's at his best when he simply gets out of Elvira's way.
This was cinematic lightning in a bottle. Thirteen years later, we got Elvira's Haunted Hills, which tried to go the same route, yet came up short, despite adding Richard O'Brien, because that horror-comedy tried to skew more towards the horror. Mistress of the Dark makes no such mistake, and is considerably the better for it, sailing majestically through treacherous waters and remaining thoroughly buoyant.
This article is part of 31 Days of Horror.
---
[Original review] The most fitting tribute to this movie is that, fourteen years later, I still borrow lines from it: "Nice jacket – who shot the couch?" is a personal favourite. No doubt about it, this is cheese, but it is a block of the finest Cheddar. I almost used the word "mature", but that would be wholly inaccurate, since the comedy in this film revolves largely around innuendoes which barely reach single, never mind double. However, Elvira has the personality and charisma to pull it off (and she does – frequently), making for a highly amusing experience. Well, providing you find things like a toast of, "Here's to my big opening!" funny…I know I do.
There's some pointed digs at morality too; the neo-Puritan community in which Elvira lands is "Fallwell" (inspired by Fundamentalist preacher, and cousin to Jerry Lee Lewis, Jerry Falwell), while the town's moral guardian, wonderfully played by McClurg, is named Chastity Pariah. The main plot has two threads: Elvira vs. Pariah, and Elvira vs. her Satanic great-uncle (Sheppard), which mesh nicely, leading to a climax only slightly marred by some woefully lame digital effects and a tacky Vegas song-and-dance routine. The latter does allow Elvira to display her undeniable tassel-twirling talents, so we'll let it slide. This is perhaps the closest America has come to making a Carry On film, with Elvira as Babs Windsor, Kenneth Williams and Sid James, all rolled into one, and it can only be applauded as such.