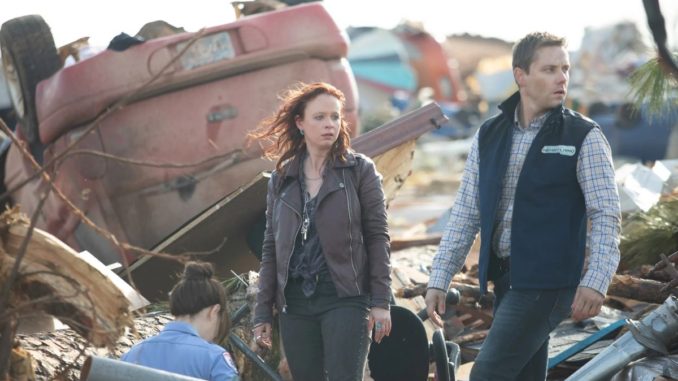 Rating: C
Dir: Lindsay Gossling
Star: Amy Smart, Thora Birch, Anne Heche, Paz Vega
There's a storm coming, à la Terminator, Riddick (twice), Warewolves Within and any number of other films. Yup, beware folks, there's a big thing that is looming ever closer, large and threatening. What's that coming over the hill, is it a monster? Is it a monster?
Set in Oklahoma, we join four families as the largest tornado on record threatens to ravage a small and wholly fictional town. The title comes from the thirteen minutes warning that the town receives as a TV weather-man watches safe from his studio as his home town and potentially whole family is ripped apart.
Like many such films this spends a goodly time weaving and interweaving characters as not much happens, quite slowly. With the fabulous countryside on display, its early tone reminded me of Hell or High Water and although this is a very different film, it is also a film with arguably no 'bad guys', instead just people playing the cards they have been dealt. This feels like a play with interwoven vignettes providing a momentary window into plain ordinary lives and life, whilst oddly also feeling just a little bit like a public information film. Don't treat warnings with ambivalence no matter how many times you've heard them before, and when you hear the siren…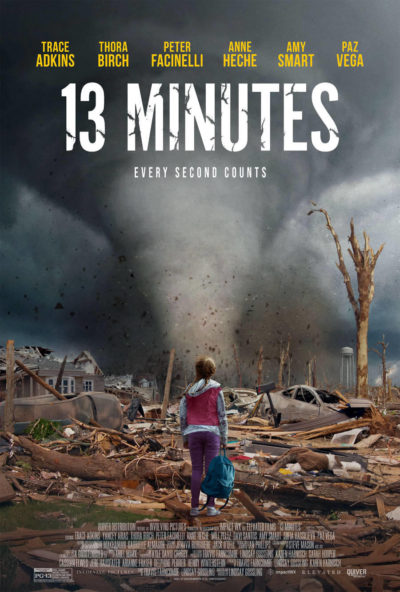 However unlike HoHW this is family-safe viewing, and for our UK readers it's a film that (the BBC's) Radio-2 working in conjunction with (BBC's) Women's Hour would produce, and one where wholly expectedly (spoiler alert) nothing bad actually happens. Nah, it just ain't that kind of film bruv, it feels 'made-safe-for-TV'.
The build-up is done nicely, quietly and slowly, and as mentioned the cinematography is excellent, in no small part due to the wonderful canvas that it has to play with. But also helped along the way with some varied, close and unusual angles being used, giving it visually at least quite a few turns of pace. There are also some quite nicely deft performances too.
At the risk of damning the players, it's also nice to have – verbatim from my notes – 'a cast of non-Hollywood ordinaries', as it gives the viewer a bit of elbow room in not having to focus on the big name on screen – you know, the ones with the super-white perfect teeth and curated hair.
Along the way there's lots of emotional interplay with some big topics being touched on, albeit so lightly that it ends up feeling a bit pathetic and almost embarrassing. Then the pause, a big deep intake of breath and… OH SHIT THIS IS BRUTAL …until finally… a bleakly silent blackness stretches.
To wrap up, this is a film about humanity, disaster and aftermath, dotted here and there with the occasional boat deposited where previously someone's house stood. It's also an American fil-um, meaning that everyone is broadly okay, apart from the illegal Mexican't, although he does survive to be instantly accepted by his previously hostile boss. Yeah. Right.
The story, the people and their problems are all ultimately facile and the whole is as instantly forgettable as it is light to consume. And yet. It's really not a bad film and one well suited to a slow Sunday afternoon when you just want to veg-out. Is it worth watching? Ask Schroedinger.
Stand-out moment? "Put down the squirrel".