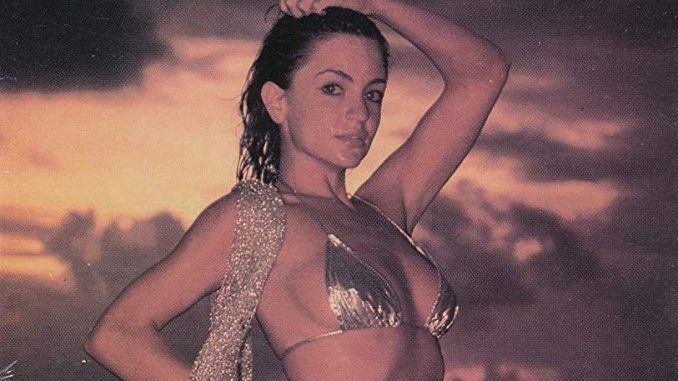 Rating: D
Dir: Manny Esquivel
Star: Nichole Dernenberger, Lisa Butaud, Kelley Wild, Dan Boyd
I didn't even want to watch this. I downloaded it as a favour to a friend, who was talking on Facebook about remembering the film from his youth, but he ended up not needing it. I just realized he has since unfriended me. Fuck you, Nick… Before wiping it off my drive, I thought I might as well watch it. And, again I say: fuck you, Nick. For this is part commercial for Belize tourism, part cheesecake, and almost entirely terrible.
It is so obscurist that, for the longest time, it didn't even have an IMDb entry, and has only the skimpiest one now. Vixens was apparently released on video at the time, but all copies of it floating around these days appear to come from screening on USA Network's Up All Night program (coincidentally, on my 28th birthday in April 1994). The show aired on Fridays and Saturdays from 1989 through 1996, with the main hosts being Gilbert Gottfried and Rhonda Shear. It featured mostly B-movies, accompanied by skits and commentary from the hosts around the commercial breaks, though some surprisingly high-end films appeared, including Cat People. It's safe to say that Vixens of Bandalero is not one of those.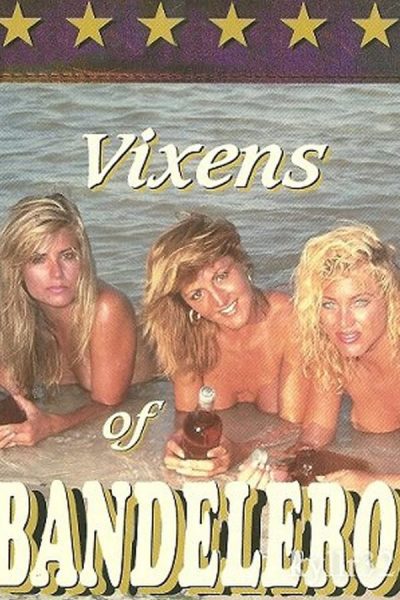 It tells the story of the O'Shea family. Patriarch Charlie owns a ranch, but is now fading fast from heart problems. His three daughters, Lucille (Dernenberger), Olivia (Butaud) and Jennifer (Wild) return to the family home, only to find Darryl Milken (Boyd), the banker to whom the ranch is mortgaged, is eager to pounce. I have to say, the bedside manner of local physician Doc Clancy, who's attending on Charlie, does leave something to be desired. He tells the sisters, "I'll be back when it's over to pay my respects and to sign the certificate. I've got to see some patients who care more about living than dying," with Charlie lying right there.
Anyway, how are three reasonably attractive women going to raise money in a short period of time? Become high-end escorts? Sadly, no. If you guessed "travel down to Belize and look for twelve thousand sunken cases of Irish whiskey, shipwrecked there since 1932" congratulations – you are clearly the scriptwriter. Don't ask why Charlie waited more than 50 years before mentioning this. Good job he did, for five minutes later, he kicks the bucket – Doc Clancy was clearly right. The sisters immediately negotiate a short-term loan extension from Milken, albeit after dressing like semi-finalists in a Quick and the Dead look-alike contest, and engaging in cinema's least convincing or amusing gun-battle against his hired hands.
They head down to Belize and immediately get stuck in to the essential task of locating the sunken cargo which can save their family ranch from foreclosure. Oh, I'm sorry. My mistake. Here's a list of the things which they do between arriving at their destination, and so much as going into the water:
Lose their luggage (well, they have suitcases getting off the plane, which have mysteriously vanished by the time they reach the hotel)
Go to a local bar
Hang out by the pool
Sunbathe
Enjoy some alcoholic beverages
Stroll along the beach
Do a little local shopping
Go for a dip beneath an artificial waterfall
Stroll along the beach some more
Drink further alcoholic beverages
Feed the local fauna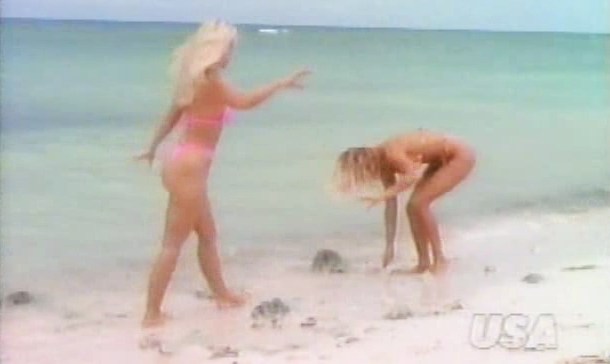 By this point, I was yelling at the TV set, "HELLO! THE WHISKEY?" Any actual work towards that goal is left to their dad's old pal, and he's mostly busy drinking himself to death. Fortunately, the bad guys who are snooping around. hoping to cash in, are no more competent (though did, at least, provide this glorious reaction GIF). In the end – and I'm talking a good 45 minutes, excluding commercial breaks and Gilbert Gottfried yelling at us – Olivia and Jennifer literally stumble across the lost hooch (documented proof, above) as they splash around in the surf. That's it. Sheesh. It's no stretch to say that the adverts were considerably more entertaining than the film, not least the promos for the home-video release of The Sandlot, or the sex-chat commercials, which were far hotter 'n' heavier than Vixens of Bandalero.
Did I mention the whole thing may not be happening at all? For there's a wraparound element which suggests the entire escapade is perhaps a figment of the imagination, concocted by a writer, also played by Dernenberger. This is so badly bolted on to the rest of the film, I'm left to wonder if it was perhaps footage added to replace a slew of nudity, ruthlessly excised for the TV version. Because there's absolutely nothing of any note in that department present in the Up All Night edition – this being American broadcast TV, where more than a decade later, three seconds of Janet Jackson's nipple destroyed civilization as we know it.
My suspicions this was heavily cut are enhanced by the fact that the only contemporary review I could find was in Adult Video News, which gave it a glowing write-up: "gorgeous, textural essays of beautiful women posed au natural". We may never know the truth, unless someone is willing to shell out $47 for the VHS version.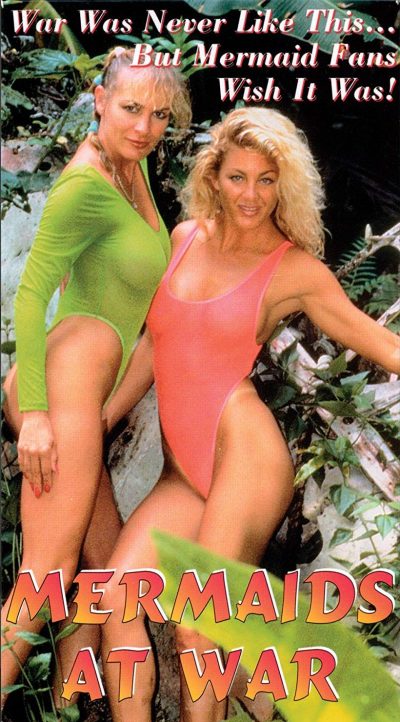 Producers Bennett Marine Video did appear to have a line of aquatic soft-porn, including titles like  Mermaids Illustrated, Mermaid's Passion, or even Mermaids of the Aztec Empire. The last-named suggests a Werner Herzog movie, with Klaus Kinski yelling at surprised merfolk. [I confess to having used a pic from Dream of a Mermaid at the top, stills from Vixens being basically unobtainable beyond shitty screencaps] This certainly explains the plethora of underwater footage, and why none of those involved appear to have done anything else of note. The only other IMDb credit for anyone is for Butaud, in Mermaid of Discovery, though it appears the same trio were in Mermaids Illustrated, made the same year. I also discovered what I must admit is the intriguingly-titled Mermaids at War, starring Wilde, and it appears five titles were re-issued on DVD last April.
That's a rabbit-hole down which I'm not yet prepared to head. Merely bringing you this information means my Amazon search history is now royally fucked, and I'm getting product recommendations for all sorts of aquatic nonsense. You're welcome, people. Still, in some ways, this was a throwback to a kinder, gentler, pre-Internet time, when you took your cheap thrills wherever you could find them. Though having grown up in the UK, where broadcast television offered considerably better in that department – hello, Britt Ekland in The Wicker Man – this seemed weak sauce indeed. However, as the end credits scrolled past in a remarkably leisurely fashion, compared to the 64x speed used for movie broadcasts these days, I realized this is possibly the only film ever with the credit, "Air cover/security: Royal Air Force of Great Britain." Yes, folks: your taxes at work.