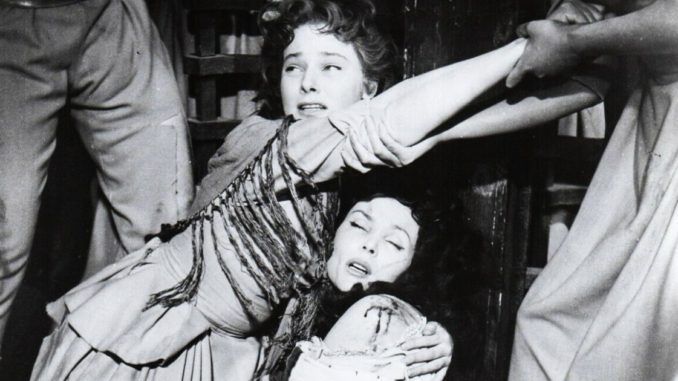 Rating: B-
Dir: Raffaello Matarazzo
Star: May Britt, Tania Weber, Ettore Manni, Luigi Tosi
a.k.a. La nave delle donne maledette
One of the early women-in-prison films, it comes out of the fifties cycle, in the wake of Caged. This take transplants the era back to the 18th-century, and even though it's an Italian film, the location is also changed to Spain. Aristocratic Isabella (Weber) has been caught disposing of her bastard child in a well, a fact that will derail her impending marriage. With her family teetering on the edge of bankruptcy, that can't be allowed to happen. So her poor but honest cousin Consuelo (Britt, the future Mrs. Sammy Davis Jr.) is guilt-tripped into confessing, on the premise strings will be pulled and a light or no sentence handed down.
One very quick trial later, it turns out to be ten years in a penal colony for Consuelo, and she's shipped off, part of a large consignment of female convicts. Awkwardly, she's dispatched on the same ship on which Isabella and her new husband are travelling. Her defense lawyer, Paolo Da Silva (Manni), feels guilty – perhaps because he slept in and missed all but five minutes of the hearing – and stows away, hoping to prove Consuelo's innocence. Though he's helped by a defrocked priest among the crew, Isabella bats her lashes at the captain (Tosi), and the prisoner's repeated changing of her story doesn't help matters. Paolo is sentenced to be flogged; when Consuelo receives the same fate, that provokes a below-deck riot among the prisoners, who break out and seize control of the vessel.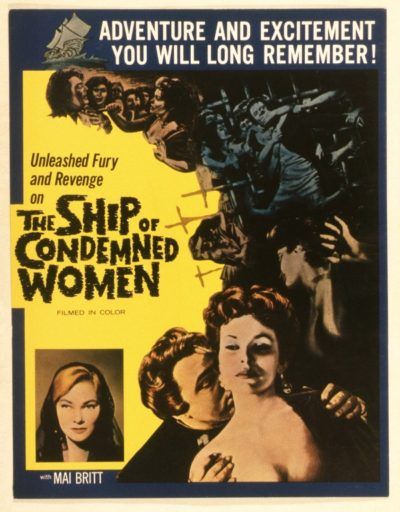 There are a surprising number of elements here which haven't changed much in the WiP genre, over the 70 years which followed. A deliciously salacious title; the wrongly-convicted heroine; cruel treatment at the hands of the guards; an inmates' revolt, leading to the heroine's exoneration. There's even the genre staple of gratuitous nudity, as the inmates and crew party down enthusiastically post-mutiny. This was a surprise given the era; Italian productions clearly were not subject to the strict requirements of the Hays Code, which dominated Hollywood. Crime still isn't allowed to pay though, the sailors neglecting their ship-side duty, to the severe detriment of the boat's structural integrity – after Conseulo and Paolo are at a safe distance, naturally.
The credits list Kerima (who later married four-time Bond director Guy Hamilton) first, though her role is minor. She was, however, a star at the time due to her performance in Outcast of the Islands, a couple of years earlier, so got lead billing. It's all quite melodramatic. Or, at least, it's these elements which I found the most entertaining. On the one hand, there's Britt playing the saintly innocent, even trying to defend Isabella from the vengeful fury of the mob (top). On the other, we have a thoroughly hissable Weber, realizing the captain offers rather more amusement than her elderly husband, who is basically useless except for his money. Embrace these aspects, and this has aged better than expected – if not quite like a fine wine, perhaps closer to cheese maturing…