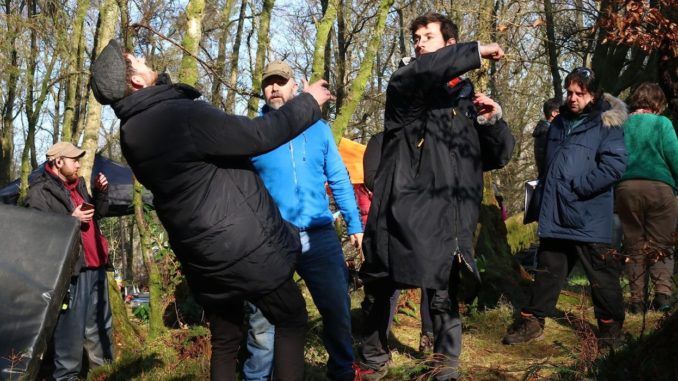 Of particular interest to Tubi-philes like myself lately, has been the commitment to their own brand of movies: Tubi Originals. To be fair, these are smaller scale and of lower prestige than the kind to which Netflix put their names. Martin Scorsese has yet to be lured in to their universe to helm an entry in their Girls' Getaway Gone Wrong series. However, a good number of these tend to be in our wheel-house, and we've covered some before: Shark Bait is a lot of fun, delivering exactly what you'd expect from the title. But when I heard that Mercy Falls was a product of my home country, my interest was particularly piqued, movies made (or set) in Scotland being a particular interest. Below is our review, but first, director Ryan Hendrick talked to us about moving from Christmas rom-coms to wilderness survival horror, finding locations in the woods, and why he owes Damien Leone a beer or two!
Tell us a bit about your background, before Mercy Falls.
I've been making films since I was a teenager. It's all I've ever wanted to do, so I've spent all this time slowly honing my craft, learning the business and looking for ways to tell the stories I want to tell. I've always moved around genres. My feature film debut Lost At Christmas (2020) was a festive romantic comedy, before that I made a short film called Sundown, which was a emotional morality tale, so I'm used to switching genres as I continue to hone my craft.
Where did the idea come from? Were you inspired by other films or film-makers?
When Lost At Christmas came out I started getting a lot of Christmas scripts in the mail. I realised that I'm destined to exist in that space for a while, but in order to avoid getting pigeon-holEd as "the Christmas guy" I had to do something totally different, and a horror film seemed like a strong way to achieve that. I love survival in the wilderness movies: The Edge, The Grey, The Descent. I've always been drawn to stories about people surviving in nature. I also was looking to play to my strengths, and one of my biggest strengths as a filmmaker is capturing the natural world.
I wanted a highly intelligent threat that was also physically and sexually threatening.
The specific story germinated from an old amateur film I made when I was a student that had a very formulaic slasher in the woods approach. It was an amateur film with non actors so it was not all that good. But when I looked at it after nearly 20 years I could see what I was trying to achieve and decided I could now effectively realise the ideas and themes I wasn't quite able to capture then. So I took the basic setup of this old film and merged it with the themes I was interested in now, that weren't present 20 years ago.
It's clear the locations were key. Did you build the film around these, or were you able to find places that matched the script?
That's probably how I should have approached this, and in the past I have very much built my scripts around what I know I can access. This time we took off the restraints and just told a damn good story and then paid for that ambition by spending weeks searching for the right locations. The waterfall and the cave were the trickiest locations to find. I had other locations for both lined up early on that were fantastic locations, but sadly there was no easy or safe way to get all the crew and equipment to the locations. So we were forced to keep searching for locations that 1) would serve the story and allow us to capture the scenes we needed to capture, and 2) we had to logistically and safely be able to access these locations.
Was it always planned to have a female antagonist?
Absolutely, the first scene that appeared in my mind when conceptualizing Mercy Falls was the Siren of the Loch sequence. It occurred to me that these kinds of slasher movies usually involve a male antagonist as they tend to focus on the brawn rather than the brains. I wanted a highly intelligent threat that was also physically and sexually threatening. Carla is precise and surgical as an antagonist, she is calculating rather than brash. One reviewer recently described her as a "brutal display of pragmatism" and that in a nutshell is our baddie.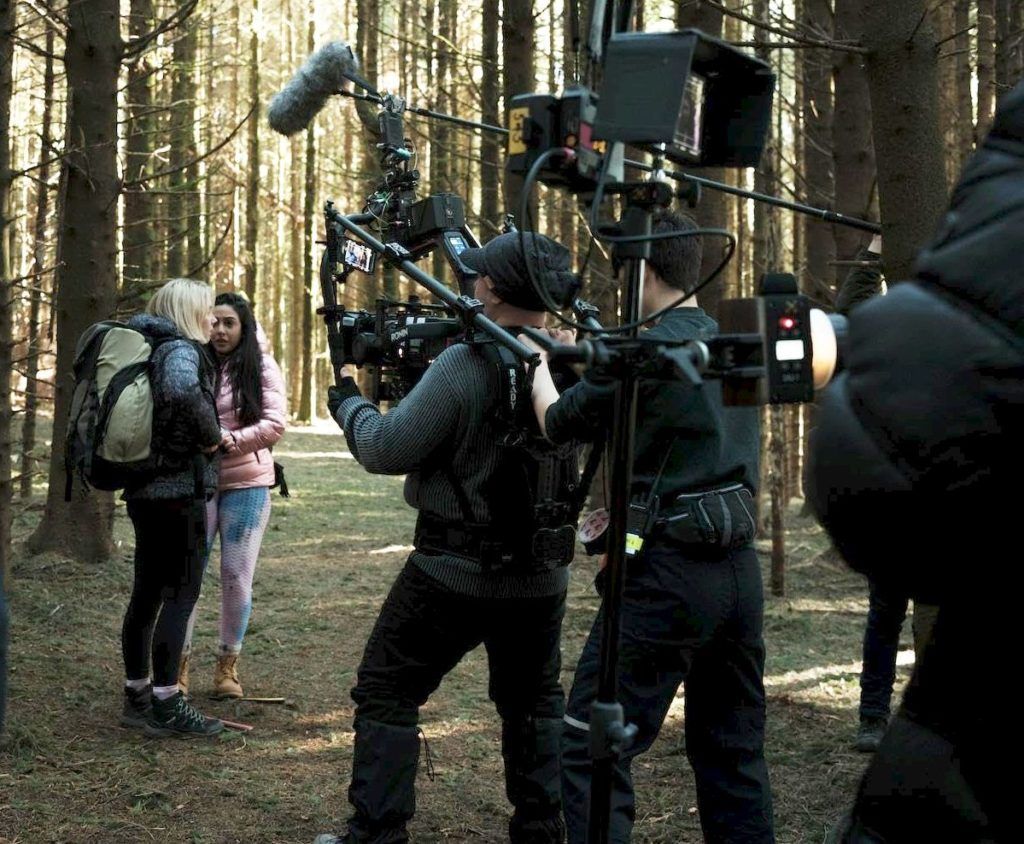 How did your cast come together?
I knew we needed a star for Rhona. The script didn't have the same opportunities for multiple star cameos like Lost at Christmas, but in order to stand up above the crowd I need we needed some star power front and centre. Plus I wanted a group of intelligent and free thinking actors who bring their A game to set every day and don't need the director to hand hold every decision they make. There just isn't the time for that on a low budget shoot. So our first move was to find Rhona, so we put the script and the breakdown out to agents and I was sent a list of about a dozen names.
All had a certain amount of profile and met the requirements of the character and Lauren's face just stood out above everyone else on that list and my mind was made up. Fortunately for me Lauren loved the script and committed to film within a matter of days. Nicolette McKeown was the only actor I had worked with before, she had a tiny part in Lost at Christmas but there was this little voice in the back of my head telling me she had the right characteristics for what I wanted Carla to be, so I took a gamble and it paid off. Always trust your instincts. The rest of the lead cast was a process of auditioning lots of actors.
Did the film change much between the page and the screen?
Not really. There are some minor alterations and ideas that came to us during production. I cut a couple of scenes out near the start before the group set off on their hike. I felt it was taking us a little too long to start moving, so you make those hard decisions and trim what you don't need. It was always meant to be a dark film, but I think a few minor alterations whilst filming and the creation of the music score made the film a little more sinister than we had anticipated, but I am all for that.
You can never do enough prep on a film
I've heard horror stories from other film-makers about the perils of filming in Scotland – in particular: midges! How was the shoot for you?
The infamous midge wasn't a problem for us as I am acutely aware of the hell these little critters can unleash! We shot the film in March, the midges don't really start appearing until around May/June. The trade off there however is its colder, a little wetter and the daylight is shorter. Filming out in the elements in March can be tough, we were relatively lucky and only had a couple days of rain, but it was sporadic so we weren't rained off at any point, which would have been problematic.
Were the locals supportive of your filming there?
The support from the local residents and the local businesses where we were filming was incredible. They went above and beyond for us. So much of this film was achieved simply down to their support. It made our lives so much easier.
They say you learn something from every movie. What was your biggest lesson here?
We set out to make a film that was incredibly ambitious with the limited amount of money and time that we had. Looking back, we should have failed at some many points, but due to the talents and tenacity of everyone on board Mercy Falls we managed to overcome so many obstacles. So I suppose the biggest lessons would be appreciating the benefit of preparation, you can never do enough prep on a film. The second lesson would be trusting your instincts sooner and don't be afraid to push for ambition. I think all filmmakers suffer from imposter syndrome to some degree, I tend to get hit by it pretty hard on the first couple of days, the sooner I overcome it, the freer I am to craft the film I've set out to make.
How did a small independent Scottish horror film end up as a Tubi Original?
Alas I can not take credit for the Tubi deal beyond making a film Tubi considered worthy of their association. I have an incredible sales agent company: The Coven, run by Priscilla Ross Smith who I've been working with since Lost At Christmas. Both Priscilla and her colleague Kendall Allian pulled out all the stops for Mercy Falls. They've been riding this incredible horror wave as they also represent the Terrifier movies, so it's a pretty fair assumption to make that Mercy Falls has probably had some doors opened up due to the success of the Terrifier films. So I probably owe Damien Leone a beer or two.
Tubi have been incredibly supportive of Mercy Falls. It was an incredible offer that they made on the film, too good to turn down even though we had about six weeks of post production work that we had to condense into two weeks in order to make Tubi's release date. Fun times!
Mercy Falls is available to stream on Tubi now.
---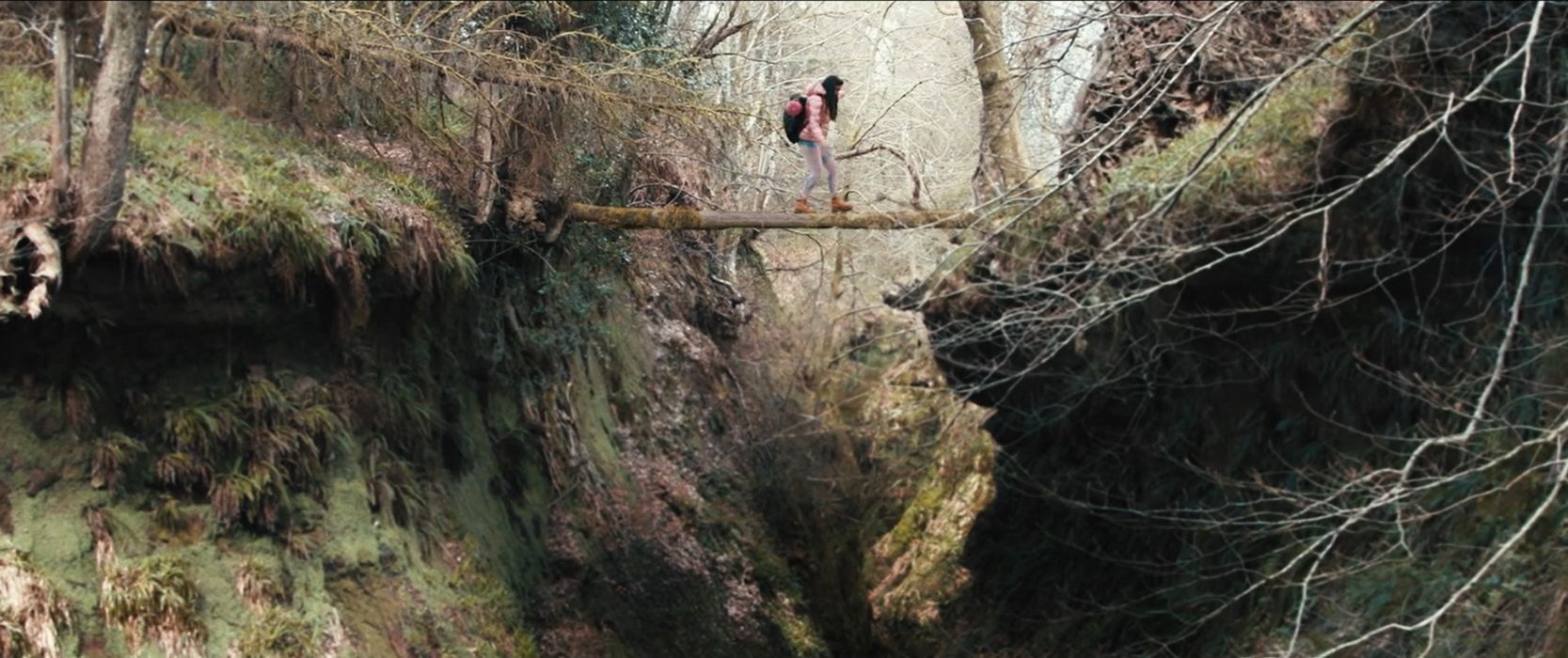 Mercy Falls (2023)
Rating: B-
Dir: Ryan Hendrick
Star: Lauren Lyle, Nicolette McKeown, James Watterson, Layla Kirk
"Come to beautiful Scotland! And die!" I remain a sucker for a Scottish film. This delivers, with no shortage of rugged mountain landscapes, beautiful lochs, a ceilidh band and trees. So. Many. Trees. The foliage is understandable, because most of it takes places in the woods, where Rhona (Lyle) and her friends are looking for a cabin, deep in the wilds, which belonged to her late father. To help find it, they enlist the help of local Carla (McKeown), whom they meet down the pub when they have a pre-trip planning get-together. She initially seems fun to be with. But once they're away from civilization, a shocking incident proves she… has issues, shall we say. And might not be the only one in the party.
The "trip into the woods goes wrong" subgenre of horror has been a staple of the industry for decades – not least because, it's cheap to do. Why bother with expensive sets, when you can just run around a forest for the bulk of your running time? [Though from previous conversations with Scottish film-makers, the dreaded blood-sucking local insects know as midges, might make that choice of location a decision to regret!] There's not a lot new in this incarnation of it. Having the threat come from inside the party is a moderate twist, as is having both leads being women. But horror, generally, isn't something which requires innovation. It's considerably more about the execution. Or, perhaps, the executionS.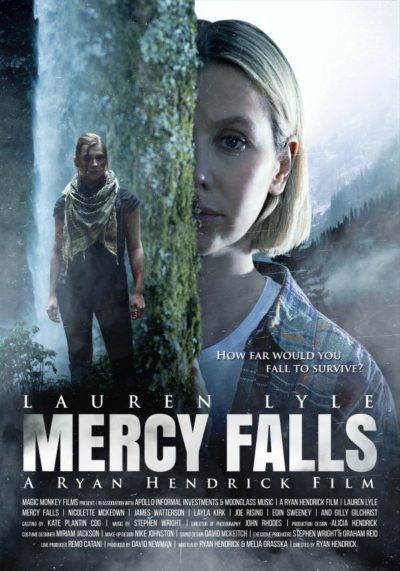 There, this film is a bit of a mixed bag. If the supporting characters aren't much more than stock characters: the slut, the jackass, the nerd (that would be the guy reading Homer in the woods!), they serve their purpose, which is mostly to die at the hands of Carla. The effects are limited, but I'd say, respectable enough. One extended impalement is likely the highlight, helped by the victim's enthusiastic selling of their injury. The script is perhaps the weakest element, with a few moments which had us rolling our eyes, in particular the "we might be going to die, so let's go ahead and have sex" scene. At 103 minutes, trimming might be warranted, as this stretches the material a bit thin. On the other hand: did I mention the lovely scenery?
It all builds as you'd expect, to a decent face-off between the heroine and villainess. It is somewhat problematic, in that the latter's background should give her such an edge, as to be able to wipe the floor with Rhona inside ten seconds. Something like handicapping Carla with an injury could have helped make the playing field feel less one-sided. However, we were still reasonably invested in things by this point, and McKeown definitely makes for a convincing nemesis, capable from flicking an internal switch and going from friendly into "you are all going to die" mode in a moment. Nobody could accuse this of ambition, yet it does what it does well enough to entertain us.
[A version of this review previously appears on GirlsWithGuns.org]