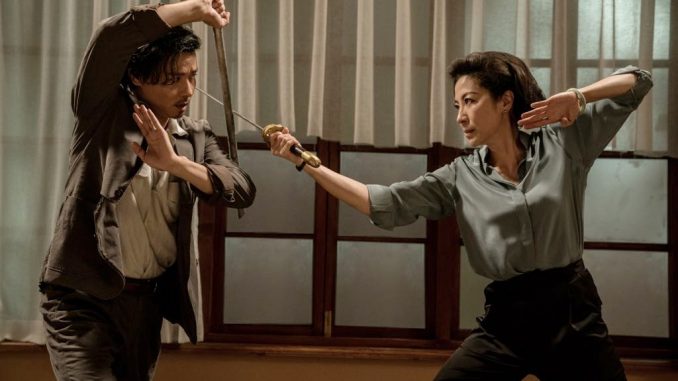 Rating: B-
Dir: Yuen Woo-Ping
Star:  Max Zhang, Michelle Yeoh, Kevin Cheng, Dave Bautista
A spin-off from the Ip Man series, what's interesting is that it follows the fate of a loser, namely Cheung Tin Chi (Zhang, looking like a Chinese Johnny Depp, but who actually started as a stuntman – he doubled both Yeoh and Zhang Zi Yi on Crouching Tiger!). He was beaten at the end of Ip Man 3 and in this story, gives up martial arts and settles into quietly running a grocery store in late fifties Hong Kong, along with his son. Despite this, he still makes an enemy of local hoodlum Tso Sai Kit (Cheng), by rescuing a woman from his unwanted attentions. In revenge, Tso sets fire to Cheung's shop, and the father and son only narrowly escape. However, Tso's big sister Tso Ngan Kwan (Yeoh) is trying to go legitimate, and orders her sibling to give up his drug business. He instead turns to foreign "businessman" Davidson (Bautista) as a supplier, and when this leads to a death by overdose, it's time for Cheung to kick ass, all the way through Sai Kit and up to Davidson.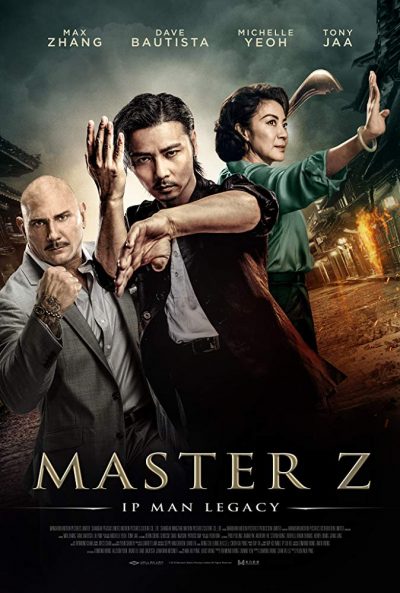 A brisk and generally entertaining piece, the highlights are mostly the action, as you'd expect from any film directed by Yuen. It is perhaps a little too wire-heavy for my tastes, and occasionally is quite obviously so. But there's no denying the imagination on view in all these sequences, whether it's bouncing around the neon street-signs of Hong Kong's bar district, or simply Cheung and Ngan Kwan fencing over an unwanted drink. Speaking of which, Michelle Yeoh may be older than I am, now being in her late fifties, but she's still slick as ever in motion. She's also the best actor here: witness the scene at a charity auction where her shady history causes her to be ostracized by no-less shady "legitimate" business owners, including Davidson. Though I did laugh there, at him having to lower his microphone about a foot for her to use. [Dave Bautista height = 6'3″. Michelle Yeoh height = 5'4″ – despite what it looks like on the poster…]
As a bonus on the action front, Tony Jaa turns up as Sadi, an assassin who seems willing to play for either side. And it's also fun to see Zhang going up against former WWE star Bautista, who is clearly well-experienced, both in how to throw a punch and sell the taking of one. Less successful is the attempt at social commentary, with some sneering colonial stereotypes, which feel as if they were shoehorned in by demand of the Chinese Communist Party. The ending, too, is a letdown; let's just say that Davidson's eventual fate falls some way short of satisfying. Still, there's a lovely moist sheen to the world depicted here, basking in an ever-present neon glow. It's almost too pretty, as a fairy-tale depiction of a simpler time when men could settle problems with their fists, and women… well, they could settle problems with their fists too.