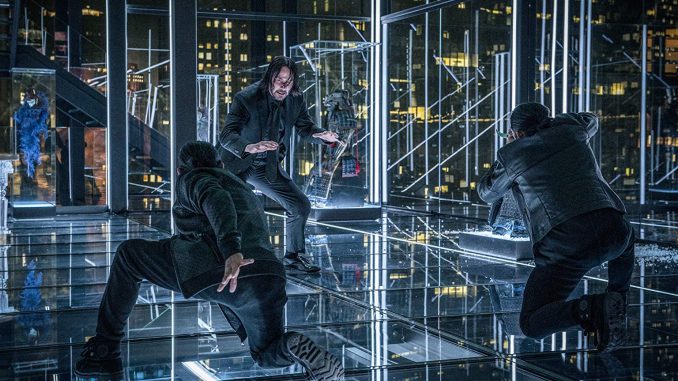 Rating: B+
Dir: Chad Stahelski
Star: Keanu Reeves, Halle Berry, Mark Dacascos, Ian McShane
After an underwhelming Part 2, the makers add another extra clause to the title for #3, and that seems to have done the trick (unlike for Lara Croft: Tomb Raider – The Cradle of Life). Still not sure about the point of tacking on "Parabellum", which means "prepare for war" in Latin. Guess it helps distinguish this from all the other "John Wick: Chapter 3" films going around.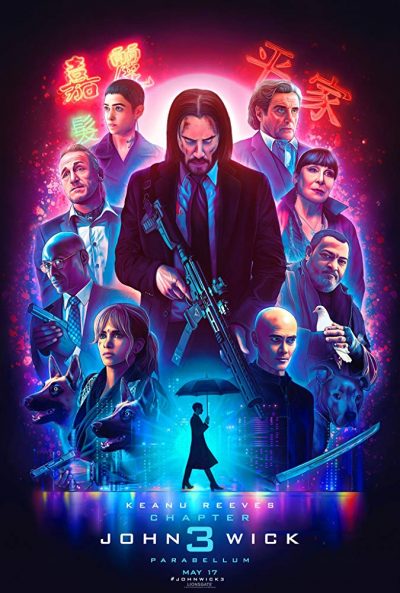 Titular snark aside, this is a considerable improvement on its predecessor, right out of the gate. Once more, it follows immediately on from the previous part, here with John Wick (Reeves) have been declared persona non grata and a $14 million bounty placed on his head. This opens in an excellent, lengthy chase/fight sequence through the streets with, it seems, everyone after Wick. Not, of course, that this constitutes more than a slight inconvenience to him, even if it may be the first use of a horse as an offensive weapon in a hand-to-hand brawl.
Keanu is eventually able to escape to Morocco, with the help of a slumming Vanessa Redgrave, where he aims to make his case to the Elder, the only person who can cancel the bounty. There, John meets an old friend, Sofia (Berry), in charge of the assassins' Continental Hotel in Casablanca. After literally wandering through the desert, Wick gets his pardon – but only if he returns to New York and kills Winston (McShane), who runs the Continental there. You'd think everyone would have learned by now, that John Wick will not kill people just because you order him. Inevitably, he refuses, setting up a confrontation with the High Table's enforcer Zero (Dacascos), his minions, and a metric fuckwad of plate glass (as shown, top).
The presence of Dacascos should clue you in that that focus of this one is back from gunplay to martial arts, and is all the better for it. He and Reeves are older than I am (both 1964 babies, to be precise), but you'd not guess, based on the way they brawl their way through this. It just took Dacascos a lot longer to reach international stardom: I remember watching him in thoroughly entertaining B-movies like Drive, more than twenty years ago, but he never seemed to get the break-out role he deserved. Here, Zero is exactly the kind of foil John Wick needs, and which was badly missing from the second installment.
This is a glorious spectacle of carnage, perhaps climaxing in the Casablancan battle, where John and Sofia have to fight their way out after an unfortunate incident involving one of Sofia's dogs. [It's okay: it was wearing a bulletproof jacket, I kid you not…] This is a near-perfect action set-piece, not least for the impressive display of canine-fu, proving that doggie vengeance is best served with a cold nose. I suspect Stahelski could probably make an entire film based entirely around animals kicking human ass. This isn't to say the rest is no good, though I did find that whole "wandering round the desert" thing, rather overdone. It still counts as among the best of Hollywood action this decade.