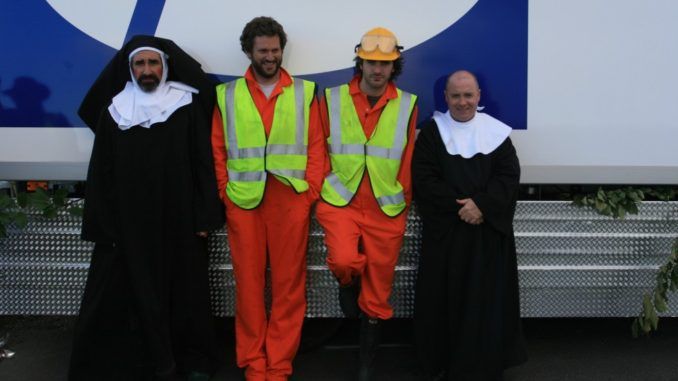 Rating: C+
Dir: Tom Reeve
Star: John Lynch, Cornelius Clarke, Lochlann O'Mearáin, Cian Barry
a.k.a. Holy Water
"Make mine a stiff one!"
Welcome to the Atlantic coast of Ireland. Brutal, rugged, beautiful and nicely shot. It's a place where life is hard, and also home to the village of Kilcoulin's Leap, a previously prosperous spa town with a famous Holy Well where all are now feeling the pinch. This is a place where living on your wits is the only living around.
"There's something very feminine about sheep. It looks like they're wearing tights or something."
"If you was a sheep, I'd kiss you!"
"I'd let you!"
It's nicely observed. Unfussy, funny, honest, wry. This is a village falling off the cliff-edge of existence, all supported by some sharp, snappy and cheap dialogue.
"The only way I'm getting laid is if I crawl up a chicken's arse and wait."
Kilcoulin's Leap is also home to a very silly plot, one that is brilliant, mad as a box of frogs, and completely charming.
And so, what with times being tough and all, and a Pfizer 'factory' just along the way… …well, so, let's hijack a van full of Viagra!? Does the film's title make more sense now!? Yeah. F'nar f'nar… …and you really need not watch much further, although there are still some brilliantly shite moments to come.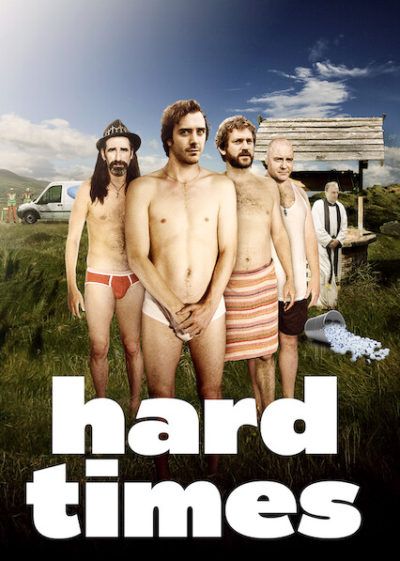 In the execution of their half bumbled crime, our four protagonists Donal (Ó Mearáin), Sean (Barry), Podger (Clarke) and Thomas (Lynch), dress up as road workers and nuns to shanghai both the truck and its shipment.
As you might expect the best laid plans of mice and men proceed rapidly astray and, all too soon our lads have gone boggle-eyed, for a reward of two million has been offered. The resultant inept dash for the cash by the polis is hampered only slightly by the arrival of Ms Cory Williams (Linda Hamilton) and team, who absolutely will not stop in their search for the drugs and malfeasants. With things going from bad to worse, our unlikely heroes make an impromptu decision to hide the barrels of the blue-stuff deep in the Holy Well. In the process the barrels become themselves holey. In other news, the wholly holey holy well feeds into the local drinking water.
So, with a full forty minutes still to go, we've arrived neatly at the punch line. And this is where the problems start. As. Well. The punch-line is the entire rest of the film.
Look, it's not a bad punch line.
No, really. It's a lovely idea.
Just…. Repeated. Looped. Overplayed. Crude. Half baked. Lacking nuance.
It's also simply too thin to cover forty minutes of screen-time. Even with some quite lovely laughs along the way, complete with the confessional becoming full to bursting – "…look, the cross dressing was part of the hijacking…"
In summary, it's a lovely idea, nicely done, crisply, cleanly executed, and sensibly short. It just feels a but unfinished. Some extra care and attention on the last forty minutes could have made a hugely positive impact to the overall.
I really wanted to like this film, but my last line reads: A good idea wasted. More kindly I'll rephrase that it's less than the sum of its parts. I'd suggest that you get a couple of beers down you, settle back, feet up, snacks in easy reach, and enjoy. It's an okay film that nudges good once or twice, but one that for me, ultimately fell short. Pity.