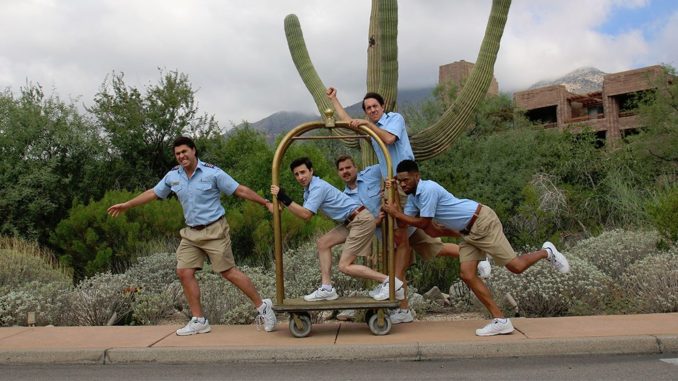 Rating: C
Dir: Cameron Fife
Star: Adam Ray, Josh Zuckerman, Thomas Lennon, Kelen Coleman
This is the kind of film I would typically have scrolled past without pausing, except my eye was caught by a word in the synopsis: "When the charming bell captain at a popular Arizona resort…" Yep, I immediately fell under an obligation to watch this. I was initially uncertain whether this actually had been filmed here, or if this was Faux-rizona – the landscape seemed suspiciously generic. But then a line of dialogue mentioned it was Tucson, and everything made sense, for Tucson is the patron city of Suspiciously Generic Arizona. Specifically, I believe it was filmed at the Loews Ventana Canyon Resort there, so I offer a respectful fist-bump to the makers.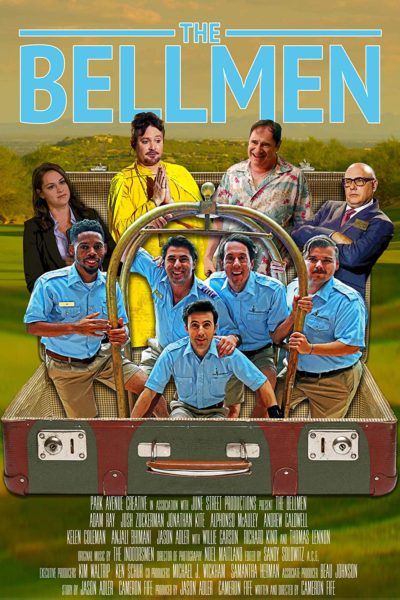 That said, in terms of local colour, there's not particularly much. Though given how most of this takes place in the corridors, rooms and conference facilities, it's always going to be a predominantly beige palette. There is a surreal element, involving a legendary saguaro cactus bellman called Soggy, who to this day, still holds the Arizona records for most bags on a luggage cart. It's just an aside. The main plot is that bell captain, Steve (Ray), who has been in the department forever, but pines for the love of manager Kelly (Coleman). To achieve that end, he pretends to have beem given a promotion, but the deception involved spirals out of control. Speaking of deception, also arriving at the hotel is new age guru Gunther (Lennon), with malicious designs on the facility.
Any comedy set in a hotel is always going to invite comparison to Fawlty Towers, and it's never going to be good for the challenger. In this case, Bellmen seems to have particularly languid pacing, with long periods where I was left wondering where the comedy had gone. But then, this seems to be an intentionally low-key approach to humour, with not much in the way of actual jokes; it stems more from the characters and their situation, rather than the razor-sharp dialogue of Towers. I prefer the latter, yet this was harmless enough to pass for entertainment. I did enjoy Lennon's turn, totally nailing the charming snake-oil salesman, with a passive-aggressive answer for everything – as well as a nice line in mind-control hand sanitizer.
It does feel as if the other performances are underplayed, with few of them standing out. There's half a dozen members in the bell-crew, plus the parking valets, receptionists and other staff. But I'd be hard pushed to tell you much about any of them, outside of Steve – and even there, the impression he makes is largely a function of screen-time. It all builds towards a finale that's in line with what has gone before: comfortable and somewhat amusing, rather than riotous and rip-roaring. In many ways, it feels like an entirely appropriate comedy to come out of Tucson; middle-of-the-road, and while competent, it feels more interested in playing it safe than pushing boundaries. Bland, would be another word – though that feels a bit harsh for something with such an utter lack of malice.