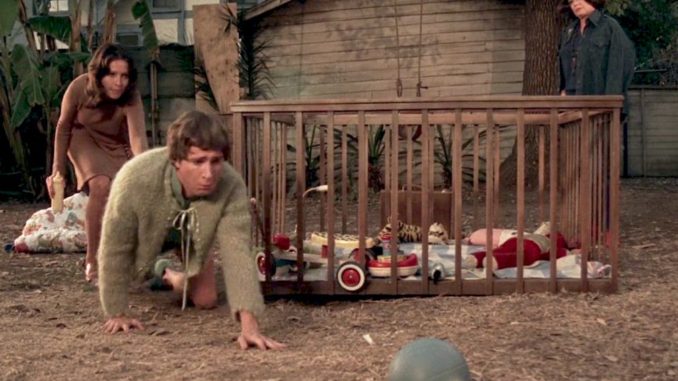 Rating: C
Dir: Ted Post
Star: Anjanette Comer, Ruth Roman, Susanne Zenor, David Mooney
While I can't argue with the wild and creepy concept here, it feels like too much of the potential is left on the table. It also seems to take place in a universe where absolutely nobody behaves in ways that are either sensible or logical. If they did, the film would be over in five minutes, with a SWAT raid executed by the paramilitary wing of Child Protective Services. Instead, it begins with social worker Ann Gentry (Comer) showing up at the Wadsworth family home, to check on the case she's been assigned. She eventually meets "Baby" (Mooney), a twenty-something kid, who apparently still can't walk or talk, crawling round the house in a nappy. His mother (Roman, a graduate of the Bette Davis school of hagsploitation) and two sisters are perfectly fine with this.
As, indeed, is Gentry, who specifically asked to be assigned to the family, despite red flags like… oh, I dunno, the previous case worker having mysteriously vanished without trace. Ann devotes an increasing amount of time to Baby, attention which does not sit well with Mrs. Wadsworth, who makes an official complaint to Ann's bosses, getting her pulled off the case. But she then gets a call from the mother, apologizing and inviting her to Baby's birthday party. This is staggeringly well-attended for an incredibly weird family with no source of income, and where nobody is fussed about an adult baby crawling between people's feet. Naturally, it's a ruse, and Ann's drink is drugged, as the Wadsworth's seek to dispose of her.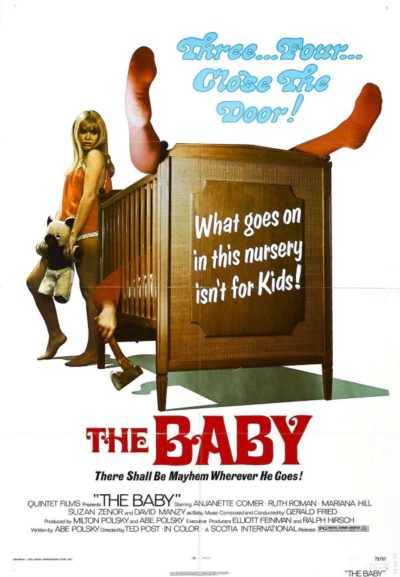 Things get loopier from there, to a final shot where we find Ann and her mother may just have dethroned the Wadsworths from their position as "Maddest Fuckers Alive," Though it's hardly a surprise, since Ann has been positioned from early on in proceedings, as having issues of her own. It's basically a battle over custody of Baby, between duelling Fruit Loops. However, once you get past the freaky idea, things more or less stall for the next hour. This is particularly so at the party, which goes on for far too long before anything of significance happens, beyond Ann being tediously chatted-up, and trading banal barbs with a Wadsworth sister, e.g. "You really play to win!" "When you're a winner, Alba, the possibility of losing doesn't even exist."
There are occasional moments which remain phenomenally twisted, e.g. Alba (Zenor) repeatedly cattle-prodding her brother, for having the temerity to try and stand up: "[BZZZT] Baby doesn't walk! [BZZZT] And Baby doesn't talk! [BZZZZT]" However, too much of this is normalized by the fact that everyone else seems to treat the overall situation as perfectly reasonable. I guess the seventies were either incredibly tolerant of alternative lifestyles, or considerably stranger than I thought. The movie should have leaned into the insanity considerably more. Having the family babysitter breast-feed Baby needs to be the starting point, rather than close to a creepy high.