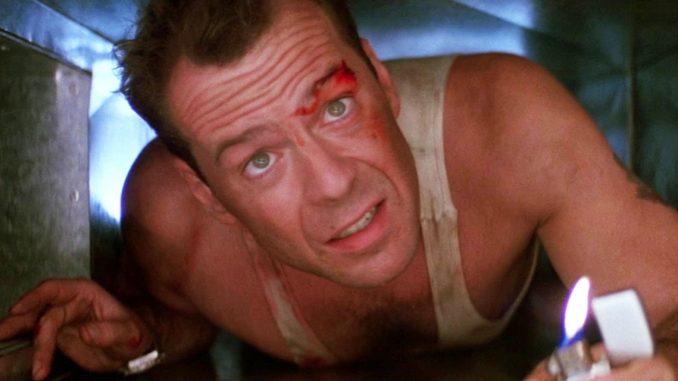 The mid-to-late eighties was perhaps the greatest period for action films in cinematic history. Over a five-year period, beginning in 1984, we got Temple of Doom, The Terminator, Police Story, Aliens, Lethal Weapon, Predator and Robocop. But above them all stands Die Hard, a film which made movie stars out of both TV actor Bruce Willis and stage thespian Alan Rickman, and which has since become a Christmas classic – despite being released in July.
It was patient zero for an entire sub-genre of "Die Hard in/on a ____", where the blank could be filled in with virtually any restricted location in which the hero is stuck, from a bus (Speed) to the White House (Olympus Has Fallen).  It also spawned four sequels, and has been an ongoing cash cow for its makers. To date, the series has grossed over $1.4 billion at the cinema, plus countless more on video and DVD. Even though the last film flopped in North America, grossing less than the original, despite more than 25 years of inflation working in its favor, it did well enough overseas that a sixth movie is in the works.
This will be part-prequel, with Willis playing John McClane in book-ending segments, while an as-yet uncast actor will take on the role of a younger hero. From Willis's comments, it appears he's getting ready to hand over the reins – he is 62, after all – while 20th Century Fox look to reboot the series and roll on, James Bond-style. I'm doubtful this will work, simply because McClane is such an iconic character, I can't imagine anyone else playing him. Mind you, before the part was offered to Willis, it was turned down by many others, reportedly including Sylvester Stallone, Harrison Ford, Don Johnson, Richard Gere, Clint Eastwood, Burt Reynolds and even Frank Sinatra. I can't imagine most of them in the role either.
It'll be thirty years this summer since the original was released. Let's take a look at each of the five installments, and see how they've stood the test of time.