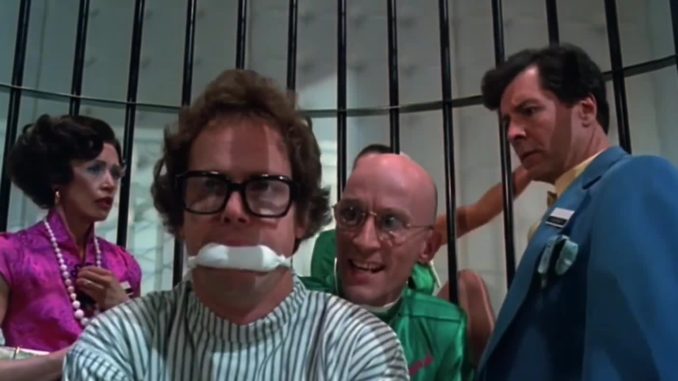 Rating: E
Dir: Jim Sharman
Star: Cliff De Young, Jessica Harper, Richard O'Brien, Patricia Quinn
In the early 80's, it became clear to the makers of The Rocky Horror Picture Show that their creation was not quite the box-office bomb it initially seemed, but was developing, literally, a life of its own at midnight screenings. Inevitably, they saw the opportunity to cash in and do the same kind of thing again. After all, what was Rocky, except a bunch of cheesy songs, OTT acting and lurid content: how hard can it be to put that sort of thing together?
Well, if ever anyone thinks it's possible to go out and deliberately make a cult movie, they should be strapped down and forced to watch this abomination, Clockwork Orange style. Which is pretty much the only way anyone will be able to get through it: our tolerance for bad films is near-unparalleled, but inside about 10 minutes, Chris was suggesting we should cut our losses and bail out. The setting is Denton, the small town in which Rocky opened, but centers on Brad (De Young) and Janet (Harper), now not-so-happily married. Matters come to head when they attend a TV taping of The Marriage Maze, a game-show hosted by the blind Bert Schnickt. He "wins"a stay in Dentonvale, the local loony bin run by siblings Cosmo and Nation McKinley (O'Brien and Quinn), while she is turned into a singing star by Farley Flavors, the head of a local fast-food company. He's also played by De Young because, it turns out, he's actually Brad's long-lost twin, with designs on Janet, and the whole things is a set-up to this end.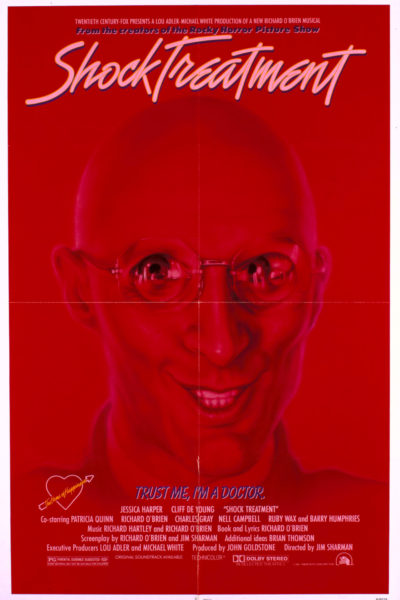 Technically, the above would be a spoiler, but when the original product is as rancid as this, there's not much that can possibly be spoiled. In the documentary accompanying the recent DVD release, several people make the claim that the film was simply 'ahead of its time,' foreshadowing the rise of reality television and shows like American Idol, which manufacture celebrities. Even granting that may have been the case (and it's a stretch), it has achieved the remarkable feat of going from ahead of its time, to past its sell-by date, without ever actually passing through "relevant" at any point. Every aspect of the script now seems completely toothless, the satirical equivalent of a bout of constipation: there's a great deal of straining going on, with nothing to show for it.
Certainly, it's no Rocky Horror, with the key difference being the cast. Instead of future Oscar-winner Susan Sarandon, and Tim Curry bestride the entire movie like a corsetted Colossus, we get a Who's Who – or more likely, just Who? – of eighties B-list British celebs. Barry Humphreys! Ruby Wax! Rik Mayall! Where's Roger De Courcey and Nookie Bear when you need them? [In fairness, Curry was offered the role of Farley Flavors, but declined, apparently due to being unsure about whether he could do the necessary American accent] Jessica Harper looks particularly out of place, and appears to be be rather less comfortable than when she was being stalked round a school in Suspiria. One can hardly blame her: crawling through a room filled with razor-wire would probably be as pleasant an experience as watching this film.
Then there's the songs. Oh, dear: yes, then there are the songs. Here is one particular lyrical nugget which stood out, from the all-time classic, Bitchin in the Kitchen:
Dear knife drawer
Now won't you help me to face life more
Oh, trashcan
Don't you put the dirt on me
Oh percolator, why are we always sooner or later
Bitchin' in the kitchen or crying in the bedroom all night
I have known eight-year olds who could come up with better doggerel than that. O'Brien has certainly done his fair share of genuine classics: not just Rocky and The Time-Warp, but also the wonderful Name Your Poison, sung by Christopher Lee in Captain Invincible. As a contrast, here's a sample of its lyrics: "There's nothing sicker in society / Than a lack of liquor and sobriety / So, down the hatch / Here's mud in your eye / Take a bracer with a chaser / Wash it down with rye!" In contrast, the songs from Shock Treatment feel, at best, half-finished, as if they had gone straight from the back of a napkin onto the soundstage [the entire film was shot in the UK, a strike in the US having prevented any location work there].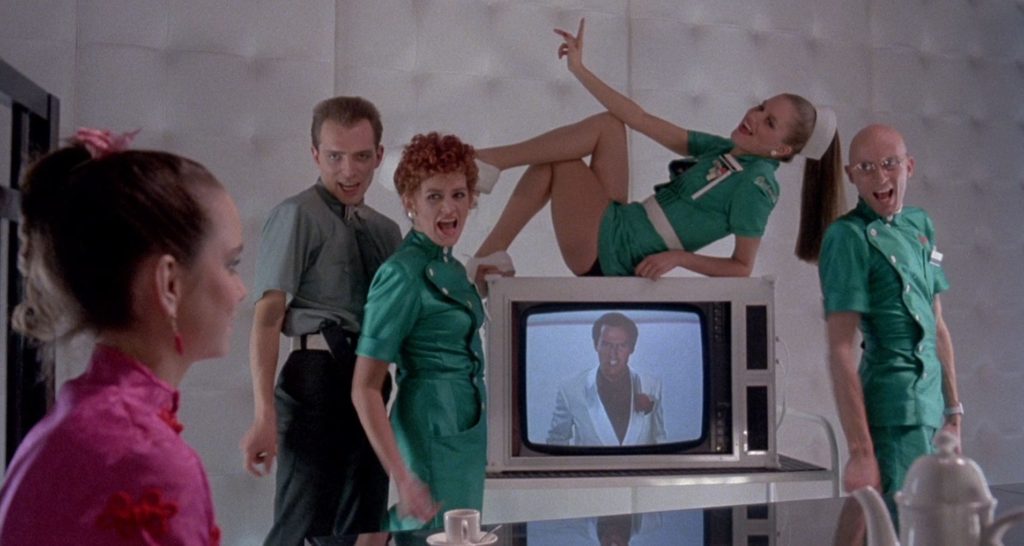 So, the story is uninteresting, the performances poor and the songs utterly forgettable at best. Is there anything that salvages proceedings? Well, the look of the film is somewhat interesting: the set and costume designers were the same as in Rocky Horror, and do quite a good job of capturing the hyper-realistic feel of the televisual world. That's it. Otherwise, it's almost impossible to agree with the participants who claim this was not a "prequel" or a "sequel" to Rocky, but an "equal." That's a completely ludicrous claim, without any merit: this is a shameless cash-grab, possessing none of the sense of fun and transgression that propelled the original into immortality. Rocky Horror was as clear an example of capturing lightning in a bottle as could be imagined, and this misguided attempt – complete with painfully-obvious pauses for 'audience participation' – should have been strangled at birth.
The other kind of "shock treatment," the one involving electrodes and high-voltages, would be a good deal more enjoyable.