Rating: B-
Dir: Anthony C. Ferrante
Star: Ian Ziering, Tara Reid, Vivica A. Fox, Mark McGrath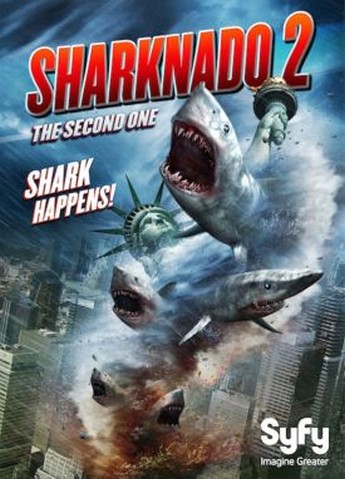 The first one appeared out of nowhere to become a thoroughly unexpected pop-culture phenomenon, which was something of a surprise, because it wasn't actually very good: certainly, The Asylum have made much more entertaining films. The second time around, the mix of self-knowing parody and loony excess works better. The makers know what's expected of them, and don't hesitate to deliver, right from an opening sequence which manages both to pay homage to perhaps The Twilight Zone's most famous episode, as well as nodding to Airplane! by casting its pilot as… a pilot.
That's a good indication of the line this is treading, and most of the time, it succeeds in keeping its balance. Certainly, the pacing is a lot more energetic and appropriate. No-one is under the illusion that the audience is watching this for characterization of subtle plot development: we're there for the cartilaginous fish falling from the sky. Ferrante and crew are happy to oblige, against a backdrop of famous New York landmarks, from the Statue of Liberty to the New York Mets' stadium. Half the fun is in spotting the celebrity (or other cameos), most of of whom are depicted in a low-key approach which works nicely/ These go all the way back to Taxi and all the way forward to modern-day social media whores – presumably there so they say nice things, and they really should have been omitted from the film entire, since it's just too blatant pandering.
Most of the people involved play this with the appropriate straight-face, the only way to handle such complete nonsense, and even the absurdly obvious product-placement (most notably for Subway) begins to acquire a Zen-like quality. Most of the time, when so much effort is put into making something so self-aware and "cult," it topples over into a heap of its own half-chewed intestines and smugness. However, there are occasions where it can just about be pulled off, and this would be one of them. By no stretch of the imagination, could this possibly be called great film-making: the effects are shaky, the performances one-dimensional and the story barely present at all. But fun? Hell, yeah. Real movies are clearly, vastly over-rated.