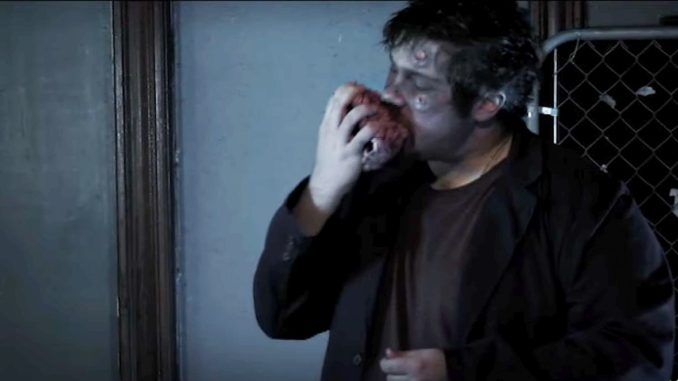 Rating: C-
Dir: Steve Dayton
Star: Ian Kane, Nicholas Marinucci, Laura Savage, Eric Leitzen
Well, it's hard not to be intrigued by the title. Shot over a period of 15 months back in 2007-08, on a budget reportedly around $5,000 in Lacrosse, Wisconsin, this has an interesting idea, and it's disappointing they chose to forget about it for much of the second half. Instead, we get generic zombie shenanigans, largely cribbed from other, better movies in the field. Sleazy music promoter Dameon David has a new gimmick: a band, The Vicious Vegans, formed of three resurrected corpses, talented musicians who died before their time. They will be making their debut tonight, despite protests from activists. Naturally, it all goes wrong, the band goes on the run, and the audience are trapped in the venue after the city locks things down.
In particular, among those inside are Eddy Whitset (Kane) and his pal Ciez (Marinnuci), who were unlucky enough to get tickets to the show. Complicating matters is the presence there of Eddy's ex, Lisa (Savage), with whom he recently broke up. In a shameless lift from Shaun of the Dead, he vows to save Lisa and rekindle their relationship. Meanwhile, there's a ticking clock in play, as the city are preparing to solve the problem by filling the club with gas, which will kill all those inside, living and undead. You can more or less cross off the scenarios as they occur: it's clear Dayton has seen a lot of zombie movies in his time. If the viewer has too, that may be a bit of a problem.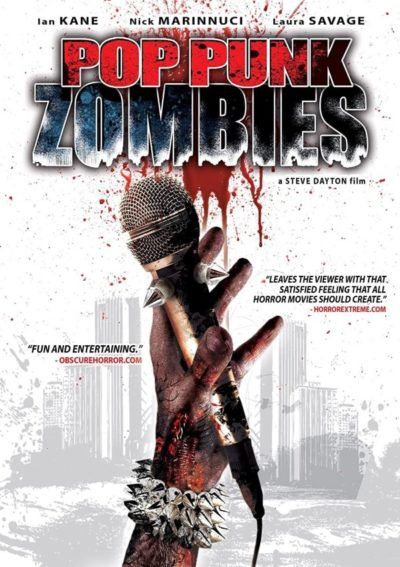 Though the relationship between Eddy and Ciez is also basically Shaun-Lite, it still might be the best thing the film has to offer. I suspect neither Kane nor Marunucci were exactly pushed dramatically. Especially given neither of them seem to have had any experience, going by the IMDb, I think letting the duo simply be themselves was likely wise. They have decent chemistry, with Ciez the "dumb jerk" foil to Eddy's straight man. It's not innovative, yet is a trope because it works. The actors, and consequently the film, struggle when there is the need to go further and put over any significant emotion. Dayton would have been better off simply not bothering to try.
He should probably also have figured out what kind of zombies he wanted to have, being unable to settle on slow "deadlings" or fast, smart ones, which are basically human in everything except a pulse. The make-up on them is pretty weak too, frequently resembling Juggalos with a skin condition. At least the gore is practical rather than CGI, though given the era and the budget, this may have been out of necessity, rather than a conscious stylistic choice. I like the metaphor of both performers and fans as meat puppets, shamelessly manipulated for the benefit of business. I just wish the film has chosen to explore the potential of this concept in more depth, rather than basically becoming just another Z-budget Z-movie.