Rating: B
Dir: Frankie Chan
Star: Frankie Chan, Mok Siu Cheung, Yukari Oshima, Michiko Nishiwaki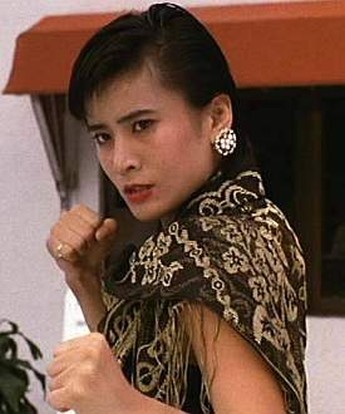 [11] Car parks rival restaurants as favourite settings for mayhem in Oriental films, since they provide much glass to smash and things to leap off, plus you have the chance to drive round at high speed, something not permitted in most takeaways. There's ample opportunity for such scenes here, as the title characters are two car thieves, specialising in Porsches & Ferraris. They get into, and out of, trouble with girls, the cops (Oshima is on their tail) and local mobsters, but the fan is really hit when they steal a car packed with drugs belonging to Nishiwaki.
Needless to say, she's not a happy budgie when she finds out. Our heroes strike a deal with Oshima, whose character hates Nishiwaki (the rumour is that art mirrors real life – Oshima's "close personal relationship" [Ahem!] with the director supposedly allowed her to boost her role and shrink Nishiwaki's. The pair have been playing Bitch Wars ever since) and we're ready for a megafight with chicken-, broom, fan- and scarf-fu. It's slick, it's fast and it doesn't tax the brain in the slightest.
---
[22] For a while, it looked like Yukari Oshima would be the first Eastern artiste to cross over into Hollywood. Already with a cult following after films like 'Angel' [a.k.a. 'Iron Angels'], she acquired herself an American agent and looked poised to break through, thanks to her devastating combination of looks, charisma and talent. But then…nothing. Somehow, it fell apart, into a slew of cheap Phillippino phlicks (where old action babes go to die: see also Cynthia Khan) leaving us to cling onto her memory through films like this rollicking, good-natured romp directed by and starring Frankie Chan.
He's a car thief, she's a cop out to get him, they team up to fight coke-snorting gangster Michiko Nishiwaki in another of her trademark chocolate-coated mini-roles. While you can tick off the cliches – car park fight, warehouse battle, humorous interlude in a restaurant – they fly past with such enthusiasm you can't really complain, even if the hoped-for Oshima/Nishiwaki catfight never materialises. It's also a rather good training video for anyone planning life as a car thief…