Rating: N/A
Dir: Rob Marcarelli
Star: Casper Van Dien, Michael York, Catherine Oxenberg, Michael Ironside
This didn't exactly start in the most promising of ways: the DVD mis-spelled the leading man's name on his bio, it's a production of 'Good Times Entertainment' (wince), preceded by a trailer for CrossWalk.com – "the intersection of faith and life" – and the first scene (once again, in Jerusalem) has Michael Ironside looking utterly mortified, disguised as a Hassidic Jew assassin complete with hat and extremely fake beard. Meanwhile, motivational speaker Dr. Lane (Van Dien) gets the exposition out of the way on a TV show hosted by Cassandra Barris (Oxenberg). A code hidden in the Torah predicts the future – as well as, incidentally, Princess Diana's death in a Paris tunnel. Guess God had a bit of space to fill at the bottom of a page. I presume Lane is supposed to be immensely irritating, like all motivational speakers, coming out with phrases like "we are the higher power," early signs that he'll undergo a conversion somewhere between here and Damascus.
Elsewhere, in a laboratory populated with whizzy graphics work-stations, some Russian-sounding dudes are decoding the Torah and coming up with convenient one-sentence summaries which punctuate much of the film like intertitles from the silent era. Stone Alexander (Michael York), a "media mogul turned political dynamo" is now leader of the European Union. Lane wants to speak to him, but is dissuaded by Stone's personal assistant/bodyguard/part-time Hassidic hit-man Dominic (Ironside). Instead, he has a vision in which one of Alexander's horses goes all glowy-eyed and berserk. This is just one in a series: as someone asks him, "What kind of visions?", to which the reply is, "I dunno – weird ones.". He's undergoing a divorce, and given his separated and whiny wife, it's no surprise his small daughter appears to have picked up the Immensely Irritating gene.
The Russians take action to make sure their latest decryption comes true. In another strange echo of Left Behind, a reporter is conveniently right on the scene for the fulfillment of Biblical prophecy, as the Dome on the Rock in Jerusalem (or a 1/12-scale model thereof) blows up. Lane assists Alexander's efforts to keep the peace; "We need an archetypal figure to embody the message," he says, and signs up as Alexander's Minister of Information. Alexander proposes a global currency (another common cornerstone of the apocalyptic brigade, tying in with bar-codes as the Mark of the Beast), and Lane is contacted by a defector from the decryption program. Memo to self: if I ever become the Anti-Christ, instruct staff to shoot traitors before they hand over incriminating sheets of paper to my enemies, not just after.
From this point, you can pretty much tick off the Common or Garden Interpretations of Revelations: a seven-year peace treaty between Israel and Arabs; the rebuilding of King Solomon's temple; miracle food and water technology from Alexander; a global government under ten heads. Skip forward three years, and Lane is still having visions, though he's not mentioned them to anyone in the meantime. He discovers Alexander's plotting, as he and Dominic prepare to initiate Phase 2. The latter is miffed to discover Lane is slated as the prophet for Alexander's vision and tries in a fit of whiny pique to shoot Lane; Alexander takes the bullet, but Lane is blamed for the assassination and is forced on the run. However, Alexander comes back to life, to everyone's surprise – not least, Dominic's…
This is where the movie really kicks in; you're used to seeing Michael Ironside as a bad guy, but Michael York as the Anti-Christ is so delightfully against type that it works completely, and is huge fun. Plagued by voices, "painful yet sweet", he takes over as world leader. Lane links up with two prophets who have been causing trouble, and tries to spread the not-so-good word about Alexander, but is blocked at every turn. His helpful prophets give him the final code, which Cassandra steals from him – yes, Catherine Oxenburg is evil too! Is nothing sacred? As she says, "Even Satan comes as an angel of light."
After Alexander's coronation, he goes totally out into left field: "I have become king and God," he says, which doesn't go over very well. Oblivious, he shoots the prophets, following up with, "I want these reprobates put on display. And guarded." This seems a little excessive, given they're dead, but in this film, the scythe-wielder is more Slightly Inconvenient Reaper than anywhere near Grim, so you can see his point. Other omens start cropping up, and it turns out the code Lane got wasn't the proper one. As digital planes fly overhead on their way to a nuclear strike, Lane has another vision, and finds that prayer makes the gates to his cell fly open. The prophets are indeed resurrected – score one for the Anti-Christ – and take their wrath on Dominic. Lane tries to shoot Alexander, but is forced to surrender the final code…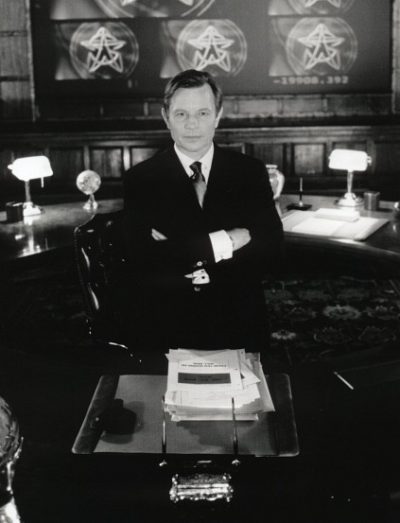 Which is where I'll stop, less for fear of spoiling the end, more because I wouldn't be prepared to swear to the veracity of my vision. Watching this on New Year's Day 2001, the only thing I could think of was, "My God, it's full of stars." It certainly is an ending, but precisely what it means is something I leave to you. Still, it's a damn sight better than Left Behind, on a number of levels. Firstly, and most importantly, the religious stuff is actually kept well in the background; the hero never really converts as I expected, and the writers eschew over-zealous attachment to the Bible. If it doesn't fit in, it gets dumped – there is no mention of the Rapture at all, and it's much more self-contained, whizzing through the entire Apocalypse in 100 minutes. The presence of decent actors like York and Ironside is an undeniable plus too, and overall, this is not a religious film. Nor is it even really a film about religion, because Christianity is never allowed to get in the way of entertainment, and that realisation by the producers may have been the most important code to crack of all.
It proved a surprising success at the box-office, despite only having a few hundred prints to cover all the cinemas. Opening the same week as Fight Club, The Omega Code grossed more per screen, and also outlasted Messrs. Pitt and Norton, inhabiting the top twenty for seven weeks to gross a respectable $12.6m. As a result of this success, a sequel, Megiddo, is now in post-production, and is due to open in autumn 2001. York and Ironside return, and are joined by cult heroes Udo Kier, Michael Biehn and Franco Nero. With Brian Trenchard-Smith (Leprechaun 4: In Space) directing, it's safe to say that Incredibly Bad Film Show correspondents are keenly awaiting its arrival…