Rating: N/A

Dir: Vic Sarin
Star: Kirk Cameron, Brad Johnson, Chelsea Noble, Clarence Gilyard
The Left Behind books are a publishing phenomena – the latest volume in the series sold 2.3 million in the first week, and the series as a whole is around 15 million. There's clearly a market for this kind of thing, and it was perhaps inevitable that they would move across into the modern-day Sodom of Hollywood. The production company, Cloud Ten, have previously made a number of Christian-themed movies, with titles such as Tribulation, starring Gary Busey, but Left Behind is easily their biggest production, even at a moderate budget of around $17m. They've adopted a somewhat strange technique to promote its theatrical release – put it out on video first, in the hope of building word-of-mouth in advance of its February arrival in cinemas. This explains why there were two money-off coupons in the box. However, I should point out that the last movie with such a religion-inspired campaign was Battlefield Earth.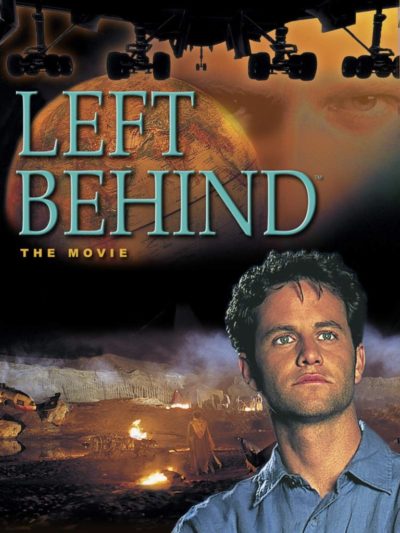 Left Behind begins in the expectedly po-faced style; even the logo is preachy, depicting a child hesitating before a road which goes in two directions. A man takes the kid's hand and leads it along the right-hand path, while lighting flashes ominously over the other. Add in an opening voice-over including lines like "We should have known better. But we didn't…In the end, there's no denying the truth" and the pious tone is set.
The film proper starts with a surprise Arab attack on Israel, where journalist Buck Williams (Kirk Cameron) is interviewing a scientist in the middle of a wheat field. They take shelter in a nearby village which just happens to conceal the Israeli base of operations – yeah, like they'd really let a random Yankee journo in there without asking any questions – but the Arab planes are smote (smited? smut? smeet?) mysteriously from the sky to the bafflement of everyone. Or, at least, everyone who hasn't read the video sleeve. Buck sends footage back to his company, beaming his hi-definition – albeit looking suspiciously like 35mm film – footage to his network using a dish the size of a cake-tin, manually perched on a dustbin, as a satellite uplink. Isn't technology wonderful?
Williams gets a hot tip on the whole smiting thing from paranoid conspiracist Dirk Burton, who blames industrialists Cothran and Stonagal. Initially dismissing the claims as the rantings of a paranoid conspiracist, Williams is forced to re-evaluate them after Burton's predictions come true (gasp!). So, it's accurate rantings of a paranoid conspiracist then… At this point, the Rapture occurs, though it's not until 74 mins in that anyone mentions the R word, which is weird in a supposedly religious movie. For those unfamiliar with Biblical eschatology: the Rapture is when the truest believers are swept up to heaven, thereby avoiding the Tribulation, a rather nasty period on Earth before the second coming.
Williams is on a plane when "dozens" of passengers vanish; this is pretty dodgy from a statistical point of view. The Bible is obscure on many things, but it's damn clear about the number that get raptured: "and no man could learn that song but the hundred [and] forty [and] four thousand, which were redeemed from the earth" [Revelations 14:3]. That may seem like a lot, but it's barely 0.01% of the Christians on Earth, so the odds are heavily against even a single person being raptured off a Jumbo. Perhaps a package tour of Israeli monks was on board, since the Bible also says those Raptured must be virginal Jews [Revelations 7:4 and 14:4], points strangely ignored here. The film at one stage claims 144 million have vanished i.e. the Bible is out by a factor of a thousand. Suddenly, the Feeding of the, er, Five doesn't seem so impressive.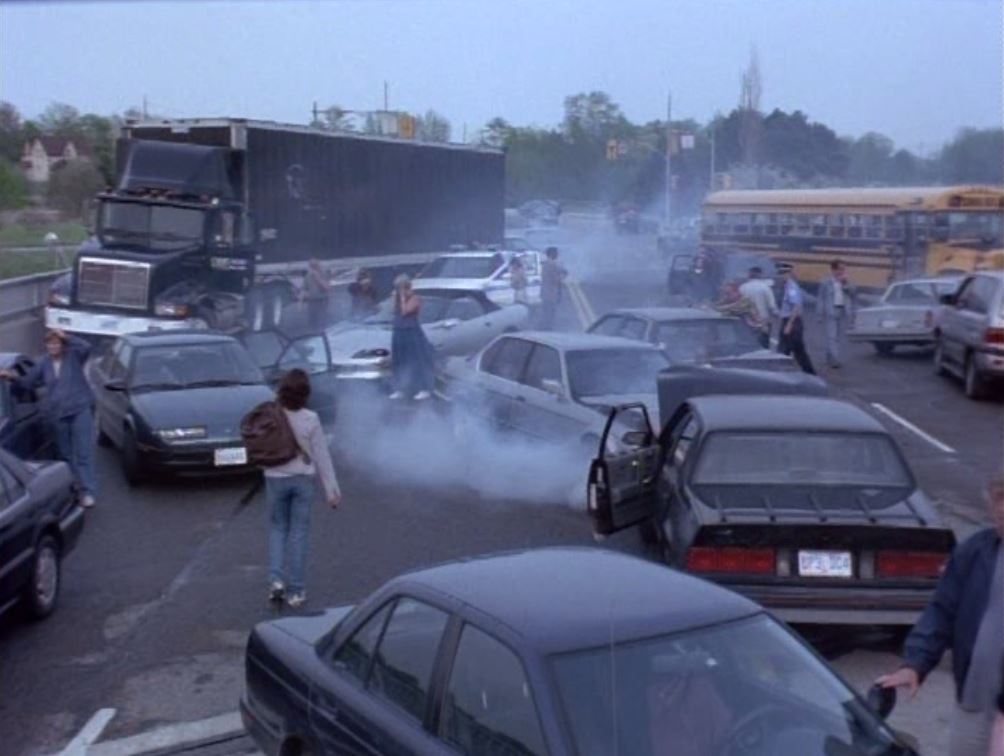 Back on the plane, the carefully-considered response of pilot Rayford Steele (Brad Johnson) to this catastrophe is…to drop the oxygen masks. This has a strange calming effect on the passengers – maybe they should try it on the ground, where the Soviet leader of the UN, Nicolae Carpathia (Gordon Currie), a pawn of Cothran and Stonagal, takes the reins over the panicking world populace. Steele and Williams team up: Steele's wife and son have been raptured (repeat previous statistical discussion about how unlikely this is, and never mind the bit about being a virginal Jew), leading to a pitiful scene as he sobs over their belongings, though the most pitiful thing about it is the over-acting on view. Blaming his wife's religious beliefs, he hurls a bible at the mirror. but then, of course, starts reading it…
Williams finds Dirk Smith murdered (yes, I know he was Dirk Burton earlier in the film, but the computer screen definitely says Dirk Smith – his email address is [email protected], if you want to send him some), and is shot at himself while examining computer files. Meanwhile the newly-born again Steele links up with the local priest, helping the latter to refind his faith. I drift on the edge of finding sleep, since it's painfully obvious where this is all heading. When Chloe gets down her "Teen Devotional Bible" and starts reading it, my worst fears are confirmed – this is truly the stuff of nightmares, albeit perhaps not in the way that the makers intended.
Williams and Steele discover that Burton had decoded the prophecies in the Bible, revealing the Cothran-Stenagal plan. Williams gets into the UN, helped by a former air-hostess whom Steele had been screwing – obviously, before he found God and stopped doing that kind of thing. He reveals the conspiracy to Carpathia, and even turns to prayer. But, oops, Carpathia is the Anti-Christ: all lit from below (right) and with his Russian accent becoming thicker by the syllable. He shoots Cothran and Stenagal and takes over the world, simple as that. It's a really weird and downbeat climax, despite a desperate attempt to make the ending uplifting, with a closing voice-over which goes, "Our only hope is to join together and trust God. I don't have all the answers; but for now, faith is enough." It doesn't work. I know there's another half-dozen books to go, but the impact on someone like me who hasn't read the series, is that Satan has won, and God hates everyone, especially Christians – I don't think this was the desired effect, but I confess to finding it oddly gratifying…