Rating: B-
Dir: Anton Megerdichev
Star: Sergei Puskepalis, Anatoly Bely, Svetlana Khodchenkova, Anfisa Vistingauzen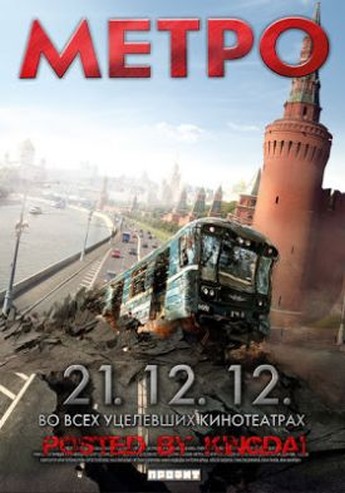 Want proof the Russians can make big, dumb action films, every bit as well as Hollywood? This would be a fine example, which is 30% family drama, and about 70% disaster movie. Andrei Garin (Puskepalis) is taking his daughter, Ksenia (Vistingauzen) to school on the Moscow metro, unaware that the tunnel into which the train is speeding, has sprung a leak. Also on the train is Vladislav Konstantinov (Bely), who just happens to be the lover of Andrei's wife, Irina (Khodchenkova). When the train smashes into a dam of debis and water, derailing, chaos and panic descends.
Most of the passengers bolt off the train and try to make it back to the preceding station, but Andrei, Ksenia and Vladislav hold back, the first being concerned (with good reason, it turns out) about the dangers of electrocution if the rising waters contact the live rail. However, this leaves them, and a few other survivors, to try and make their own way out from the underground system, before they are entombed and drowned in the maze of tunnels. Firstly, let's be perfectly clear: nothing at all like the image on the poster occurs, at any point in the film. This is a shame. However, the staging of the train crash itself more than makes up for this bit of deception: it's a bravura piece of film-making which combines CGI, practical effects, plus breathtaking camerawork and editing to create one of the best such sequences I've ever seen.
Just a shame it happens well before the middle, and nothing else can quite match it. However, such is the nature of the disaster movie, I suppose: premature ejaculation tends to be par for the course. The rest is a fairly predictable mix of tension, both from external forces – this is a leak with a good sense of dramatic timing – and inside the party, as Andrei gradually becomes aware of Vladislav's close, personal connection to Irina. It is, of course, remarkably convenient, and there's no shock in who survives and who doesn't. Yet it remains a slickly-produced piece of disaster porn, that should keep you out of the Moscow metro, no matter how pretty their stations may be.