Rating: N/A
Dir: Tom Burman
Star: John Glover, Nancy Mette, Richard Portnow, Juliette Lewis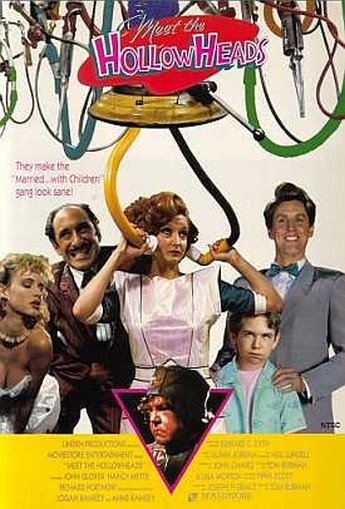 [2] This is the first film as a director for Tom Burman, though his name may well be familiar to you as a special effects man, most notably (from my, Nastassja Kinski obsessed, viewpoint anyway) on Cat People. This is a difficult film to classify with any precision – I'm sure a group of psychologists would have hours of fun trying to analyse Mr Burman on the basis of it! To some extent, it resembles an episode of Terry and June (it's OK, only to some extent!) with the Hollowheads, a nuclear family of wife, husband and kids.
It's the "father-takes-his-boss-home-for-dinner" scenario – there (fortunately), the resemblance to Terry and June ends, for the setting here is not Surbiton, but some weirdly futuristic planet where all necessities are piped directly to your home. Add to this that the boss is at least a winger short of a Subbuteo team and letches wildly after Mrs. Hollowhead – here you have a fascinating opportunity for mayhem of various sorts. The sets make the film worth-while by themselves. If you can imagine Salvador Dali and Andy Warhol working for Habitat, you might get some idea of the sort of thing – all bright colours, chrome plating and large numbers of wriggly things.
The performances are just as good, with Nancy Mette taking a Parents style approach as the dutiful mother, left to cope with the disasters of everyday life that gradually push her ever closer to the Edge. 95% of the film is fascinating to watch – the remaining 5% takes place outside the Hollowhead home in the 'real world', which looks like a scrap-yard; those scenes add very little to the film for me. The only other criticism I can make is the music, which too often sinks into American pap-rock when it could have been used to add to the air of surreal weirdness that pervades the rest of the film. Overall, probably the most pleasant surprise of the whole festival and one I would recommend if you want something a little (a little? A whole lot!) out of the ordinary.