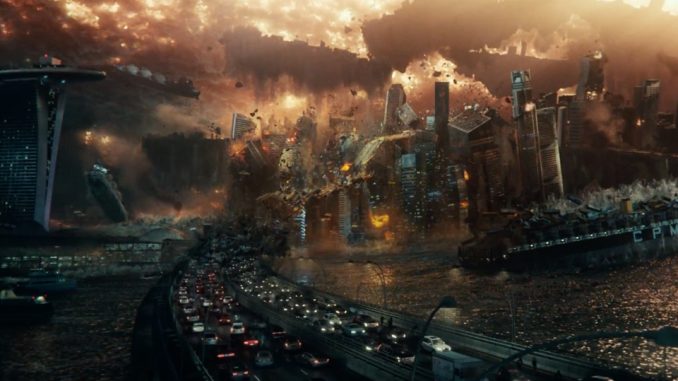 Rating: C+.
Dir: Roland Emmerich.
Star: Liam Hemsworth, Jeff Goldblum, Jessie T. Usher, Bill Pullman.
In 1996, Independence Day laid out the basic ground-rules for what was to follow. A threat to planet Earth. Carnage ensues, particularly directed at well-known landmarks. Disaster is averted, thanks to the brave efforts of a small band of plucky individuals. It was certainly influential, being the first global disasterporn blockbuster, and begat Armageddon, The Core, The Day After Tomorrow, 2012, and a host of smaller-budget SyFy Original Movies. It was also the #1 film at the North American box-office that year, so I'm surprised it took two decades for the sequel.
There is definitely a sense of over-familiarity now, but unlike, say, London Has Fallen, this does manage to be mindlessly entertaining. It delivers the epic destruction for which you hoped, even if it mistakes bigger for better. Seriously, the alien mothership here is 3,000 miles wide. Which does at least allow for one of the film's better lines: on learning the craft is over the Atlantic, someone asks, "Which part?" and is told, "All of it." The best characters are those returning from the original, most of whom carry themselves with the same world-weary air as the bowl of petunias from The Hitch-hiker's Guide to the Galaxy: "Oh, not – not again…"
On the other hand, Hemsworth is so bland as to leave you longing for the now vastly-overpaid talents of Will Smith. I think it's safe to say Hemsworth Minor won't become the top box-office draw in Hollywood on the back of this performance. Hell, he won't be the top box-office draw in his family. There are also a bunch of story elements here that never gel, such as the bunch of kids in the car. Who were they? Why should we care? But as mindless action/SF films go, this is flashily noisy enough to be acceptable entertainment. Low ambitions are not necessarily incompatible with low expectations.

This was likely more memorable for the environment. It was our first time going to the Roadhouse Cinema in Scottsdale. Well, it was our first time as the Roadhouse Cinema: the same place used to be the UltraStar, where we had the Phoenix FearCon in 2012. [Pretty much every venue at which it has taken place, has since closed. We may be cursed…] It was already fairly up-market at that point, but has now gone for full-on luxury: powered recliners, in-seat service and an alcohol license. It's part of an increasingly popular trend, although has been around for a while. I recall going to Farreli's Cinema Supper Club, an ancestor of the concept, as early as 2001.
I would certainly admit that two pints of Grand Canyon American Pilsner likely enhanced my enjoyment of ID:R. [Credit to Roadhouse, incidentally, for serving all local beers. The lack of Bud Light brought a small, microbrewed tear to my eye] But it also negates one of the major advantages of the couch over "regular" theaters; the ability to enjoy an adult beverage. Indeed, between the beer, the comfy chairs and the lack of yelling kids, this came very close to reproducing the living-room experience.  With a slightly larger screen, too – though given the capacity of the room we were in was only 49, not excessively so. The advantages of home are largely why our trips to the movies have declined, so this could encourage more visits.
Price-wise, I was pleasantly surprised, with neither the tickets nor the food apparently being particularly marked-up. It was $10 each for the seats; a sampler platter of appetizers was $13; my pizza cost $12; and the beer was $5.50. Not out of line with restaurant prices, and it was all considerably tastier than a bucket of popcorn drenched in hydrocarbons. The food names are mostly film-themed; my meat-laden pizza was known as the Predator. Mind you, I'm not sure about whoever came up with the idea for the the Finding Nemo fish & chips, I kid you not. Yeah, son: I found Nemo. He was hiding between the tartar sauce and the French fries. Didn't look too happy, though it was hard to be sure, what with all the beer batter coating him.
This was a Wednesday night, which likely helped: it wasn't busy at all, and the service was swiftly unobtrusive. Not sure if things might be different on a Friday or Saturday night, but we've always tended to avoid those anyway. We do not queue well. All told, this was a good alternative to "dinner and a movie" – effectively, combining the two aspects into one location – and one which we'll certainly consider for future nights out. It's nice to know that if the movie sucks, inebriation is always available as an alternative, and no further away than a push of your "service" button.