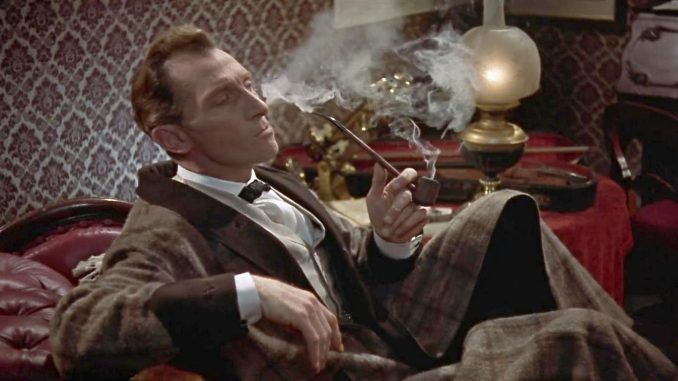 Rating: B-
Dir: Terence Fisher
Star: Peter Cushing, André Morell, Christopher Lee, Marla Landi
It always struck me as a shame that Hammer didn't make more than this one Sherlock Holmes adaptation. Peter Cushing is just so perfect for the role, I feel there could have been as many entries as was enjoyed by the Basil Rathbone version of the character. Mind you, was there any role in which Cushing wasn't perfect? Cushing, a long-time fan of the great detective, did get to replay the role outside of Hammer, in two seasons of a BBC series in the mid-sixties, as well as 1984 TV film The Masks of Death. On the basis of his impressive performance in this, I'm going to have to track those down. Here, Cushing strikes a great balance between been intelligent without being arrogant, forgiving even when mistaken for someone else, as happens on more than one occasion in the film. There are times where he (consciously or otherwise) doesn't loop those around him into his thinking. yet this doesn't seem malicious, so much as him just forgetting that not everyone is on the same intellectual plane.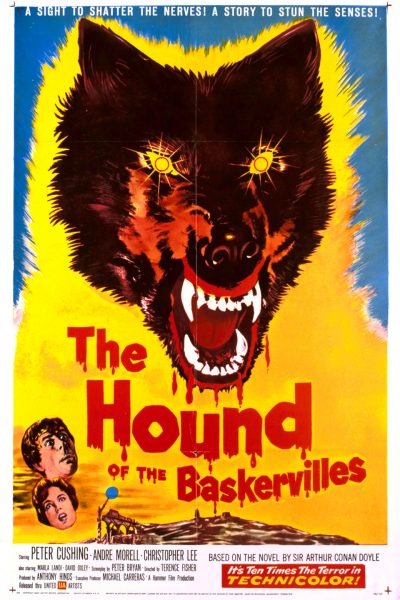 There are also times when it feels like Holmes could be the brother to Cushing's Van Helsing, especially when the dialogue feels like could have strayed in from a Dracula movie. For example, it's easy to imagine the vampire hunter uttering lines like, "There are many things in life and death that we do not understand," or when Sherlock tells a priest, "Will it help if I tell you I am fighting evil, fighting it as surely as you do?" He's quite big on the E-word, is this version of Holmes, musing "The powers of evil can take many forms," after sweeping a tarantula off Sir Henry Baskerville's shoulder and squashing it to a pulp. Thus ending any hopes of a spin-off franchise, The Spider of the Baskervilles.
This is perhaps the most-adapted Conan Doyle story, having been made into more than twenty different film and TV version, since the first, Germany's Der Hund von Baskerville in 1914. The Hammer edition was the first to be filmed in colour, the studio blazing the same trail they had previously done with their adaptations of Dracula and Frankenstein, under the same cinematographer. Jack Asher (and, indeed, reworking Dracula's castle into Baskerville Hall!). Though unlike those two, this was not in the public domain, its author having only died in 1930. It was also the first in the English language since the Basil Rathbone version, twenty years previously.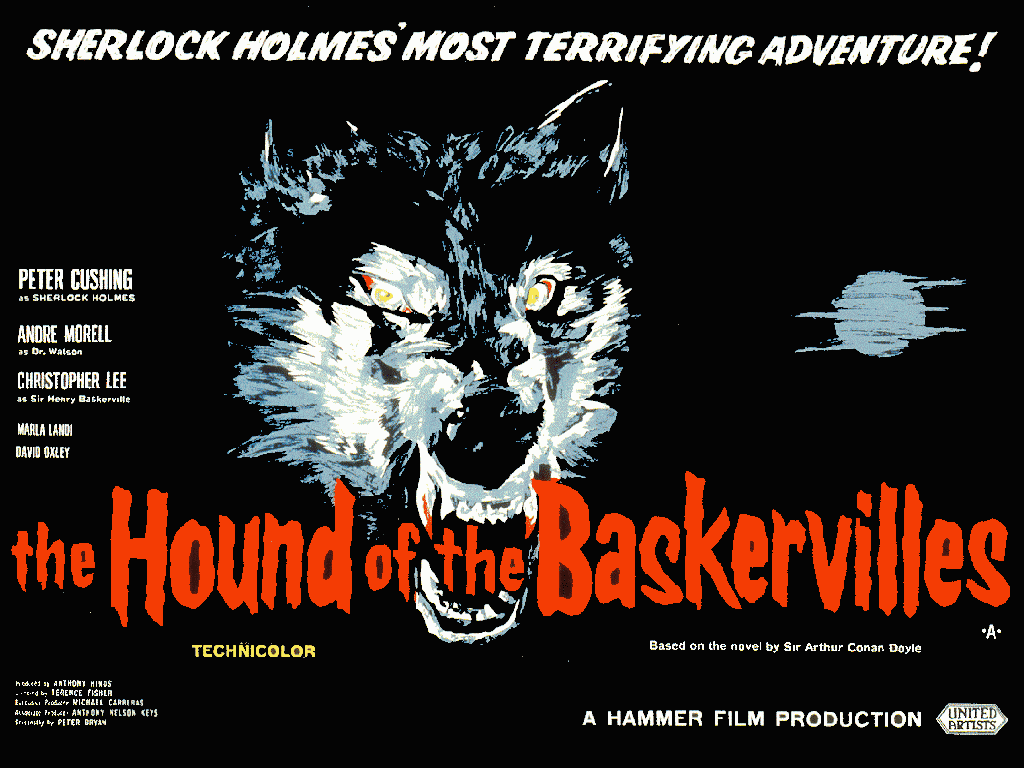 The story should not need much in the way of description, and is a reasonably faithful adaptation of the story, written by Sir Arthur Conan Doyle in the opening years of the twentieth century. The film opens with a retelling of the legend, in which a previous owner of the Baskerville name brought down the curse of the ravenous hound by murdering a young woman. David Oxley plays Sir Hugo, in a sequence which seems to have inspired a similarly negative portrayal of the upper classes at play in the later Hammer film, Plague of the Zombies. After Sir Charles Baskerville is found dead on the moors near his country estate, apparently scared into a heart attack, Holmes (Cushing) and his faithful sidekick, Dr. Watson (Morell) are called in to help protect the heir, Sir Henry (Lee), freshly returned from colonial parts (South Africa here, Canada in the book), from suffering the same fate.
Weird events start to take place, an escaped convict is hiding out in the vicinity, and Sir Henry starts to fall for Cecille, the daughter of one of his tenants. She is made to be of Spanish origin here (despite being played by Italian born actress Landi), for the usual Hammer reason that this allows her to behave a bit sluttier than a nice English girl. As things develop, there are some significant deviations from the novel, but it all ends with the hound revealed to be a normal dog, made to look scarier than normal, and with people sinking into the mire of "Dartmoor". In reality, Hammer opted to film on the considerably more local "moors" available in Surrey.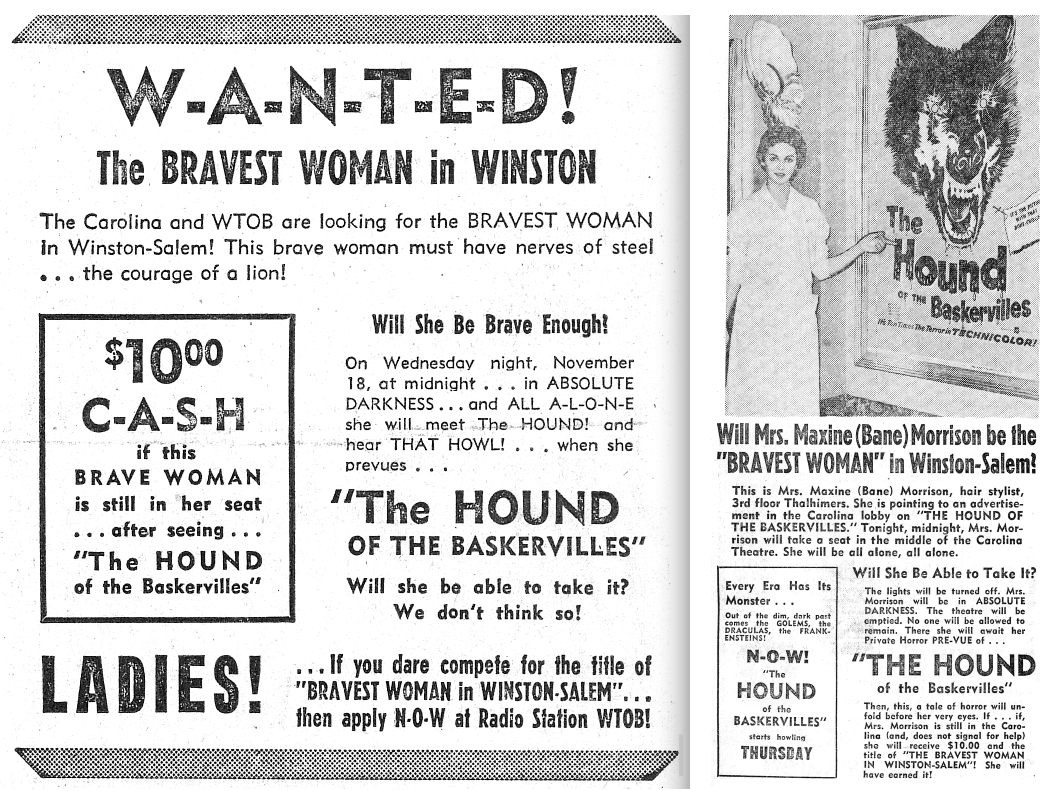 Past Cushing, it's interesting and quite refreshing to see Lee without the encumberment of fangs or heavy make-up, and he cuts an imposing figure as Sir Henry, not least because he towers over the rest of the cast. His refusal to heed Holmes's warnings about wandering on the moors at night makes sense: I'm not going to call his character "arrogant," but it's clear that this is an aristocrat more accustomed to giving orders than obeying them. Morell also does a decent job as Watson, in a role which is always going to be secondary, since he is there to represent the audience and ask the questions they need to have answered. Of particular note elsewhere is John Le Mesurier, as Barrymore, the head of the Baskerville servants. He would go on to enormous fame (well, in Britain – I had some explaining to do to Chris!) for his role in Dad's Army, even if Le Mesurier's career was far more extensive, spanning the thirties to the eighties on television alone.
It's not clear why Hammer chose to draw the line under their Conan Doyle adaptations after this single entry, since the film seems to have been warmly enough received by critics at the time. Well, except for Cahiers du Cinema, who snottily proclaimed, "Pourquoi Fisher s'obstine-t-il à conserver, de film en film, les acteurs les plus laids du cinéma mondial?" [Why does Fisher insist on repeatedly using the ugliest actors in world cinema?] Still, it sold about 20% more tickets than Dracula in France, which seems fairly impressive. One source states "the Conan Doyle Estate was unhappy with Hammer's treatment of the source material and put a stop to future Holmes pictures from the studio." Though I have read elsewhere that it "failed to grip the audience and was a disappointment at the box-office." And that is the most likely scenario – Hammer were never shy about following the money. But with advertising like that shown below, how could it possibly have done less than stellar box-office?
This review is part of Hammer Time, our series covering Hammer Films from 1955-1979.