Rating: C
Dir: Edward Bernds
Star: Yvonne Lime, Bret Halsey, Jana Lund, Susanne Sydney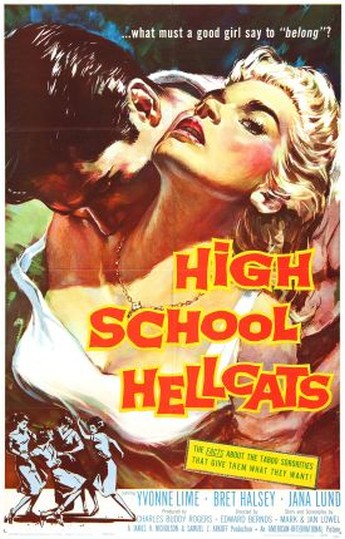 Ah, they don't make posters like this any more, do they? Of course, the reality in this slice of early (1958) juvenile delinquexploitation doesn't deliver on the promise, though this is likely the simple result of an era when Bill Haley barely had his Comets. It's particularly notable that the first major transgression into which heroine Joyce Martin (Fedderson) is tricked, is <gasp!> wearing trousers to school. Such irrefutable proof of a deep-seated evil lurking in her heart – well, that, along with talking back to her controlling father. Anyway, Joyce is new to the school, and it's not long before Connie (Lund), the leader of the Hellcats gang, has her claws in, telling Joyce she'll join them if she knows what's good for her – otherwise, she'll never get any dates. Damn. That's some hard-core recruitment right here.
However, when Joyce turns out to be a potential threat to the Hellcats' #2, Dolly (Sydney), the claws come out, and Connie ends up at the foot of a flight of stairs during a game of sardines at an illicit party. Will Joyce be able to break free from the gang, with the help of good guy engineering student Mike (Halsey)? </gasp!> It opens with a bang, the Hellcats sitting around the bathroom, bitching at each other and flinging knives around – all this, before there's even a credit! – which feels like an ancestor of the "pinky violence" genre, that'd come out of Japan, over a decade later. Unfortunately, the rest isn't able to live up to that fine start, with Lime a bland and uninteresting heroine: while again, this is possibly an inevitable result of the era, Connie and Dolly are much more fun to watch [maybe Joyce needs to change her name to Joycey?].
Early on, when there's a fair bit of girl-ganging going on, it survives on the strength of its bad girls and period atmosphere. But after Connie takes flight, things all but grind to a halt, with the film turning more into a whodunnit, and a cop and "nice" teacher getting much more screen time than is interesting. The performances are mostly serviceable, and considering I was primed for full-scale mockery, the production values were surprisingly serviceable. Neither good enough nor bad enough to be truly interesting, unfortunately.