Rating: D
Dir: Scott Derrickson
Star: Craig Sheffer, Nicholas Turturro, James Remar, Doug Bradley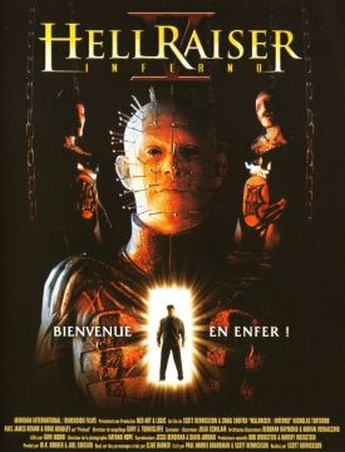 Detective Joseph Thorne (Sheffer) is a 'bad lieutenant' cop working the Denver streets, who falls into a very strange world after investigating the murder of a high-school classmate, found torn to shreds with the Lament Configuration box sitting nearby. No sooner has Thorne started fiddling with it, then he finds himself seeking a mysterious underworld figure called The Engineer, who appears to be behind a spate of dead bodies that are turning up, accompanied by a child's severed finger, apparently removed from a living victim. The closer he gets to the Engineer, the closer the victims get to Thorne. Meanwhile, his grip on his own sanity appears to be slipping, worrying his partner (Turturro) and requiring visits to a psychiatrist (Remar). Yes: when you're getting psychological help from the guy who plays Dexter's dead father, it's never likely to end well.
There's rumblings that this script was not originally written to be part of the franchise, but a standalone horror film – it had the Cenobites spliced in after the decision was made to make it so. That would certainly explain why Pinhead doesn't appear for 80 or so minutes: rather than being the main antagonist. he's somewhere between a puppet-master and the Cryptkeeper, pulling the strings and eventually explaining what it's all about. Which. to be honest, is little more than a cheat, and it's understandable why this was the first entry in the series that went straight-to-video.
Sheffer is almost entirely unlikeable – not that the series is exactly populated with heroes, but the likes of Claire Higgins or Kenneth Cranham brought some humanity to their roles. Here, Thorne sleeps with prostitutes, using money lifted from the murder scene, just because he can, it seems. That kind of behaviour means, when the flesh hooks start to fly, your reaction is less one of horror, than justice being served. Overall, if this had not been an entry in the series, it would likely have been better. But sticking the word Hellraiser on the cover comes with certain expectations, which this is almost entirely not equipped to meet.