Rating: B
Dir: Curtis Hanson
Star: Rebecca de Mornay, Annabella Sciorra, Matt McCoy, Ernie Hudson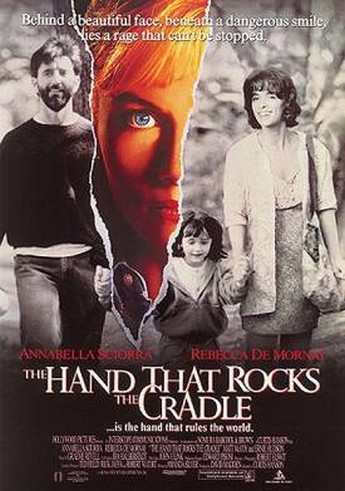 [13] To some extent, the success of this film could have been predicted. The biggest trend in horror films of recent years has been "body horror": the threat is internal, the threat is you. Combine this with the breakdown of moral values (for which Hollywood, according to Dan Quayle, is to blame) and it's a logical step to have the threat coming from within the family, trying to destroy it. That the protagonists are woman should be no surprise either: "female" = "family" as far as Hollywood is concerned. On one level, 'The Hand…' is a predictable affirmation of these traditional values, and fits in entirely with expected patterns. But it escapes from the limitations placed on it, thanks to polished execution all-round.
After ten minutes, the viewer could be forgiven for checking his ticket to make sure they're in the right cinema; it starts off as some sort of medical rape film, as Sciorra is assaulted by her doctor during a gynaecological examination. Following this disconcerting start, all becomes clear after she goes public with the case: the doctor commits suicide and his wife (de Mornay) has a miscarriage. Several months later, said wife turns up on Sciorra and hubby's doorstep, surely the perfect nanny for the new-born child… De Mornay wants the child very badly, to replace the one she lost, and sets about systematically wrecking the family, turning husband and daughter against mother, and getting rid of anyone she perceives as a threat, in a spectacular display of perverse cunning that had me grinning at every turn of the screw.
It's neatly constructed, and suitably twisty, though you can spot the plot devices as they appear – a set of wind-chimes here, an asthma inhaler there – for ticking off as they're used later, and at the end it does degenerate into something a little too familiar to Friday the 13th fans. Still, it's substantially better than any of that series – can't help thinking how Rebecca de Mornay and Anthony Hopkins would make a fine couple!