Rating: B-
Dir: Thierry Poiraud, Benjamin Rocher
Star: Alban Lenoir, Charlie Bruneau, Tiphaine Daviot, Ahmed Sylla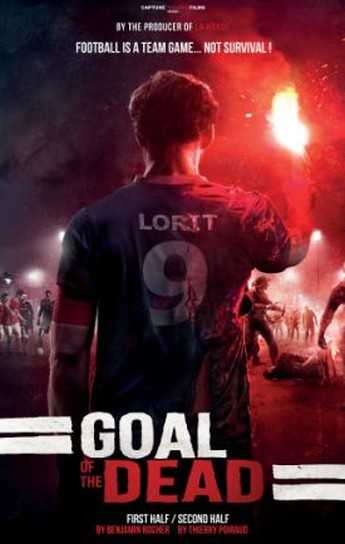 Veteran footballer Sam (Lenoir) returns for a cup match to the little town where he grew up – and which he left under murky circumstances, 17 years previously. The locals still bear a grudge, and the town's doctor injects one of their players with steroids, to help give Sam a warm welcome. However, the drugs are infected, and the subject develops not just excessive strength, but an infectious rage: as a result, the match degenerates into a pitched battle [hohoho] for survival, between the players, media and local fans, against the increasing number of cannibalistic enemies roaming, not just the stadium, but the entire town.
One of the directors here was also involved with La Horde, perhaps the best zombie movie to come out of France so far. This doesn't quite reach the same levels: it aims for a more jokey tone, and it's difficult to pull that off, while still retaining the more horrific aspects. The obvious touchstone is Shaun – most notably when a group of characters find themselves trapped in a local pub – and nor does it manage to pull off its pitch-perfect combination of genres. However, very few do, and there's still plenty here to amuse. That's particularly the case for football fans, who'll appreciate in-jokes, like the local team's four (!) ardent fans, sitting in their car, trying to come up with chants for the upcoming game. Sam's story also has a nice arc, though the twist that comes just before half-time [the film is divided into two halves] was one I easily saw coming.
It does suffer somewhat from pacing issues, and would likely be better at a regulation ninety minutes instead of, as it does, running closer to two full sessions of extra-time. It's also a bit fragmented: instead of sticking with Sam, the film also opts to throw in separate threads involving the team's star and his agent, the fans and their cop nemesis, etc. – these are not equally interesting or well-handled. But the positives are often highly positive, and certainly outweigh the negatives. You'd have to call this a good result, Brian, particularly away from home. The lads done well, and I'm satisfied with the final score.