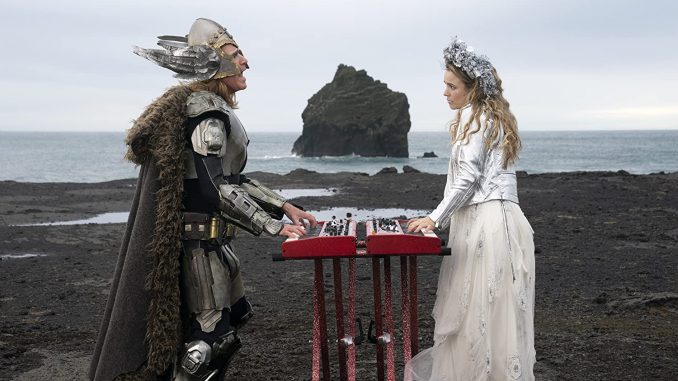 Rating: B-
Dir: David Dobkin.
Star: Will Ferrell, Rachel McAdams, Dan Stevens, Pierce Brosnan
I grew up with the Eurovision Song Contest. I watched ABBA win live in 1974 and remember the British triumphs by Brotherhood of Man and Bucks Fizz, the synthpop appearance by Telex representing Belgium in 1980, and the abomination which was fucking Nicole in 1982. At least Kraftwerk beat her by a month or two, to become the first German #1 in the UK. I taped shows off the radio and my little geeky self kept charts of the voting. I watched the 1998 contest from a bar on the Reeperbahn in Hamburg, drunkenly yelling "It's a man!" every time Dana International appeared. But after I moved to America, Eurovision went dark until a few years ago, when the "usual sources" allowed me to introduce Chris to its eccentric delights. Good job too, because I really would not want to have to describe the concepts involved to an American. I'd rather explain cricket.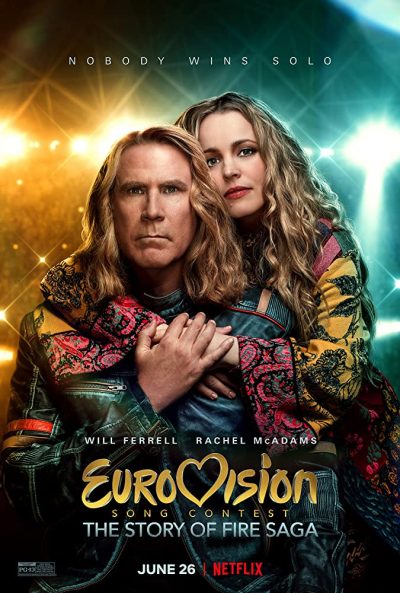 What we have here is your standard plucky underdog story, mixed with the usual stuff about chasing your dreams. Fire Saga are an obscurist Iceland pop duo, led by Lars Erickssong (Ferrell), who has dreamed of winning Eurovision since he saw ABBA do so as a small child, much to the regret of his fisherman father (Brosnan). The other half is Sigrit Ericksdottir (McAdams), who has long harboured unrequited love for Lars. Blind luck gets their entry selected for the Icelandic contest; wild misfortune gets them sent to Edinburgh, where the contest is taking place, to represent their country. The best line in the movie is there: "The elves went TOO FAR…" It's better in context, trust me. Will they triumph against all the odds, despite the machinations of evil Russki Alexander Lemtov (Stevens), and some at home who do not want Fire Saga to succeed?
There are absolutely no surprises in the story here, and to be honest, Lars is a bit of a dick. I've often had that problem with Farrell's characters, and find they work better when they are not supposed to be likeable, e.g. Zoolander. The film's emotional heart is much more Sigrit, to the point where I was largely wishing she'd do a Tina Turner and go solo. As far as the contest goes, it's a very gentle and affectionate parody, occasionally toppling over into self-indulgence. The "song-along" certainly falls into that category, serving no apparent purpose, save to allow some previous real winners and contestants to cameo. It's still a lot of fun, especially for a fan.
On the other hand, the film does a bang-up job with the songs, which almost entirely seem like legit Eurovision entries. Yes, even the demonic Gwar-lite of Moon Fang. They were clearly inspired by Finland's Lordi, who came second in 2006 with this classic performance. Though as a devotee, the movie makes an absolute dog's dinner of showing the voting, which is one of the most beloved aspects of the whole show. Or maybe that's just my 12-year-old self talking. But if the film helps cause some broadcaster in the US to pick up rights to the event, it'll have been worthwhile. Especially if McAdams becomes the real representative for Iceland.