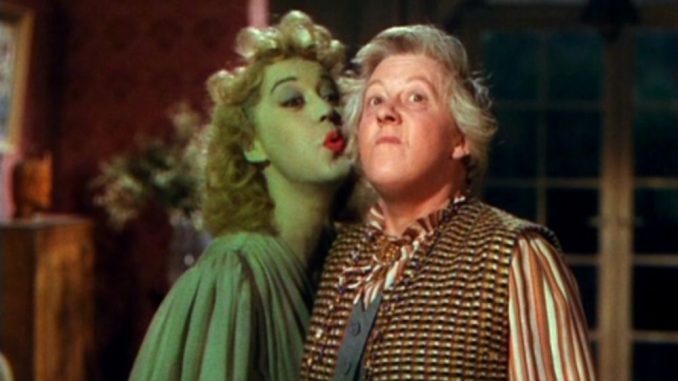 Rating: C
Dir: David Lean
Star: Rex Harrison, Constance Cummings, Kay Hammond, Margaret Rutherford
Following up on the awesomeness which was My Fair Lady, I opted to dip back into the annals for some more Harrison goodness. Yet I found myself rather underwhelmed by this adaptation of a Noel Coward play – at least from a 2018 perspective. Harrison plays Charles Condomine, a successful writer who contracts with medium Madame Arcati (Rutherford) for a seance. Charles is entirely sceptical: this event is merely research for his latest book, and a lightly-diverting amusement for him, wife Ruth (Cummings) and their friends. It turns out Arcati is on the level, and the seance brings back the spirit of Charles's late first wife, Elvira (Hammond) – though only he can see her. Convincing Ruth of the situation is only the start of his problems: neither of them are keen for their household to become a ménage à trois, but Elvira is insistent that she was called to their house, and refuses to leave.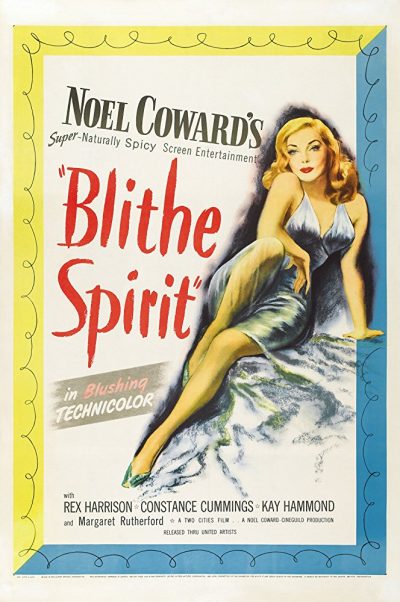 It feels almost like it was an inspiration for the basic premise of Tim Burton's Beetlejuice, which deals with a similarly unwanted spectral presence, and the disruption it subsequently causes. Elvira isn't quite as chaotic, to be sure. Yet, her sarcasm and snark are there, and as unappealing at Beetlejuice, to the point you wonder why Charles ever married her to begin with. Indeed, Ruth is not a great deal better, giving the whole thing a vaguely misogynist feel. This seems not exceptional for Coward: his Private Lives infamously includes the line. "Some women should be struck regularly, like gongs," and the original ending here – changed for the film, much to the author's annoyance – saw Charles escaping from both wives. Throw in some casual racism (Indians being sweepingly described as "frightfully lazy") plus a class structure so rigid it would turn anyone Communist, and the society it depicts has not aged well.
The film is on much better ground with the wonderful Rutherford, whose Madam Arcati steals every single scene she's in. Rutherford sinks her teeth beautifully into lines like "I long ago came to the conclusion that nothing has ever been definitely proved about anything."  You're never quite sure whether the medium is a complete flake, the sharpest person in the room – or, perhaps the sharpest person in the room, pretending to be a complete flake. It's a pleasure to watch, even surpassing Harrison, who seems positively subdued by comparison – though he does get to use the word "guttersnipe" again. I have only ever heard this word in two movies, both starring him.
The special effects here were Oscar-winning. Of course, this is "Oscar-winning by 1945 standards," which apparently means the Academy could only find one other film worth nominating. [Though that's one more than they managed from 1951-53, when each year the winner was the sole candidate. This was a dark time for special effects, it appears.] They are now merely competent and functional, though I'm not sure why Elvira has a green-tinge to her complexion which appears to have strayed in from The Wizard of Oz. Beyond Rutherford, it's all considerably more irritating than engaging.