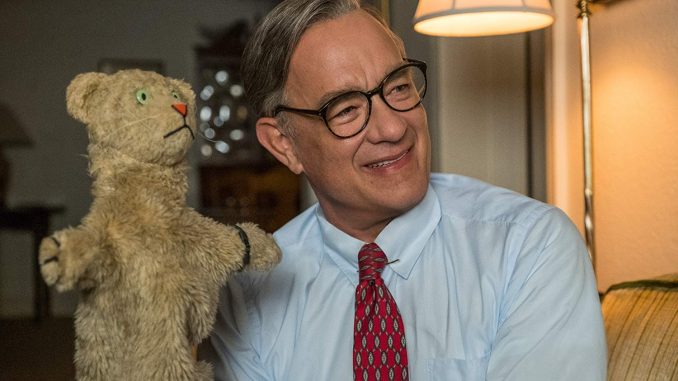 Rating: B-
Dir: Marielle Heller
Star: Matthew Rhys, Tom Hanks, Susan Kelechi Watson, Chris Cooper
It's hard to explain the position Fred Rogers occupies in the American national psyche. His TV show, Mister Rogers' Neighborhood, ran nationally for over thirty years, close to a record for a show focusing on one character. Aimed loosely at a pre-school audience, I was expecting something akin to Pee-Wee's Playhouse, but it's considerably different. Unlike Paul Reubens, Rogers doesn't play a character, he's just himself, wearing thoroughly non-trendy attire such as his zip-up sweater, and speaking directly to/through the camera to his young viewers. And it's perhaps this naturalness which made him such an icon, along with his ability to make a connection with anyone, literally, from infants to US senators. I'm not exaggerating: in 1969, when the public broadcasting budget was threatened, he went to the Senate and calmly talked them out of it.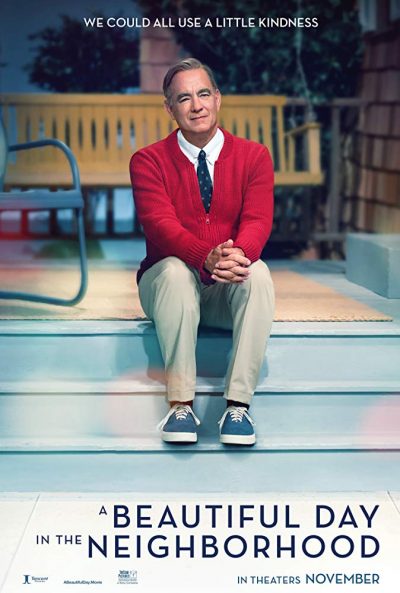 His program had an overall positive tone, treating kids and their concerns seriously and telling them it's perfectly fine to be who they are. [You can argue about the wisdom of that philosophy, since if taken to heart and without balance, it leads to a "beautiful and unique snowflake" mentality] But nor did Rogers shy away from negative feelings. He was equally about explaining that it was okay to be scared or angry or sad, but that there were way you could deal with these emotions. And few shows have ever had a tiger puppet ask, "What does assassination mean?", as Neighborhood did in the wake of the shooting of Robert Kennedy. All of which is likely near-essential background for this film, especially to non-Americans. I'd recommend watching Won't You Be My Neighbor?, the documentary which covers Rogers's life and philosophy, as a good primer.
Which (eventually) brings us to this, where cynical journalist Lloyd Vogel (Rhys) is sent to do a short piece on Fred Rogers (Hanks). This is far from the usual investigative journalism Lloyd wants, and he's already under stress, due to the return into his life of long-absent father, Jerry (Cooper). There's a lot of baggage and resentment there. Lloyd is initially hostile to Fred's efforts to get him to open up, and keen only to get behind Rogers's "front" to uncover the real persona. But he eventually realizes that what you see really is what you get with Fred, and the host helps Lloyd come to terms with his own parental issues, before they start to poison things with his young son.
Hanks is excellent, capturing the tone, appearance and mannerisms of Fred perfectly. It's one of those bits of casting where you slap your forehead and wonder why no-one ever though of it before. The problem is, the storyline is far too predictable and trite. Right from when you meet hard-bitten Lloyd, you just know he's going to end up warming to Fred, making up with his father, etc. etc. You can still enjoy the journey, and admire the scenery along the way. Just do not expect the slightest deviation from the expected destination. You might as well expect an episode of Mister Rogers' Neighborhood to include a gun-battle and a sex scene. It ain't gonna happen.