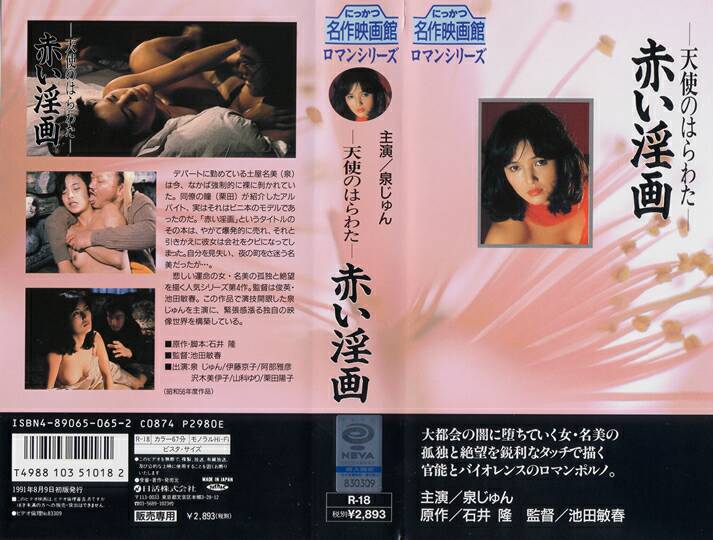 At the end of the 1970's, Nikkatsu, the oldest studio in Japan, with a history going back to the silent days, was in financial trouble. They were largely rescued from bankruptcy by their involvement in the roman porno genre – short for "romance porno", though none of the films here are really first-date material. Many famous names in Japanese cinema have worked in the genre, include Hideo Nakata, who directed both the original Japanese Ring film, and the sequel to the American remake, The Ring 2, as well as Toshiharu (Evil Dead Trap) Ikeda and Takashii (Gonin) Ishii.
Indeed, Ishii's manga inspired the Angel Guts series, all five films of which revolving around rape, and a girl called Nami – though modelled after Ishii's wife, she is not the same character in each film, and the importance of her role varies markedly. Four different directors worked on the films, and the results are surprisingly varied, though the obviously missing viewpoint is a Japanese woman director's take on the material – I doubt, somehow, Nikkatsu ever asked one…
Not sure I agree with Artsmagic's contention that, "the Angel Guts series can now be seen as it was intended; a tribute to the courage of violated woman in a world of male violence" – the original art, shown top, and included as part of the DVD extras, suggests otherwise, especially alongside the tendency in Japan to eroticise non-consensual sex. But unarguably, they deal with rape and its consequences, in a forthright manner almost unheard of in English-language cinema. This is not perhaps a universally good thing, at least in the sense that these aren't much "fun" to watch – Chris begged off the remainder of the series after the second, which is most unlike her.
In Videodrome, Max Renn's friend says of the pirate S/M porn channel, "It has a philosophy, and that's what makes it dangerous." Much the same could be said of the best entries here, which challenge your brain more than expected. Yes, I have qualms about some of the content, and wish more of the makers had realised you can make films about rape without a lurid emphasis on the actual crime. But there's one thing I can't deny: we heavily-censored British have a much-higher incidence of rape than the Japanese…