Rating: B-
Dir: Hrafn Gunnlaugsson
Star: Jakob Thor Einarsson, Edda Bjorgvinsdottir, Helgi Skulason, Egill Olafsson
a.k.a. Hrafninn flýgur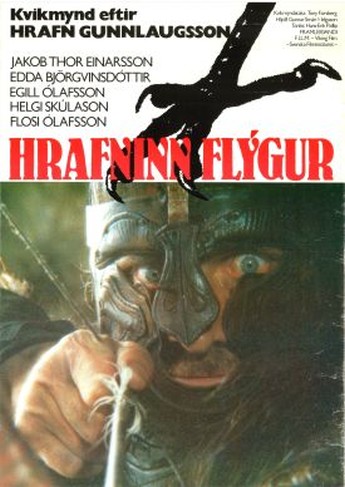 A Viking raid on Ireland kills a young boy's parents, and his sister is taken into slavery; an order is given to kill the male child, on the basis "He's old enough to have seen too much," but the raider so ordered instead lets the boy run away. A fatal mistake. For, 20 years later, he is now a grown man, known as "Gestur" (Einarsson), who has devoted his life to tracking down his sister (Bjorgvinsdottir) and those responsible. He has tracked two of the latter down, Thord (Skúlason) and Erik (Olafsson), to Iceland, where they are living in exile due to civil strife in their Norwegian home, and they have no idea what's coming to them.
Gestur deliberately sets the pair against each other, weakening their forces, but also has to contend with the fact that his sister now has a son with Thord, and unlike her brother, taking vengeance is not her top priority. Thord, meanwhile, believes the cause of his problems are that the gods are angry with him, and when his first sacrifice is apparently ineffective, it's time to make a more serious offering… I appreciated the straightforward nature most of this : it's revenge on a very basic level, "You killed my parents, prepare to die." As such, it's better at the beginning and end, as the scenario is established, and at the end, when it becomes a good deal murkier. In the middle, there is rather too much tedious galloping along the beach, which is hard to take seriously, since it's all apparently done on Shetland ponies, and I can't watch their little legs whirring with a straight face.
The action in this 1984 film is also not well-handled, for example, with people being "shot" with arrows, invisibly in the back, then spinning around to reveal them and a small patch of blood: this kind of thin went out in the sixties. Still, I enjoyed both Einarsson and Bjorgvinsdottir in their roles, liked the chunk where Gestur convinces Thord that Odin has personally come for him, and was particularly fond of the ending, which strongly hints that the sister was right to be concerned about the effect Gestur's revenge will have. A simple tale, mostly told with energy and style.