Rating: B
Dir: Wilson Yip
Star: Simon Yam, Donnie Yen, Sammo Hung, Wu Jing
a.k.a. Kill Zone – S.P.L.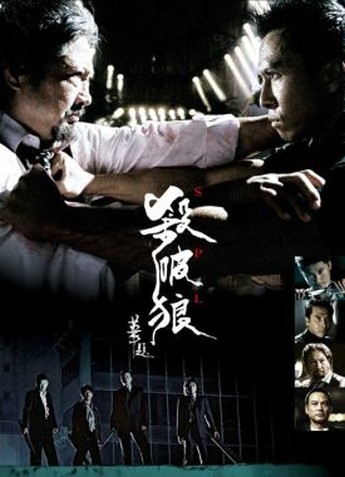 Yeah, tough to argue that this is one of the best action films to come out of Hong Kong in the 2000's, managing to overcome some questionable plotting elements through sheer effort. Inspector Chan (Yam) sees his case against mob boss Wong Po (Hung) fall apart after a key witness is assassinated on the way to court, and vows revenge, only to be told he has a malignant brain tumour. Three years later – so it clearly wasn't that malignant – he has adopted the witness's daughter to take care of her, and is just about to retire, and hand the reins and his men over to a replacement, Inspector Ma (Yen). Fate hands him one final chance to take out Wong, when he receives a video-tape showing the boss beating up an undercover officer, who later turned up dead.
While it actually shows another man killing the cop, that's nothing which can't be resolved with a little editing, right? Wo isn't going to go quietly, and efforts to frame him with a weapon bought on the street lead to multiple dead cops, at the hands of Wo's main bodyguard, Jack (Wu). Ma, initially averse to Chan's "by any means necessary" approach, eventually accepts the need for it, and turns in his badge, in order to help fulfill his colleague's last wish. Beginning with some guff about astrology, that never seems to tie into anything within the film, the storyline here is one which, in lesser hands, would likely have had me rolling me eyes at the overblown melodrama of it all.
However, Yam and Hung, in particular, do an excellent job of selling these elements, particularly a scene were they face off after Chan forces one of Wo's minions to walk on broken glass – though even here, the scene ends abruptly, as if the scriptwriter couldn't think of a way to finish it. Most of the action is concentrated in the second half, with the heavy lifting largely being left to Yen and Wu [let's face it, Sammo and Simon were both in their fifties!], but is none the less impressive for that. with the street fight between the baton-wielding Inspector Ma and knife-wielding Jack a particular highlight, blisteringly fast-paced. The ending reverts to uncomfortable implausibility, yet is still not sufficient to derail a movie capable of standing purely on the strength of its performances and action.