Rating: C-
Dir: Jesse T. Cook
Star: Dave Foley, Art Hindle, Robert Maillet, R.J. Skinner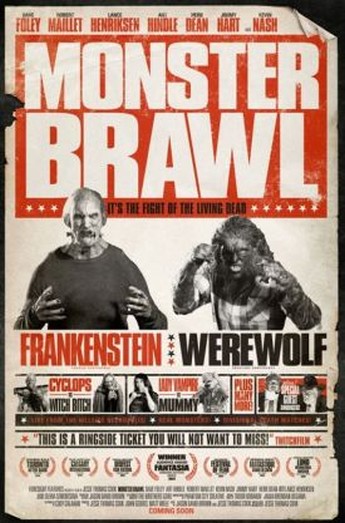 Truly a niche product this, aimed at the tiny demographic where professional wrestling crosses horror. We fall into both categories, certainly. But even we would have to admit, much though we love the idea of a pay-per-view wrestling show, involving creatures like Frankenstein's monster, a mummy, Lady Dracula and a cyclops, that neither horror nor wrestling aspects are done well enough, and combining two genres of mediocre performance is unlikely to result in anything other than… well, mediocrity. The format is straighforward: eight creatures are divided into an Undead bracket and a Creature bracket [though I could argue some of the placements], with a middleweight and heavyweight belt in each. The winner of the latter in each bracket, face off for the undisputed championship.
There's play-by-play and color commentary from Foley and Hindle, voiceover work by Lance Henriksen (occasionally clearly inspired by Mortal Kombat!), and a couple of real wrestlers show up in supporting roles: the MC is long-time manager Jimmy Hart, and the zombie is handled by WWE star, Kevin Nash. Each fighter has a little scene before their fight, giving them some backstory, but that's really the limit of the narrative. Obviously, the make-up and costumes severely limit the level of wrestling possible, but the makers here could really have learned a lot ftom Kaiju Big Battel, whose fights are much more impressive, while even more cumbersomely clad. There's no real sense of progression: a genuine PPV show, builds towards a climax, but that isn't really the case here.
There is also no audience present, and their reactions are an integral part of a wrestling show: they're truly the "third man" in the contest, and without them, the atmosphere is palpably diminished. The introductory sections are kinda cute, but are too short to allow for significant development, and the acting involved isn't up to much. I read another review, which suggested that the concept might work better as a TV show than a movie, and I tend to agree: that would allow for better development of the characters, and ongoing story lines, both of which are also an integral part of the genre. Instead, what you have here is, indifferent wrestling and poor horror.