Rating: B-
Dir: Ryuhei Kitamura
Star: Bradley Cooper, Vinnie Jones, Leslie Bibb, Brooke Shields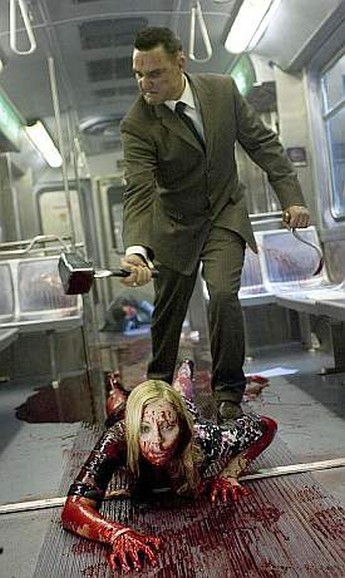 Buried by Lionsgate, much to the disgust of Clive Barker: "This is all about ego," he said, and certainly, with so much dreck coming out in the horror genre, it's hard to see why this got dumped in a hundred second-run theatres. Cooper plays photographer Leon Kauffman, who snaps a model shortly before she vanishes, and gradually realizes that the well-dressed man who rides the late-night trains (Jones) is involved in, not only that disappearance, but a whole slew more, in between his day-job as a meat-packer. When the police refuse to get involved, Kauffman becomes obsessed with tracking down the truth, even as it puts his girlfriend, Maya (Bibb), next in line to get her ticket punched.
This is Kitamura's English-language debut, and it shows, in that he is a lot more comfortable with Jones – who gets one line of dialogue in the entire film – than with Leon and Maya, and the dramatic aspects in general. The characters read their lines, while the audience glances at its watch and wonders when the next kill will turn up. Oh, but what kills. Kitamura brings the same berserk beauty to carnage as in Versus, throwing the camera round, about and through the gore, with a glee that's reminiscent of early Dario Argento. I'd love to describe some of the more elaborate set-pieces, but to do so would spoil them – not many times I've had to say that about cinematic murder, but it's best if you go in with no particular foreknowledge.
Jones is perfectly cast, and does exactly what he does best: look extremely menacing, and there's no question he has the physical presence necessary for the role. The ending has come in for a lot of criticism, and I must admit it does come out of nowhere; while it does make sense, in the loosest sense of the phrase, there's no feeling that it actually fits with what has gone before. While by no means an uninteresting direction, one wonders whether it might have made the film stronger if this angle had shown up earlier, and been better-integrated into the body.