Rating: C+
Dir: Sergio Garrone
Star: Klaus Kinski, Katia Christine, Ayhan Isik
a.k.a. Le amanti del mostro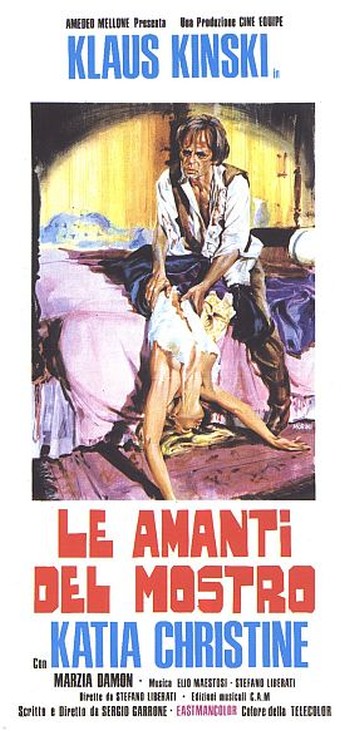 Dr. Alex Nijinski (Kinski) and his wife Anna (Christine) head off to the estate of her father, hoping to repair their shaky marriage. The reason why it's shaky, is only ever hinted at, but it appears that Alex's jealousy is part of it. He is certainly unimpressed by Anna's striking up of a friendship with their neighbour and another doctor, Igor (Isik). In a huff, he retires to the library and finds a journal kept by Anna's father, detailing experiments on imbuing life. Alex is inspired by this, and the conveniently fully-operational laboratory, and sets out to resurrect his wife's dog, recently found dead. However, things go wrong, as they inevitably do, and Alex becomes an intermittently-crazed maniac, stalking the area and killing anyone in his path. Fortunately, the local vagrants are obvious scapegoats for his crimes, while the two halves of his personality battle it out for supremacy.
This felt like a Frankenstein rip-off, before abruptly taking a right-turn in the middle, and becoming a Jekyll and Hyde rip-off instead. This may be because it was shot at the same time as The Hand That Feeds The Dead: note, not back-to-back, but simultaneously. Apocryphally, no-one involved in the Italian/Turkish co-production told Kinski this [probably because he would have demanded two fees!]. The two films share a lot of the same cast and have a good chunk of plot overlap too, which may explain why they are sometimes confused.
Kinski is his usual, reliable self, none more so than one shot where his victim is trying to escape, and the camera then pans back across the interior of the house, for Klaus to lumber into frame. Heck, I'd be scared of him. Too much of the rest of the film is taken up with Kinski gurning, or with Monstrovision (TM) P.O.V. shots as he stalks his prey, neither of which are as effective as Garrone would like to think. I did appreciate the political subtext, with no-one in the village believing a member of the middle-classes could possibly be responsible, but this feels more like a knock-off of a Hammer production than anything else. While not unwatchable – Kinski rarely is – there is little else that will make this stick in the memory for long, at least compared to Garrone's much more infamous flicks, such as S.S. Experiment Love Camp.