Rating: C
Dir: K. Subhash
Star: Ajay Devgan, Akshay Kumar, Tusshar Kapoor, Esha Deol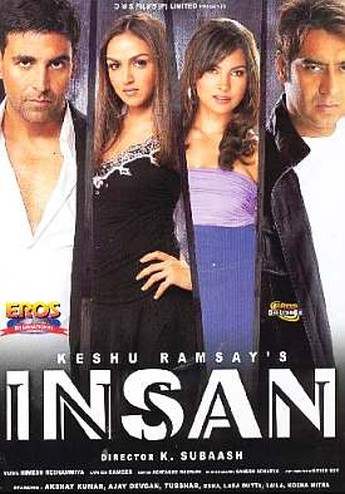 Remakes are not an exclusively Hollywood device. Indian cinema has no issues with recycling ideas, and there are a number of unofficial versions of Western movies [I am particularly curious to see Inteqam, supposedly their version of Basic Instinct – presumably, shorn of the sex and violence…and thus, it would appear, much of the point]. They also remake internally, with mostly Hindi-based Bollywood, often taking projects filmed in other languages; India has 29 different tongues which are spoken by more than a million people, so there's plenty of opportunities there. That's what this is – it's a 2005 remake of Khadgam, which was originally made three years previously in Telugu, the third most-spoken language in India, after Hindi and Bengali.
The plot centers on Inspector Rathod (Devgan), who lost the love of his life to the terrorist Azhar, and is now obsessed with bringing him to justice: having captured a confederate, he knows Azhar will mount a rescue attempt. Meanwhile, the Muslim Amjad (Kumar) is trying to woo the love of his life (Deol), over the objections of her venomous mother in particular. There's also a wannabe actor and actress, who are trying to break into the movie business. These threads eventually come somewhat together, since it turns out that Azhar has a close connection to one of the other characters. His mission brings things to a conclusion at a railway station where Azhar, Amjad and the Inspector end up facing off beside a booby-trapped train.
There's just too much going on. If the film had been stripped down to those three, and focused on only those aspects of their worlds which concern each other, it would have been a lot better: the contrast between the secular Rathod, the peaceful Muslim Amjad and the violent Azhar is well-constructed and acted, without obvious bias. However, some of the other stuff is just embarrassing, such as a sequence where Amjad pays the rent to his prospective father-in-law. This turns into an embarrassingly-poor comedic sequence, that would have been rejected by the Marx Brothers at the "idea" stage. Especially early on, the musical numbers are probably the best thing about the movie, though things do improve in the second half. Just not enough to suggest that Bollywood remakes are intrinsically superior to their Hollywood cousins.