Rating: B
Dir: Kathryn Bigelow
Star: Jeremy Renner, Anthony Mackie, Brian Geraghty, Christopher Sayegh

The movie starts with a quote: "The rush of battle is a potent and often lethal addiction, for war is a drug," and spends much of the next two hours proving its point. It's certainly one of the tensest movies I've ever seen, as it follows the boys of Bravo Company bomb-disposal unit through the last days of their rotation in Iraq. Death is never more than a moment away, between the snipers, IEDs and mortars, as is made clear from the opening sequence, where their leader is blown apart while trying to effect a controlled detonation. His replacement, Sergeant William James (Renner) is a loose cannon, much to the disgust of his colleague Sergeant Sanborn (Mackie), who believes James's reckless behaviour puts them all at risk, when a return home to safety is just a few weeks away.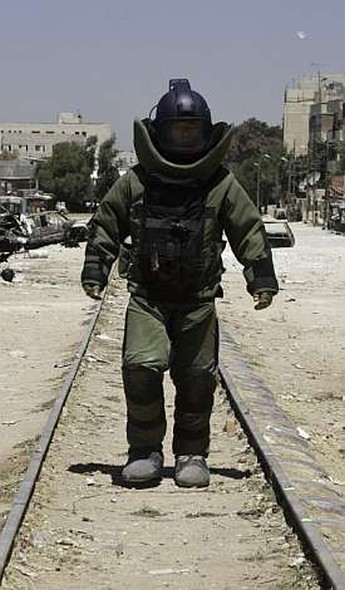 Certainly, James seems to have no sense of self-preservation, for example, going on a solo mission to investigate the apparent death of a young local boy (Sayegh) he befriended, and also leading his colleagues into an unnecessary chase through a rats-nest of streets. To borrow a tagline from another movie, who will survive and what will be left of them? While mostly a no-name cast, the movie is peppered with guest stars; however, it's apparent from the opening scene what their fates are going to be, and this became almost a running-joke to us. However, this doesn't stop the movie from being fuelled by adrenalin for almost all its running-time, and generally to great effect. This works both on the intimate level, with the squad face to face with the ticking objects of their destruction and remotely, during a long-distance sniper-battle out in the Iraqi countryside.
It's notable that the film has no political stand regarding the military presence there, and the soldiers too seem to care little, one way or another: they just want to get through it and get out (save for James, anyway), which helps the film avoid any sense of preachiness. When it diverts into more personal stuff, such as concerning the boy, it's not as effective; however, that isn't for too long, and Bigelow soon gets things back on track with another shot of pure, undiluted tension. Definitely the best movie about this conflict I've seen, and likely the best war film since Saving Private Ryan.