Rating: B-
Dir: Peter Duffell
Star: Denholm Elliot, Peter Cushing, Christopher Lee, Jon Pertwee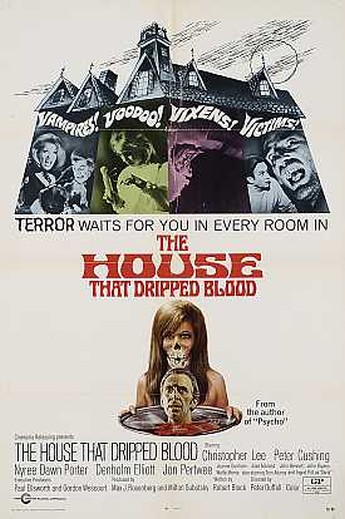 My youthful viewings left me with the impression of Amicus being a low-rent Hammer, churning out such poor concotions as The Monster Club. However, this one proved a pleasant surprise, with four solid stories from Psycho scribe Robert Bloch, although the wrap-around segment is weak, especially in an ending which badly undermines the good sense of atmosphere generated by the previous 90 minutes. Though I have to say, the title is wildly misleading: blood is notable by its absence here, and falls well short of dripping levels.
A quick sweep through the stories, all set in the same appealing Gothic residence: a writer (Elliott) thinks he can see his murderous character; we learn again, that wax museums are always run by loonies; a father (Lee) finds his strict upbringing of his daugher challenged; and an antique cloak brings more than expected to its owner, a horror-film actor (Pertwee).
If each has its appeal, my favorite is likely the third, Sweets to the Sweet. There, Lee and his daughter (Chloe Franks) lock horns, after a new tutor feels sympathy for the girl – not realising there might be good reason why she's kept away from others. Franks is the pivot upon which this section's effectiveness turns, and she is remarkably good, her performance blending innocence and menace in a way that's a perfect foil for genre icon Lee. In the other segments, it's a joy, as always, to watch Cushing and the opening tale has a couple of beautifully-executed twists in its tail. The finale is more of a comedy jape, with Ingrid Pitt chiming in as a foreign movie-vixen; while amusing enough, it's somewhat at odds with the other installments, and leads to an utterly damp squib of a finale. Otherwise, however, the 80% hit-rate is well above average for anthology tales.